We invite you to attend some of the many events we'll host throughout the year– from former JV gatherings and happy hours, meet-and-greets with staff, to fundraisers and celebration events– we hope you'll join us!
Solidarity on Tap Series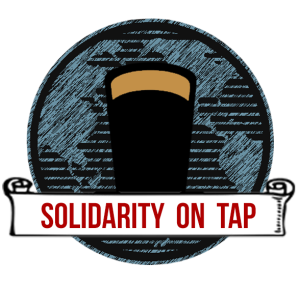 Jesuit Volunteer Corps Northwest, Jesuit Volunteer Corps (based in Baltimore, MD), and Ignatian Solidarity Network welcome those connected to the Jesuits and the spirituality of St. Ignatius of Loyola (FJVs, Jesuit school alumni, Jesuit parish members, etc.) to join us for a simple gathering for socializing and social justice. The 2017 spring season of Solidarity on Tap will be focused on the theme "Mercy in Action." Solidarity on Tap events are held throughout the country- perhaps there is one coming to a city near you!
See below for scheduled events or check out the Solidarity on Tap webpage for more events as they are scheduled!
Want to bring Solidarity on Tap to your city? Email Alumni Coordinator, Sarah Jones, at sjones@jvcnorthwest.org or 503.335.8202.
February 24, 2017: 60th Anniversary Spokane Gathering & Fundraiser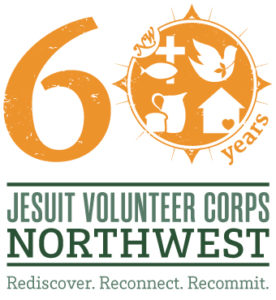 JVC Northwest will continue the celebration of its 60th Anniversary with a social gathering and fundraiser in Spokane, WA. The city of Spokane and Gonzaga University were instrumental to the beginnings of JVC Northwest and some of its first volunteers; we'd like to honor that connection by inviting all current and former JVs and JVEs, partners, Jesuits, friends, and family to join us for a Mass, social hour and fundraiser.
This special event will take place Friday, February 24th on Gonzaga's campus. The opening Mass will take place in the University Chapel from 5-6 p.m. (presided by Fr. Peter Byrne, S.J.) followed by a social hour and evening program (6-8 p.m.) in the
Herak Club Room, located on the south side of the McCarthey Athletic Center. The program will include reflections from current and former Jesuit Volunteers, a special 60th Anniversary video, raffle, and more!
Online registration has closed but if you are still interested in attending we welcome day-of registrations at the door. This event generously sponsored by Catholic Charities Spokane, with additional support from Liz and Scott Morris, Gonzaga University, and the Sisters of Providence.
Online registration has closed but please email Zach at outreach@jvcnorthwest.org if you are still interested in attending. Walk up registration available the day of the event(and encouraged)!
March 24, 2017: St. Louis, Missouri Gathering
Join Jeanne Haster, Executive Director, for a special gathering in St. Louis of former volunteers, parents, friends, and supporters of JVC Northwest. Hosted by Former Jesuit Volunteer Dale Auffenberg (Portland, OR '74-75), this gathering on Friday March 24, 2017 from 5:30- 7:30 pm at Lester's Restaurant. Complimentary appetizers and a cash bar will be available. To RSVP or for more information, contact Alumni Coordinator, Sarah Jones, sjones@jvcnorthwest.org or 503.335.8202.
April 1, 2017: FJV 50K Relay in Forest Park
JVC Northwest is excited to put on it's second FJV 50K relay race, once again through Forest Park in Portland, OR.
What You Need To Know:
More information about this event, whose lead coordinator is FJV Chris Chiacchierini (Portland, OR '91-92) please check out the event's Facebook page here: https://www.facebook.com/jvcnw50ktrailrelay/.
For those not on Facebook (good for you!) the event is simple. Registration is live here, where you can register teams of 1 to 5 members to participate in the race. The event is a fundraiser so after you register, all participants are strongly encouraged to make a meaningful donation before or on race day. The suggested donation is $25 per person.
A section of the Wildwood Trail (within Forest Park) has been partitioned (by us) into 5 different sections, which can be split among the 1-5 team members. Whichever team member(s) are not running will carpool ahead to the next section start point to await their team member, and so on until the finish. A detailed map with directions is available here. Each section averages 9.8 km (6.1 miles) long, with variations in actual distance and elevation gain.
For questions about the race please check out the Facebook page or email Chris. For any other questions plesae email Zach at JVC Northwest. We are offering three donation price points ($10, $25, or $50), though we encourage the $25 price as a minimum for those who can afford it.
April 7-9, 2017: Former Volunteer Retreat - Discerning Vocation In Changing Times
Former Volunteer Retreat: Discerning Vocation In Changing Times
April 7-9, 2017
Cascades Camp and Conference Center, Yelm, WA (Pacific Northwest)
Cabrini Retreat Center, Des Plaines, IL (Chicagoland area)
JVC Northwest, in partnership with Mission Year and Brethren Volunteer Service (BVS), are putting on two retreats during the first weekend of April 2017, one in the Pacific Northwest, one in the Chicagoland area. The retreats will focus on "Discerning Vocation In Changing Times", and will focus on themes of discernment, combating injustice, self-care, community, and vocation. If you are wondering how our politically-fractured country intersects with your own journey as a former volunteer who believes in community, spirituality, and social justice, this retreat is ideal for you. This retreat is open to former volunteers of all service programs, though some language and themes may be more familiar to alumni of faith-based service programs.
Our Northwest retreat will be led by Jack Kennedy and Sara Jones. Jack Kennedy is a former Jesuit Catholic priest who now works as a full-time Spiritual Director to clients and friends across the age and religious spectrum. Jack's work has been deeply informed by the Ignatian spirituality he was immersed in as a priest, but is also grounded in the wisdom of several religious traditions and cosmology. Sara Jones is a former Lutheran Volunteer and Peace Corps volunteer who explored several career paths (over 10 years) before becoming a certified professional coach that works specifically with former volunteers to, in her words, "help other former volunteers reignite themselves after their service commitments to create their next empowered chapters". This is Jack's third retreats and Sarah's first as part of the JVC Northwest-Mission Year-Brethren Volunteer Service collective.
Our Chicago-area retreat will be led by Dana Cassell and Rediet Mulugeta. Dana is the pastor for the Manassas Church of the Brethren in Manassas, VA. She is also a former BVS staff member that has been leading retreats and serving the former volunteer population for many years. Rediet is a current Mission Year staff member and former Mission Year volunteer who is active in Chicago movements for racial equity, peace, and social justice. More information on these wonderful retreat leaders coming very soon! (If you have attended any of our past vocationally-focused retreats for former volunteers you likely already know them.)
Attendees can expect a relaxed environment among former volunteers who have engaged in a year or more of service and are looking for ways to continue living out and cultivating the values they hold most dear, both professionally, personally, and spiritually. The cost for this weekend retreat is only $35 thanks to the generous support of the Forum for Theological Exploration.
Registration for the Pacific Northwest retreat here.
Registration for the Chicagoland retreat here.
Please email JVC Northwest's Outreach and Events Coordinator, Zach, at outreach@jvcnorthwest.org with any questions or comments.
June 3, 2017: Annual Seattle Gathering & Fundraiser
Mark your calendars for our 2017 Seattle event! This event will take place at Seattle University in the Campion Ballroom, with optional Mass preceding the main event in the St. Ignatius Chapel on the east side of campus.
This year's event will recognize and honor the historical significance of our first volunteer placement, Copper Valley School (CVS), and all those who served there from between 1956 to 1971. All alumni from CVS are especially encouraged to attend and be recognized for your pioneering contributions to our 60 year history.  A block of hotel rooms at a discounted rate have been booked at the Silver Cloud Hotel next to Seattle University. For information on how to book, please email Zach.
Planning is in the early stages but if you're interested in planning, volunteering, or sponsorships please contact our Outreach and Events Coordinator, Zach.
Save
Save
Save