We invite you to attend some of the many events we'll host throughout the year– from former JV gatherings and happy hours, meet-and-greets with staff, to fundraisers and celebration events– we hope you'll join us!
Solidarity on Tap Series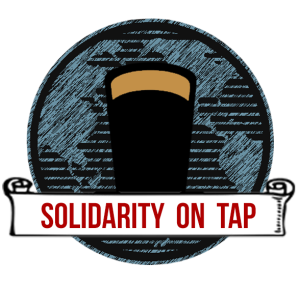 Jesuit Volunteer Corps Northwest, Jesuit Volunteer Corps (based in Baltimore, MD), and Ignatian Solidarity Network welcome those connected to the Jesuits and the spirituality of St. Ignatius of Loyola (FJVs, Jesuit school alumni, Jesuit parish members, etc.) to join us for a simple gathering for socializing and social justice. The 2017 spring season of Solidarity on Tap will be focused on the theme "Mercy in Action." Solidarity on Tap events are held throughout the country- perhaps there is one coming to a city near you! Join us:
July 30th, 7-9 pm, Ignatian Spiritual Life Center, San Francisco, Calif.
Check out the Solidarity on Tap webpage for more events as they are scheduled!
Want to bring Solidarity on Tap to your city? Email Alumni Coordinator, Sarah Jones, at sjones@jvcnorthwest.org or 503.335.8202.
July 31, 2017: St. Ignatius Feast Day Mass & Celebration

Join Jesuits West Province, JVC Northwest, and Our Lady of Guadalupe Parish in celebrating the feast day of St. Ignatius on Monday July 31st at 6 pm for Mass followed by dinner and program at Our Lady of Guadalupe. JVC Northwest is excited to join in celebrating the launch of a new Jesuit Province in the United States, Jesuits West. This new Province, made up of the previous Oregon and California Provinces, reaches from the Arctic Circle to the US/Mexican border.
The celebration will also recognize the Jesuit contribution to 100 years of Our Lady of Guadalupe Parish, and the inauguration of the new Center for Ignatian Spirituality at Our Lady of Guadalupe Parish, a Center that will promote Ignatian spirituality and spiritual direction training in the San Diego area. Former Jesuit Volunteer (FJV) Margie Carroll (Portland, OR '71-72) is coordinating FJV attendance at this celebration and free dinner. For more information or to RSVP, contact Margie at mcarrollca@yahoo.com.
August 11, 2017: Orientation Missioning Mass & Banquet
Join JVC Northwest at Camp Adams in Molalla, Ore. on Friday August 11th at 6 pm to send forth and celebrate the '17-18 Jesuit Volunteers (JVs). This annual gathering is the culmination of our week long Orientation to kick off the JV year. FJVs, Support people, staff, Board Members, family, and friends are invited to join for a celebration dinner followed by Missioning Mass (and occasional conga line). Molalla is a short drive from Portland, Ore. but limited lodging is available for individuals overnight (priority for elders and differently-abled), along with ample room to camp in the meadow. Click here to RSVP or for more information contact Alumni Coordinator, Sarah Jones. 
September 10, 2017: One Mission Mass
Save the date to celebrate the many Jesuit ministries in the Portland area and the newly formed Jesuit West Province (merging of the Oregon and California Provinces). Provincial Fr. Scott Santarosa, SJ, (JVC: Newark, NJ '88-89) will preside at a celebratory mass beginning at 1 pm followed by a delicious lunch. This event, previously held at the Loyola Jesuit Center will be held at Jesuit High School this year to accommodate the larger celebration of the newly formed Jesuits West Province. Portland area JV communities and JV EnCorps members have the special opportunity to be recognized and blessed during the mass. Friends and family are also welcome to attend the event.
Save the Date: September 16, 2017: JV-FJV Welcome Picnic
Save the date to welcome the new Portland-area JVs to their new community at a family-friendly welcome event at Overlook Park! Bring a small dish to share and come ready for fun, games, and friendly competition with the incoming JVs. This event is sponsored by the Portland Alumni Council, a group of younger former JVs who engage FJVs and the greater Portland community to further the mission of JVC Northwest through events and networking.  More event details to come!
Save
Save
Save
Save
Save