We invite you to attend some of the many events we'll host throughout the year– from former JV gatherings and happy hours, meet-and-greets with staff, to fundraisers and celebration events– we hope you'll join us!
Solidarity on Tap Series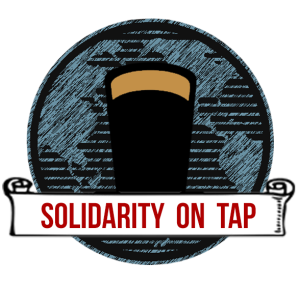 Jesuit Volunteer Corps Northwest, Jesuit Volunteer Corps (based in Baltimore, MD), and Ignatian Solidarity Network welcome those connected to the Jesuits and the spirituality of St. Ignatius of Loyola (FJVs, Jesuit school alumni, Jesuit parish members, etc.) to join us for a simple gathering for socializing and social justice. The 2017 spring season of Solidarity on Tap will be focused on the theme "Mercy in Action." Solidarity on Tap events are held throughout the country- perhaps there is one coming to a city near you! Join us:
June 20th, 7:30 – 9 pm, Finnerty's, NYC
July 30th, 7-9 pm, Ignatian Spiritual Life Center, San Francisco, Calif.
Check out the Solidarity on Tap webpage for more events as they are scheduled!
Want to bring Solidarity on Tap to your city? Email Alumni Coordinator, Sarah Jones, at sjones@jvcnorthwest.org or 503.335.8202.
June 3, 2017: Annual Seattle Gathering & Fundraiser
Mark your calendars for our 2017 Seattle gathering and fundraiser! This event will take place at Seattle University in the Campion Ballroom, with optional Mass preceding the main event in the St. Ignatius Chapel on the east side of campus. (Already set on coming? Buy your tickets here!)
This year's event will recognize and honor the historical significance of our first volunteer placement, Copper Valley School (CVS), and all those who served there between its opening in 1956 to its closing in 1971. All former lay missioners and Jesuit Volunteers who served at CVS are especially encouraged to attend and be recognized for your pioneering contributions to our 60 year history. A block of hotel rooms at a discounted rate have been booked at the Silver Cloud Hotel next to Seattle University. For information on how to book, please email Zach.
*New* – Storytelling Event for Copper Valley

1 – 4 p.m., Boeing Room, Seattle University
For Copper Valley volunteers, students, and friends
Chance to socialize and share stories about your years at CVS
Contact Zach for more details

Mass will begin at 5:00 p.m. – St. Ignatius Chapel

Presided by Fr. Tom Gallagher, SJ

Social hour begins at 6:00 p.m. – Campion Ballroom
Dinner and evening program begins at 7:00 p.m. – Campion Ballroom

Dinner from Bon Appétit Catering

Meat, vegetarian, and vegan options
Fresh, local ingredients whenever possible

Program includes:

Reflections from current and past Jesuit Volunteers,
Copper Valley memorabilia and history,
Fr. Jack Morris, S.J. Memorial Award,
Raffle,
and more!

Tickets

Standard Ticket – $60
Young Adult/Recent FJV Ticket – $45
Register and buy your tickets HERE
Registration deadline EXTENDED!

Tuesday, May 30 @ midnight
If you are interested in contributing in any way please contact our Outreach and Events Coordinator, Zach.
If you are interested in learning about the benefits of sponsoring this event, please email our Director of Advancement, Anne Douglas.
June 17, 2017: Alaska JV & FJV Cookout & Potluck
The '16-17 Anchorage JV community is hosting a JV/FJV cookout and potluck at their home to celebrate summer and the end of their JV year ! The '16-17 JVs from Sitka, Bethel and Juneau will also be attending and would welcome any FJVs in the Anchorage area. The potluck will be at 7:00pm on Saturday June 17. Contact Alumni Coordinator, Sarah Jones, for more information or to RSVP (friends and family welcome!).
Save
Save
Save
Save
Save