Each month we'll include links and documents from the resource letters and AmeriCorps emails we send out that focus on our values of simple living, social and ecological justice, community, and spirituality and reflection.
Resource Letters
JV Resource Letter October 2016
JV Resource Letter December 2016
General Resources
AmeriCorps Resources
JV AmeriCorps Member Contract (template)
JV AmeriCorps Member Task List
OnCorps Instructions:
PERFORMANCE MEASURE RESOURCES
Thank you for your efforts in helping JVC Northwest track the impact of JV AmeriCorps members' service!  Please click on your placement's performance measure focus area below for access to training resources and tools
CAPACITY BUILDING
Capacity Building Instructions & Tools
The capacity building menu can be used to generate project ideas to help meet the identified needs in particular program areas. The AmeriCorps members planning form, completion form, and Site Supervisor Confirmation form help us track and report back to the Corporation of National and Community service the great service being completed at your sites.
Organizational Assessment 2016-17
Capacity Building Data Collection Instructions: This brief document for JV AmeriCorps members and Site Supervisors outlines due dates, role responsibilities and basic logistics for submitting data to JVC Northwest. Please contact Rebecca or Carrie to ask for clarification and/or give feedback.
Capacity Building Menu: for your reference.
Completion Form (electronic) AmeriCorps members submit
Confirmation Form (electronic) Site Supervisor Submits to officially approve the completion of the project
Capacity Building Project Form Packet 2017-18  This packet contains hard copies of the planning and completion forms.  In order to reduce the amount of data entry and speed up the analysis of results, JVC Northwest preferences that JV AmeriCorps members submit planning and completion forms electronically using the above Google forms.  If that is a hardship or not possible due to technological limitations, please feel free to scan and email or mail in the hard copy forms.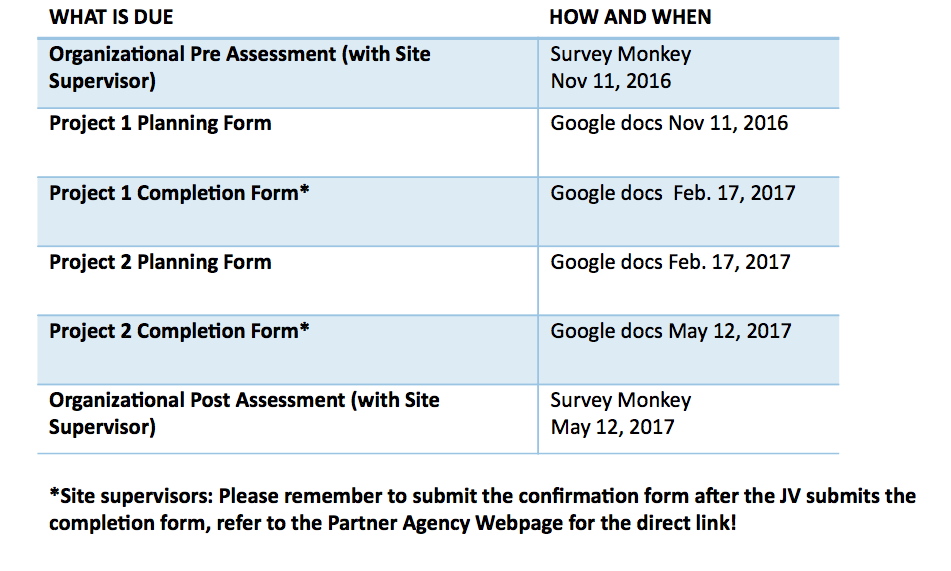 EDUCATION
Please note that members submit forms related to the students they serve each month.
Education Performance Measure Overview
Academic Support Tools, which Education members utilize:
Teacher Support Tools, which Education members utilize:
HEALTH
Please note that members submit forms related to the patients they serve each month.
Access to Healthcare Tools, which members utilize
If you have photos or suggestions for things to include, email Carolyn at cchu@jvcnorthwest.org or Rebecca Sutton-Kanyako at rsutton@jvcnorthwest.org.
Career Transitions Resources
Elevator pitch! Please develop and practice your own "elevator pitch." Here are instructions for how you can craft your own The JVC Northwest Elevator Pitch. Consider writing your elevator pitch as part of a community activity.
Career Guides!
The elevator pitch activity was adapted from the Idealist.org Guide to Nonprofit Careers for First-Time Job Seekers.
A companion guide, Service Corps to Social Impact Career, is also available and includes more specific tips for folks engaged in a term of service.
Suggestions? Comments?