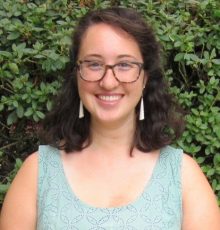 Maggie Ayau,
Recruiter
---
As a child, Maggie got lost in stories of adventure. She dreamed of traveling the world like her literary companions, but she couldn't shake the feeling of being far away from everything, almost as if she were stuck on a rock in the middle of the ocean. (Turns out she was: Maggie grew up in Hilo, Hawaii.)
Maggie first satiated her travel itch in high school when she spent a summer in Thailand assisting a local ministry in providing food and care to families affected by poverty. It was there she first encountered the convergence of service and spirituality, discovered the joy of intentional community, and tearfully witnessed a mama elephant give her baby a bath. Maggie's adventures continued when she moved across the pond to Washington to study English at Whitman College. Her involvement in spiritual community and service groups on campus allowed her to explore many new corners of the country and even the world with a special focus on faith, culture, education, and justice.
After graduation, Maggie embarked on what she now calls the "Big Papa" of her adventures: two years as a JV in Indigenous reservation communities in rural Montana. In Hays ('14-15) she taught 2nd grade at St. Paul's Mission Grade School, and in St. Xavier ('15-16) she served as an academic support specialist at Pretty Eagle Catholic Academy. She cherished the opportunity to learn about the rich cultures and traditions of Indigenous peoples through the eyes of their young people. Now, as the new recruiter, Maggie feels excited to meet with folks interested in contributing their varied gifts and stories to the important work JVs do in the Northwest! As she adjusts from two years of rural life, you might find Maggie marveling at wonders like stores, public transit, humans, and the distance between her bed and the nearest donut vendor (0.1 miles).
Her recruitment travel schedule can be found here.
Want to contact Maggie? Email her or give her a call at 503-902-2770.
---