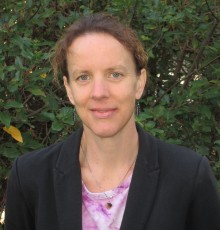 Rebecca Sutton-Kanyako,
AmeriCorps Program Manager
---
Originally from "Packer Territory" (Wisconsin), Rebecca was privileged to serve as a Good Shepherd Volunteer in NYC, which is a faith based AmeriCorps program.  She served as a Youth Development Counselor at a Diagnostic Center for At Risk Girls.  This year of volunteerism served as a foundation for her professional direction, which for the last 15 years has been in the nonprofit sector within Fair Trade, International Development, Public Health and Global HIV/AIDS.  She holds a Master Degree in Sustainable Development from the School for International Training and greatly enjoys to continually learn and expand her horizons through both a domestic and international lens.  She is excited to join the JVC Northwest community and provide support to the JVC Northwest/AmeriCorps members serving in social and environmental justice throughout the Pacific Northwest.  Outside of work, Rebecca's joy is spending time with friends, family and most especially her 5 year old son and his favorite activities, which currently include scooting, swimming and  Scooby Doo!
Want to contact Rebecca? Email her or give her a call at 503-335-8202.
---