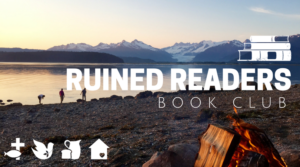 In 2016, JVC Northwest launched a world-wide book club as part of the 60th Anniversary celebrations, thanks to great feedback from the 2015 Former JV Survey. We are offering both in-person meetings across the country and a self reflection guide format throughout the year, each round focusing on a different value of JVC Northwest.
Registration for our Simple Living Round is now closed. Contact Alumni Coordinator, Sarah Jones to join an existing group or get the reflection guide.
---
Click the values below to learn more about each of the values and book selected or visit our Goodreads profile to see all of the books nominated for our Ruined Readers gatherings!
Social Justice (February- April 2017)
Ecological Justice (May- July 2017)
Simple Living (August-October 2017)
Community (November 2017- January 2018)
Selection announced later in 2017!
Spirituality (February - April 2018)
Selection announced later in 2017!
2016 Book Selections
Save