2014 marked the ninth time the JVC Northwest community has gathered for our Seattle Event to recognize and celebrate the service of Jesuit Volunteers in the Northwest. The theme of this year's event was "Singing in the Rain," and true to form, not only did we have some rainfall, we also "sang the praises" of the impact that a year of service can have on a community and an individual. Read on to hear a first hand account of the event from our own Outreach and Events Coordinator, Zach Reuter.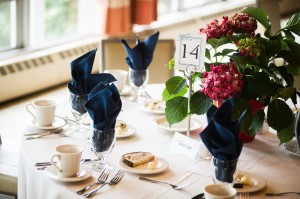 "Singing in the Rain" remains one of the most cherished and timeless of all musicals. When this year's Seattle JVs and I met to brainstorm possible themes for the event, this one stuck out more than any other, and not only because of the 38 inches of precipitation that visits the Emerald City annually. Diving deeper into the theme, we saw that JVs "sing in the rain" every single day, bringing compassion, joy, and a desire to grow to communities and individuals experiencing physical and emotional rain.
When March 29th finally arrived I was thrilled to see the fruits of over ten months of planning come to life. The evening began with Mass in Seattle University's Campion chapel presided over by Fr. Joseph Carver, SJ (Seattle, WA '93-94). Attendance was so high that dozens of chairs had to be brought in to meet demand!
After Mass began the social hour in the adjoining Campion ballroom. By this time nearly 250 people had checked in to the event. During the social hour JVs, FJVs, staff, board members, Jesuits, friends, and family caught up with old friends, made new acquaintances, purchased raffle tickets, and viewed art created by current JVs Taylor Rose (Gresham, OR '13-14), Katie Fisher (Gresham, OR '13-14), Erik Pederson (Gray's Harbor, WA '13-14) and Jasmine Villanueva (Hood River, OR '13-14).
Mary Hartrich (Portland, OR '72-73) gave a beautiful blessing before dinner and our emcee Marilyn Nash (Seattle, WA '92-94) welcomed everyone to the event. The program officially began with the keynote speech from Rob McCann, PhD (Woodburn, OR '91-92). Rob currently serves as the Executive Director of Catholic Charities Spokane as well as on our Board of Directors. Rob spoke about the over 8 million dollars in services that JVs alone have provided to the City of Spokane, his time working with Mother Teresa, and how his own service as a JV has led him to a life of work with Catholic social ministries.
Rob was followed by JV speaker Ryan Mildenberger (Seattle, WA '13-14), who spoke about his path to becoming a JV. He also spoke about the insights he has gained and the relationships he has formed at his placement, L'Arche Noah Sealth, where he serves alongside adults with developmental disabilities.
After Ryan's speech came the invitation to partnership. Emcee Marilyn Nash and JVC Northwest Executive Director Jeanne Haster spoke about the power of one donation; how one check to support JVC Northwest supports dozens of different agencies, volunteers, and vulnerable individuals. The power of those words and the generosity of those in attendance helped our organization raise over $60,000!
The night was capped off with the presentation of the second annual Fr. Jack Morris, SJ Memorial Award. This year's winner was former JVC Northwest Executive Director Larry Gooley, SJ. Larry attributed all of his graces to his time working alongside the JVs, saying, "I have come to see that the day simply won't come when I am more noble, have more courage, or am more pleasing to God than the Jesuit Volunteers I have been blessed to know."
After a standing ovation the night concluded with the raffle drawing and a beautiful rendition of "Woke Up This Morning With My Mind Stayed on Freedom" from Patrick Vale (Gresham, OR '13-14) and Nathan Lin (Tacoma, WA '13-14).
I personally want to thank everyone who was able to attend the event or had a hand in its success in any way. I am especially grateful to our table captains, sponsors, and to Seattle University for helping provide the support necessary to continue the incredible work of Jesuit Volunteer Corps Northwest. Next year's event is scheduled for May 30th, 2015 so mark your calendars and we'll see you there!
To see all the pictures from the event click here.