We invite you to attend the many events we host throughout the year. Our former JV gatherings and happy hours, meet-and-greets with staff, fundraisers, and celebration events are great opportunities to stay connected to your JVC Northwest community. We hope to see you there!
As COVID-19 Planning for Health and Safety changes by the day, please make sure to check on our Events page often for updates if you had planned to attend an event. We'll do our best to keep our Events page current and remove offerings that are having to be canceled.
Click on an event below to learn more.
For the Four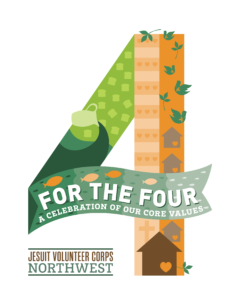 Join JVC Northwest for a virtual celebration of our core values.
WEEK OF GIVING May 17 - May 23
VIRTUAL KICKOFF Sunday, May 17 at 1 p.m. PT
In response to the COVID-19 outbreak, and out of concern for the safety of our community, JVC Northwest is taking our annual fundraiser scheduled for May 17 to a virtual format. All are welcome to join us in virtual community, and there will be more details to come on how you can register for our online event. In the meantime, if you'd like to get a jumpstart in giving to support the critical service of our volunteers and celebrate our honorees, you can make a donation through the form below.
Continue reading
Solidarity on Tap
Jesuit Volunteer Corps Northwest, Jesuit Volunteer Corps (based in Baltimore, MD), and Ignatian Solidarity Network welcome those connected to the Jesuits and the spirituality of St. Ignatius of Loyola (FJVs, Jesuit school alumni, Jesuit parish members, etc.) to join us for a simple gathering for socializing and social justice. Solidarity on Tap events are held ...
Read more
FJV Happy Hour – Seattle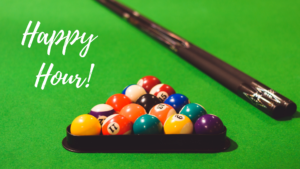 Seattle Alumni Council is hosting a Happy Hour at The Pine Box
1600 Melrose Ave, Seattle, WA 98122
What: Come connect with FJVs and friends of FJVs for our March Happy Hour. Seattle Alumni Council will provide snacks! Bring any games you would like to play! Hope to see you there!!!!
For more information and to RSVP click here.
Continue reading