Featured Stories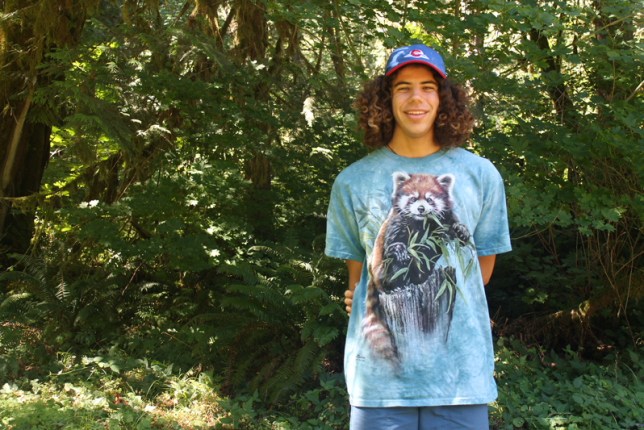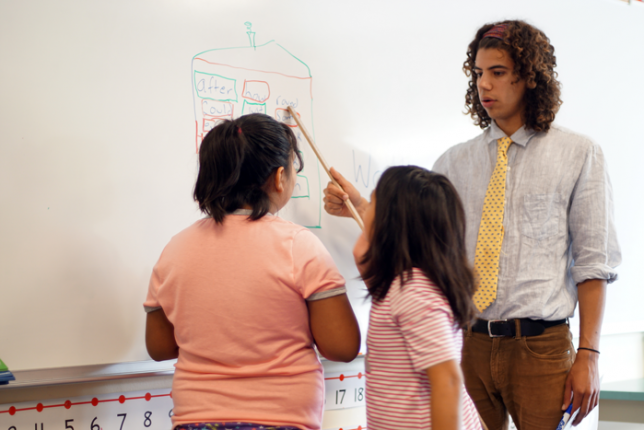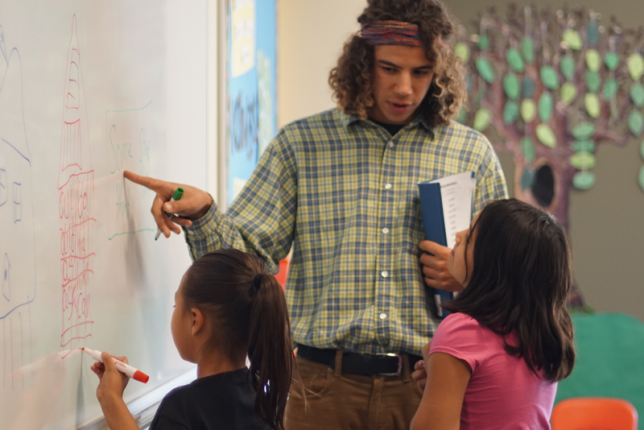 Alex Benson
Graduate of University of San Diego
Served in Hays, MT '16-17
Academic Support Specialist
St. Paul's Mission Grade School
I served at St. Paul's Mission Grade School as the tutor working with kindergarten through 6th graders. I was very grateful to be in a place where spirituality is valued highly. In Hays, the beauty and serenity of the surrounding prairie and the Little Rockies watching our backs was amazing. It was a blessing to be able to walk through the prairie and contemplate and say thanks. I was grateful for the opportunity to learn the ways of the people in the community. I was challenged to learn a new type of spirituality and ways to reach out to the Creator. As Sister Chris always said, "They have touched us and we have grown."
Hays is a pretty isolated place, our grocery store was an hour and a half away, and during winter months, you can be locked in for days at a time. It was during these times in community that I would treasure the most. Just finding ways to be goofy and lighthearted in times where it was difficult. We would have to be creative to build community but we figured it out. Café Disco really took off one night causing all of us to goof around. Sometimes community just looked like a bunch of teachers recalling all the crazy things their students had done throughout that day and sharing in the joy of those crazy kids.
In a place like Hays, living simply was sort of part of the deal. We had our monthly grocery trips where we got what we needed for the month and what we didn't get, we had to wait for the next trip. Once every couple weeks our house turned into a kombucha factory as one of my housemates took it upon themselves to find ways to have fun while living simply. It was challenging to be so far away and isolated from family and friends but thankfully my community was supportive and awesome and some of the weirdest cool people I've ever met.
This year stretched me, allowing me to struggle and challenge myself. There were times where I got home and crashed but, fortunately, I had a community to support me and lift me up and have fun with. I was in a town that welcomed me in and showed me their ways. And most of all I had the opportunity to meet and form relationships with the kids at Mission Grade School, who transformed us as we did our best to provide a good education and a safe place for them to be the whacky little kids they are.
---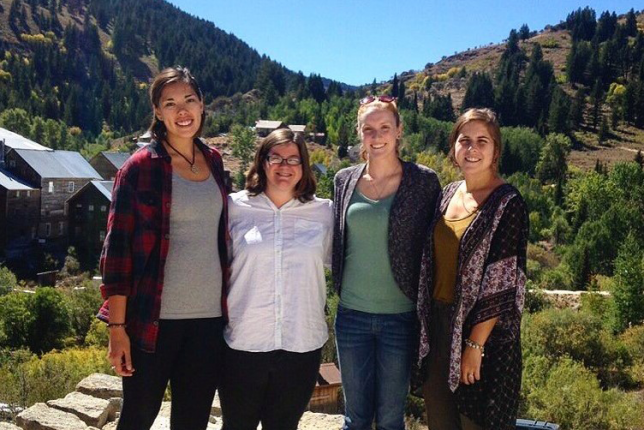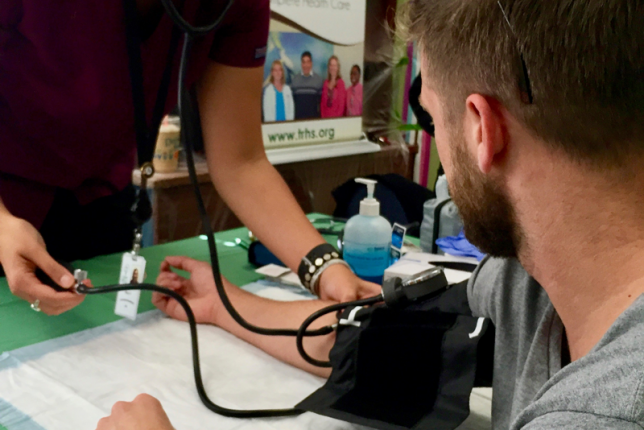 Mary Franz
Graduate of College of St. Benedict
Served in Boise, ID '16-17 & Yakima, WA '17-18
Registered Nurse and Outreach Coordinator
Terry Reilly Health Services
I served as a registered nurse at Terry Reilly, a non-profit primary health care organization that provides access to health care for the vulnerable and marginalized in Boise and surrounding cities. As a volunteer nurse, I serve a variety of people including those experiencing homelessness, immigrants, refugees, and low-income families. The majority of my patients do not have insurance and are receiving primary health care from our organization at a significantly discounted rate. At Terry Reilly, we welcomed all patients, insured and uninsured, to our clinics for medical, behavioral, and dental health services. I believe healthcare is a human right and am proud to have served an organization that is providing this essential resource to the community.
I chose JVC Northwest because it gave me the opportunity to enter intentionally into my nursing career and develop a professional foundation rooted in service to others. When discerning my post-graduation plans, I knew that I wanted an experience where I could grow personally, professionally, spiritually, and in relationship with others. These desires drew me to JVC Northwest and its four core values which have allowed me to deepen my understanding of who I am and who I hope to become as a nurse and as an individual.
Each day, I become more and more aware of my ability to make change in my community. Those surrounding me empower me to offer my best in every moment and to become aware of all the ways my life matters in the work of alleviating injustice. I must not only undo the damage that prejudiced systems perpetuate but to build something simultaneously. I have to join the collective counter force of both public health and hospital nurses who are serving, healing, listening, and advocating in the midst of uncertainty. I've learned that the greatest gifts I can offer this world are an open mind, open heart, and open hands.
---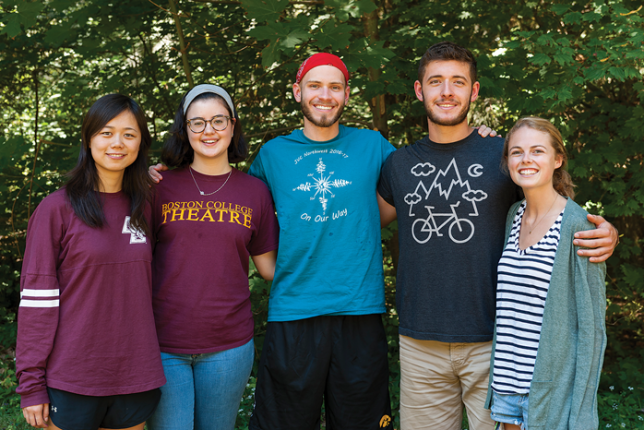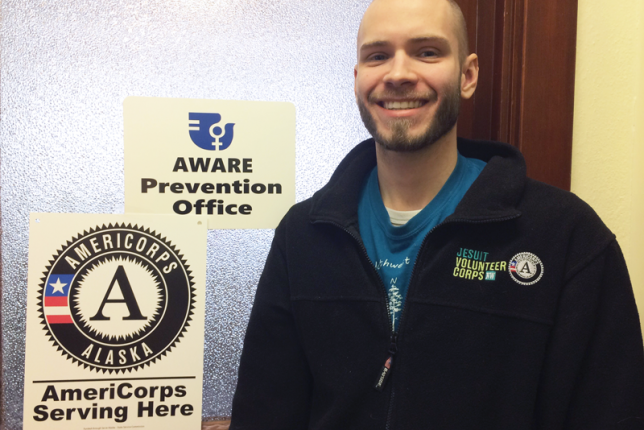 Brian Thurow
(pictured center)
Graduate of Boston College
Served in Hays, MT '15-16 & Juneau, AK '16-17
Program Specialist, Juneau Choice and Accountability Program
Aiding Women in Abuse & Rape Emergencies (AWARE), Inc.
As a JV, I operated a batterer intervention program and facilitated classes for men who have used violence against their intimate partners. Domestic violence and sexual assault exists everywhere, but the rates of DV/SA in Alaska are significantly higher than the rest of the country.
My engagement with social justice taught me what it means to let someone "live their truth", meaning to. let someone share their experiences and perspectives without confronting it with my own inner monologue, "certainties", judgments, or biases. It turns out that everyone's experience of the world is equally valid and worthy.
Simple living allowed me to see past the myriad distractions that inundate our 21st century lives and recognize what is truly important: my relationships, my well-being, my environment, and my passions. I've learned that as my line of sight is cleared of sparkly distractions and lazy misdirections, the beauty and wonder of the world around me shines even brighter.
[I have learned that ] the point isn't that the world is some scary, awful place fraught with suffering and injustice; the point is that we're all in it together, and that the only decent thing to do is be kind, love everyone, and remember that we all belong to each other.
During my two years as a JV, I learned how to love and I learned how to listen. I was challenged, broken, loved, and known. It would truly have been a tragedy for me to go my whole life without learning the lessons I did as a JV. I know, with abundant confidence, that I am a better, fuller person as a result of this experience and I will be forever grateful for it.
---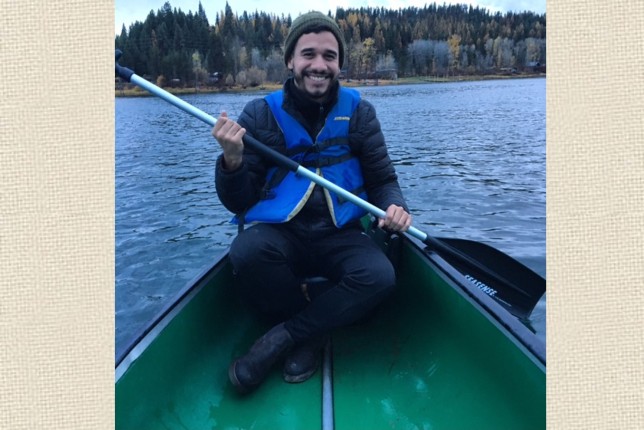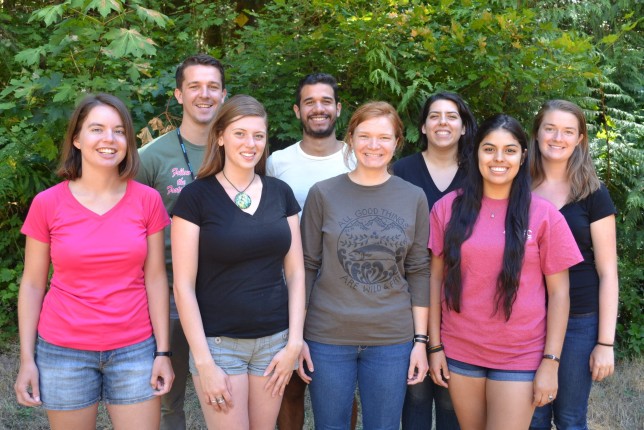 Carlos Gonzalez
Carlos Gonzalez:
Graduate of St. Peter's University
Currently serving in Gresham, OR
Information & Referral Specialist, El Programa Hispano Católico
As a JV,  I serve with the Information Assistance and Referral team, which focuses on short-term interventions for low-income Latino families. I focus on referral, employment, and housing services, and I assist in the senior program.
My JV year so far has solidified my passion for social and ecological justice, which I began to learn about in college. It's one thing to study it, but it is a completely different experience to put it into practice.
I did not anticipate the combined difficulty and reward of living with seven other community members, but community has taught me about the importance of relationships. I am also learning more about simple living, which has taught me that I can be more creative with my time and how to use my time more wisely.
---
Maddie Regan
Graduate of Santa Clara
Currently serving in Seattle, WA
Mainstream Services Liaison at Downtown Urban Rest Stop
My placement is at Downtown Urban Rest Stop, a hygiene center for people experiencing homelessness. I am the go-to person for all questions regarding social services, and I assist patrons with questions on resources around Seattle. I also serve as the volunteer coordinator!
I think of my year with JVC Northwest as my year of faith in action. I cultivated a faith-through-works mentality at SCU, and this year has helped me grow in my action of faith in everyday life. Not to mention, I am using my psychology and public health degrees every day at the Rest Stop!
I knew being a JV would challenge me, but I never anticipated the way my heart would break for the people I serve. To see people who work full-time and are still unable to obtain housing has challenged the way I look at systematic indifference and injustice. I also believe that I've grown to express my beliefs, my passions, and my needs in a more intentional way through living in community this year.
---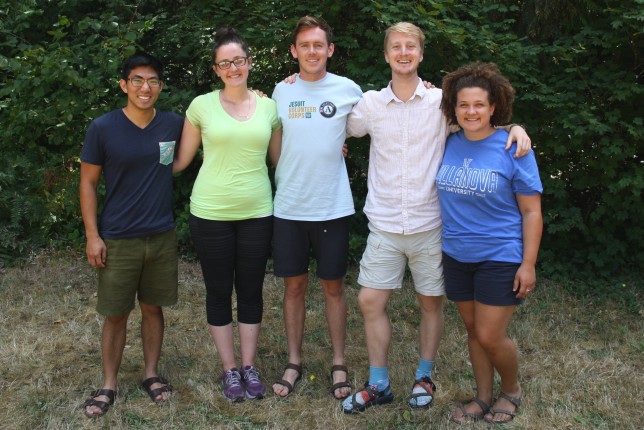 Tim Sullivan
Graduate of Loyola Marymount University
Currently serving in Omak, WA
Academic Support Specialist at the Paschal Sherman Indian School
(Pictured above, center, with his Omak community)
As a JV, I wear many different hats. The majority of my time is spent working in the school's literacy program, but I've been happy to do a variety of different things around campus, from decorating the halls to helping teachers. Outside of the classroom, I have been spending time with the students who stay overnight at the school's dormitory—taking them on hikes, doing crafts projects, or supervising them during recreation time.
I've been pleasantly surprised with the emphasis placed on community and simple living. JVC Northwest stresses the idea of living intentionally, both through our service and in our communities. I hadn't given much thought to the idea of being thrown into a house with four strangers, [but] after four months, I've been able to examine my own actions and impact on those around me through an entirely new lens.
---
Want to join JVs like Alex, Mary, Brian, Carlos, Maddie, and Tim in a year of service?
---