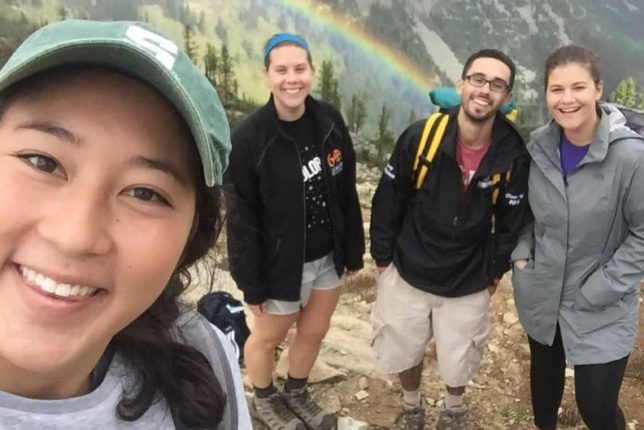 Lauren Choi


Mental Health Care Specialist
Okanogan Behavioral HealthCare, Omak, WA
Michigan State '16
---
What does your service look like as a JV?
I am a mental health specialist at Okanogan Behavioral Healthcare in Omak, WA. We provide services to my clients and their families who have acute, chronic, and persistent mental illnesses. I really appreciate the class I teach at our Day Support Program (a therapeutic class that occurs daily for clients with both mental illnesses and developmental disabilities), where I get to see clients learning and growing, not just from myself, but from each other.
What need are you addressing and why is your service important?
With only 5,000 residents, Omak is the largest town in the county, and we are a vital resource for those seeking mental health and chemical dependency services. We interact with a diverse set of clients since there's a Native American population who resides with us on the Colville Reservation. This experience has allowed me to better be present to marginalized communities in central Washington, and I'm constantly humbled by my clients and community mates, as we strive to care for and serve the most vulnerable populations in Omak.
Why did you choose JVC Northwest?
I chose JVC Northwest because of the four values that guide the experience of each JV—social and ecological justice, community, simple living, and spirituality. The focus on social justice caught my attention in the beginning, but each value has played an important role in my year thus far. As a future social worker, I wanted an experience of service in a new place, where I could develop both professionally and personally.
How is this experience having an impact on you? In what ways are you learning/growing?
Although we're not halfway through yet, I have already been changed in unexpected ways. One of the best changes has been in my definition of community. My fellow JVs have provided more laughter and love than I ever expected, and the community of Omak has welcomed us with hospitality and kindness in every aspect of our lives as we adjusted to the town. I've come to love this tiny, desert town at the heart of the Okanogan National Forest, and the natural beauty everywhere we've traveled in the Pacific Northwest.
Any words of wisdom for others considering becoming JVs?
We are needed now more than ever in these changing times, and we have a unique opportunity to bring hope to individuals, communities, and the wonderful Pacific Northwest. I'd encourage potential JVs to follow the adventurous and humble places in your heart—this experience is one of service and hard work, but also one of the greatest ways for you to change and grow. This is not what I expected when I first looked up where Omak was on a Washington map, but it's been better than anything I could have imagined.
Join JVs like Lauren in a year of service:
---