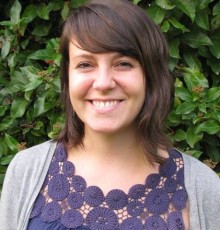 Christie Costello,
Recruitment & Marketing Manager
---
After a few early years in the South and on the East Coast, I spent most of my childhood in Southern California. I studied Peace & Justice and Conflict Studies at Regis University, and became more involved in community and justice issues during a year living in Romero House, a Regis program similar to JVC Northwest. In 2009, I moved to Portland, where I served as JV supporting survivors of domestic violence, and again as a second year JV in Hillsboro, OR, providing community education about intervention/prevention of abuse. Though I've retired from our office's Fun Committee, I'm actively involved in helping create a more inclusive and equitable organization through my work on our office's Equity Committee and our Board's Mission and Planning Subcommittee. Outside of work, I enjoy exploring the Northwest's beautiful outdoors and taste-testing my way through the best of Portland's pizza parlors.
Want to contact Christie? Email her or give her a call at 503-335-8202.
---