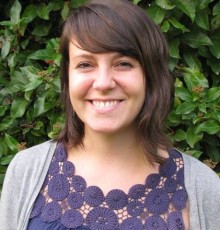 Christie Costello,
Recruitment & Marketing Manager
---
After a few early years in the South and East Coast, Christie spent most of her childhood in Southern California. She studied Peace & Justice and Conflict Studies at Regis University, and developed a passion for community and justice issues during a year living in Romero House, a Regis program similar to JVC Northwest. Excited to explore ideas of community, justice, simplicity, and spirituality more deeply, without also balancing the demands of school, joining JVC Northwest was a natural and long-awaited step after graduation. Christie was a JV in Portland, OR ('09-10) and Hillsboro, OR ('10-11), first serving domestic violence survivors in shelter and later providing community education about intervention/prevention of abuse. Christie loves spending time exploring Portland, generally with a camera in hand, at parks, shows, hiking trails, cafes, or any of the many wonderful places the city has to offer. She's very excited to talk with potential applicants about what a year of service in the Northwest might be like for them!
Want to contact Christie? Email her or give her a call at 503-335-8202.
---