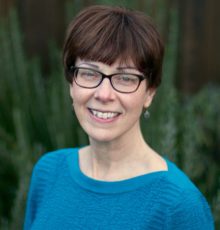 Jeanne Haster,
Executive Director
---
JVC Northwest has played a significant role in my life since becoming Executive Director in 2004.  My first introduction to Jesuits was as an undergraduate at Creighton University; my Jesuit Volunteer journey launched in 1981-82 as a JV in Fort Worth, TX working with undocumented workers, families, and women at a Latinx community center. I am grounded in the red earth and wild winds of my birthplace and childhood home of Oklahoma. After living throughout the US and in global locales, my wonderful family and I landed in the Pacific Northwest.
I have been challenged and transformed by years of living, working with, and learning from Indigenous Peoples in Guatemala and Australia and refugees from Central America and around the world; earning two masters degrees in the Theologies of Justice and Peace from Maryknoll School of Theology in New York; teaching all ages from post graduate theology courses to middle school social studies; and being with JVs, JV EnCorps members, former volunteers, board members, staff, partner agency staff, and other supporters of the organization. I am thrilled and humbled to be part of a transformation evolving through the work of JVC Northwest.
Want to contact Jeanne? Email her or give her a call at 503-335-8202.
---