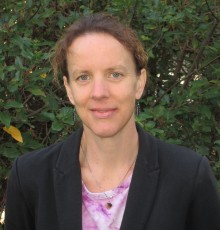 Rebecca Sutton-Kanyako,
AmeriCorps Program Manager
---
Originally from "Packer Territory" (Wisconsin), I had the privilege to serve as a Good Shepherd Volunteer in NYC in the role of Youth Development Counselor at a Diagnostic Center for at risk girls. This year of service provided a foundational platform for both my personal and professional direction, which for the last 15 years has been in the nonprofit sector within Fair Trade, International Development, Public Health, and HIV/AIDS. I greatly enjoy to expand my horizons through both a domestic and international lens. I am especially grateful for the opportunity to obtain a Master Degree in Sustainable Development from the School for International Training, which has contributed to my continuum of learning and awareness of our world. My family and I embrace the values of JVC Northwest through engagement in the Oregon Humanities Conversation Project, our annual participation at the Portland AIDS Walk, our monthly time invested at St. Vincent De Paul Food Pantry, our weekly use of public transportation, and our daily dialogues concerning local, national and world realities and our lived experience. Outside of the office, Rebecca's joy is to also spend time with friends, family and most especially her 6 year old son and his favorite activities, which currently include ice skating, tap dancing, swimming, martial arts and writing stories (these will change next month 🙂 )!

Want to contact Rebecca? Email her or give her a call at 503-335-8202.
---