In 2016, JVC Northwest launched a world-wide book club as part of the 60th Anniversary celebrations, thanks to great feedback from the 2015 Former JV Survey. We are offering both in-person meetings across the country and a self reflection guide format throughout the year, each round focusing on a different value of JVC Northwest.
Our Ruined Readers Book Club is now run by a JV EnCorps member, Sharon Johnson. If you have questions, please contact Sharon by email.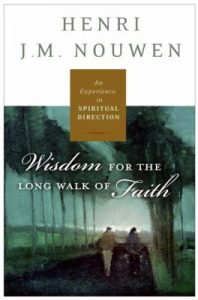 Register today for our fifteenth Ruined Readers selection, Henri Nouwen's Spiritual Direction. The registration form will show book clubs in your area, or help you start a new group, or opt to receive the self-reflection guide. Click here to register!
Registration opens on January 15 and closes by January 31, 2020.
---
Click the titles below to learn more about past book selection or visit our Goodreads profile to see all of the books nominated for our Ruined Readers gatherings!
2019 Book Selections
2018 Book Selections
2017 Book Selections
2016 Book Selections
Save