In 2016, JVC Northwest launched a world-wide book club as part of the 60th Anniversary celebrations, thanks to great feedback from the 2015 Former JV Survey. We are offering both in-person meetings across the country and a self reflection guide format throughout the year, each round focusing on a different value of JVC Northwest.
Register today for Ruined Readers Book Club! We are rolling along with our 11th selection. This program year we will be selecting books written by authors of color as we continue to strive to create a more equitable and inclusive community. Our upcoming selection is The Hate U Give by Angie Thomas. Registration is now open for group meetings that will start meeting in November 2018. Registration closes on November 1. Find a book club in your area, start a new group, or opt to receive the self-reflection guide. Click here to register.
---
Click the values below to learn more about each of the values and book selected or visit our Goodreads profile to see all of the books nominated for our Ruined Readers gatherings!
Angie Thomas (November- December 2018)
Our second selection for the 2018-19 is The Hate U Give by Angie Thomas. This is a compelling story that addresses police brutality, code-switching, racial profiling, microaggressions, and other issues through its sympathetic (and funny!) teen protagonist, Starr Carter. Centering a character who is coming to better understand herself as a young black woman allows us to accompany her through her identity formation, ignited in large part by the tragedy of her friend's death at the hands of the police. Published February 28, 2017, The Hate U Give debuted at number one on The New York Times young adult best-seller list where it remained for 50 weeks. It received positive reviews and won several awards. It is Thomas' debut novel, expanded from a short story she wrote in college following the police shooting of Oscar Grant. 
2017-18 Book Selections
Social Justice (June – August 2018)
Our first selection of the 2018-19 cycle is Trevor Noah's Born a Crime: Stories from a South African Childhood.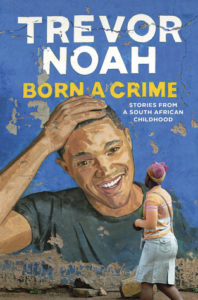 Trevor Noah's unlikely path from apartheid South Africa to the desk of The Daily Show began with a criminal act: his birth. Trevor was born to a white Swiss father and a black Xhosa mother at a time when such a union was punishable by five years in prison. Living proof of his parents' indiscretion, Trevor was kept mostly indoors for the earliest years of his life, bound by the extreme and often absurd measures his mother took to hide him from a government that could, at any moment, steal him away. Finally liberated by the end of South Africa's tyrannical white rule, Trevor and his mother set forth on a grand adventure, living openly and freely and embracing the opportunities won by a centuries-long struggle.
Social Justice (February- April 2017)
Our first selection of 2017 is "Strangers in Their Own Land" by Arlie Russell Hochschild. Hochschild, a sociologist at the University of California at Berkeley, "embarks on a thought-provoking journey from her liberal hometown of Berkeley,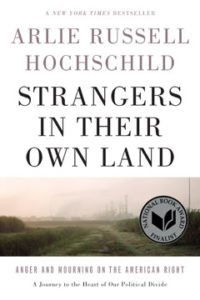 California, deep into Louisiana bayou country—a stronghold of the conservative right.
As she gets to know people who strongly oppose many of the ideas she champions, Hochschild nevertheless finds common ground with the people she meets—among them a Tea Party activist whose town has been swallowed by a sinkhole caused by a drilling accident—people whose concerns are ones that all Americans share: the desire for community, the embrace of family, and hopes for their children."
Ecological Justice (May- July 2017)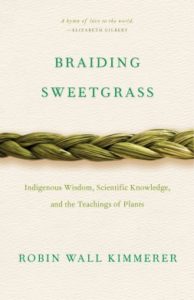 Our selection for Ecological Justice is Braiding Sweetgrass by Robin Wall Kimmerer. "Drawing on her life as an indigenous scientist, a mother, and a woman, Kimmerer shows how other living beings—asters and goldenrod, strawberries and squash, salamanders, algae, and sweetgrass—offer us gifts and lessons, even if we've forgotten how to hear their voices. In a rich braid of reflections that range from the creation of Turtle Island to the forces that threaten its flourishing today, she circles toward a central argument: that the awakening of a wider ecological consciousness requires the acknowledgment and celebration of our reciprocal relationship with the rest of the living world. For only when we can hear the languages of other beings will we be capable of understanding the generosity of the earth, and learn to give our own gifts in return."
Simple Living (August-October 2017)
Our selection for Simple Living is The Year Without a Purchase by Scott Dannemiller. "The Year without a Purchase is the story of one family's quest to stop shopping and start connecting. 
Scott Dannemiller and his wife, Gabby, are former missionaries who served in Guatemala. Ten years removed from their vow of simple living, they found themselves on a never-ending treadmill of consumption where each purchase created a desire for more and never led to true satisfaction. The difference between needs and wants had grown very fuzzy, and making that distinction clear again would require drastic action: no nonessential purchases for a whole year. No clothes, no books, no new toys for the kids. If they couldn't eat it or use it up within a year (toilet paper and shampoo, for example), they wouldn't buy it."
Community (November 2017- January 2018)
Our selection for Community is Blood and Earth by Kevin Bales. From the author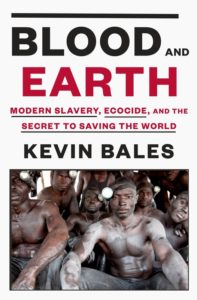 's website: A leading expert on modern-day slavery, Kevin Bales has traveled to some of the world's most dangerous places documenting and battling human trafficking. In the course of his reporting, Bales began to notice a pattern emerging: Where slavery existed, so did massive, unchecked environmental destruction. But why? Bales set off to find the answer in a fascinating and moving journey that took him into the lives of modern-day slaves and along a supply chain that leads directly to the cellphones in our pockets. What he discovered is that even as it destroys individuals, families, and communities, new forms of slavery that proliferate in the world's lawless zones also pose a grave threat to the environment. Modern-day slavery is destroying the planet and directly related to climate change.  The product of seven years of travel and research, Blood and Earth brings us dramatic stories from the world's most beautiful and tragic places, the environmental and human-rights hotspots where this crisis is concentrated. But it also tells the stories of some of the most common products we all consume—from computers to shrimp to jewelry—whose origins are found in these same places."
Spirituality (February – April 2018)
The Spirituality selection is Learning to Walk in the Dark by Barbara Brown Taylor. Taylor has become increasingly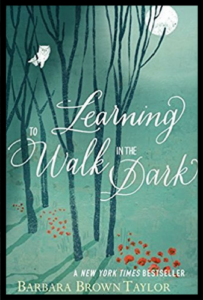 uncomfortable with our tendency to associate all that is good with lightness and all that is evil and dangerous with darkness. Doesn't God work in the nighttime as well? In Learning to Walk in the Dark, Taylor asks us to put aside our fears and anxieties and to explore all that God has to teach us "in the dark." She argues that we need to move away from our "solar spirituality" and ease our way into appreciating "lunar spirituality" (since, like the moon, our experience of the light waxes and wanes). Through darkness we find courage, we understand the world in new ways, and we feel God's presence around us, guiding us through things seen and unseen. Often, it is while we are in the dark that we grow the most.
2016 Book Selections
Simple Living (February-March 2016)
Our first club focused on Simple Living featured Richard Rohr's Simplicity: the Freedom of Letting Go. From the Center for Action and Contemplation: '" 'Less is more,'  Richard Rohr tells us, and those who have nothing to protect or prove have a soul that can embrace both the shadow self and the good to receive Christ. This book has continued to resonate with seekers since its original publication." This book explores St. Francis's ancient call to the simple life, where joy, not dry theology, helps us build relationships and find peace in ourselves."
Community (May-June 2016)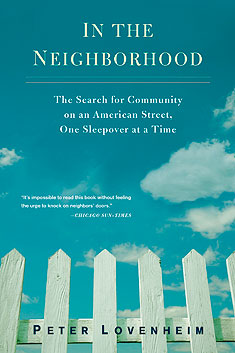 Our second club meeting focused on the value of Community. Our Community book, nominated by former Jesuit Volunteer Christy Foltz-Ahlrichs (Richmond, VA '96-97) who currently lives in Boise, ID, is In the Neighborhood by Peter Lovenheim. Here is a brief synopsis about the book from Peter's website: "Peter Lovenheim had lived on the same street in suburban Rochester, New York much of his life. But it was only after a brutal murder-suicide rocked the neighborhood that he was struck by a fact of modern life in contemporary American communities: No one really knew anyone else. Thus began Peter's search to meet and get to know his neighbors. Being inquisitive, he did more than just introduce himself. He asked, ever so politely, if he could sleep over."
Social and Ecological Justice (August-September 2016)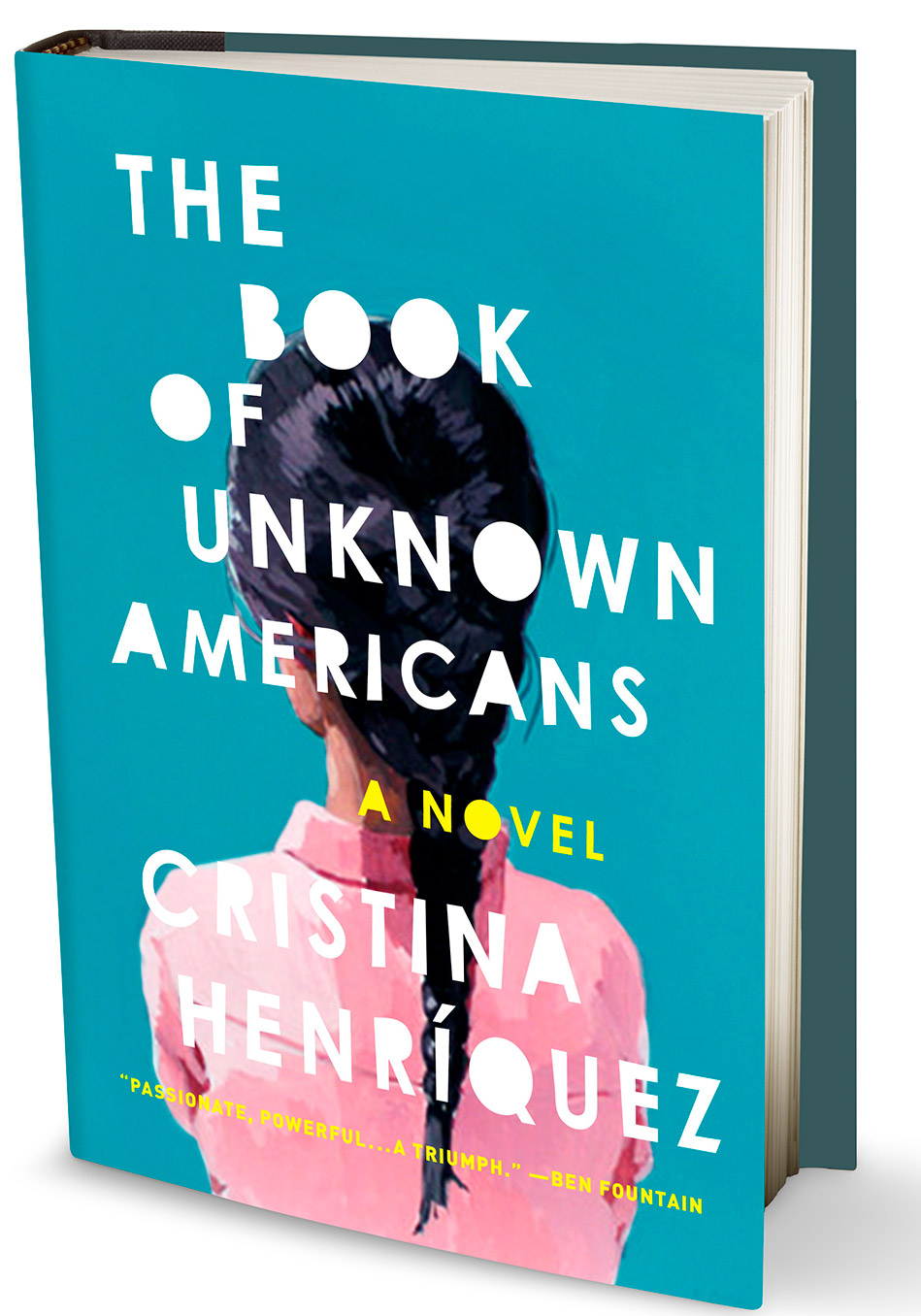 Our third club meeting focused on the value of Social and Ecological Justice. Clubs met and discussed "The Book of Unknown Americans" by Cristina Henriquez. Here is a brief synopsis of the book from the author's website: "Arturo Rivera was the owner of a construction company in Pátzcuaro, México. One day, as his beautiful fifteen-year-old daughter, Maribel, is helping him at a work site, she sustains an injury that casts doubt on whether she'll ever be the same again. And so, leaving all they have behind, the Riveras come to America with a single dream: that in this country of great opportunity and resources, Maribel can get better. When Mayor Toro, whose family is from Panamà, sees Maribel in a Dollar Tree store, it is love at first sight. It's also the beginning of a friendship between the Rivera and Toro families, whose web of guilt and love and responsibility is at this novel's core. Woven into their stories are the testimonials of men and women who have come to the United States from all over Central and Latin America. Their journeys and their voices will inspire you, surprise you, and break your heart."

Spirituality (November-December 2016)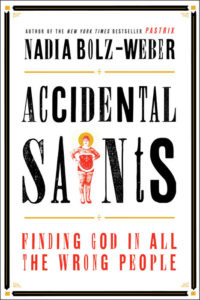 Our final selection of 2016 is Accidental Saints by Nadia Bolz Weber. Here is a brief synopsis of the book from the author's website: "In a time when many have rightly become disillusioned with Christianity, Accidental Saints demonstrates what happens when ordinary people share bread and wine, struggle with scripture together, and tell each other the truth about their real lives. This unforgettable account of their faltering steps toward wholeness will ring true for believer and skeptic alike."
Save