#JVReflects by Caroline Fenton (Ashland, MT '18-19) serving at St. Labre Indian School as Dormitory Mentor 1.
"Home" is a powerful concept at my service placement with JVC Northwest. I serve the residential students of St. Labre Indian School as a "dormitory mentor," providing academic and emotional support to Native American students living on campus. Each week, dorm students travel upwards of two hours just to get to school. During the week, they attend classes, play sports and join extracurriculars, and come back to the dorm at night. Students return home each weekend, but I, alongside a fellow JV, Michael DeSantis, and dorm staff, try to make the dorm a home for the in between.
Each day, Michael and I serve our students' academic needs by facilitating several study halls and offering individual tutoring. We begin our service day by tracking each student's academic progress, and then developing both daily and long-term plans that fit each student's individual needs. Beyond the academic, we serve through presence as well, trying each day to make sure our students not only feel at home in the physical space of the dorm, but also feel at home in themselves. Navigating the pressures of middle and high school is already difficult enough without also having to deal with the strain of being separated from family and home communities. Our students also deal with the stressors that come with experiencing and learning about the continued marginalization of indigenous people. Every day we spend at service presents new trials and issues, but alongside each is the joy our students bring to us, each other, and their own families.
The overarching theme of our service year is "Justice Starts at Home," and it truly does [start at home] for our JV community and for our students. The home we try to create in our students' school environment may be temporary, but is no less meaningful. Amidst pumpkin carving, tree decorating, basketball games, and constant prank wars, there is the same joy, love, and intention found in any family. The laughter and stories my students share with me, alongside the memories we build together, have become some of the most precious gifts of my life.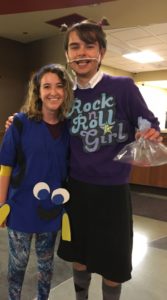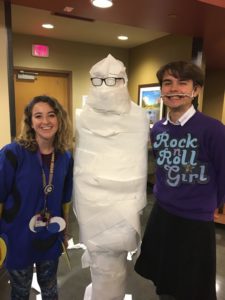 Halloween Night with the other JV dorm mentor, Michael, and one of our students dressed as a mummy between us.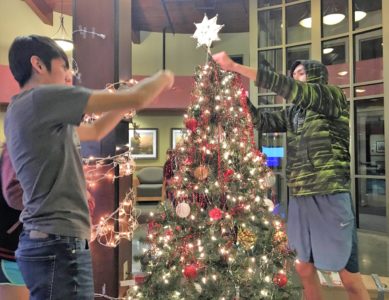 Seniors decorating their tree for a Christmas Contest JV night.
Recently, our students were given an assignment for their theology classes to write letters to the people in their lives they're grateful for. Michael and I both received letters from our students at the dorm, and reflected in each was the sense of love and belonging we try each day to ensure our students feel. It is one of the greatest joys of my life to be able to accompany the students at St. Labre on their journeys to the fulfilling and impactful futures they so deserve. Our students have within them the depth, the power, the intellect, and the passion to transform our world into a more kind and just place. I am so grateful to be given the opportunity to prepare a home for them, to witness their joys, accompany them in their struggles, and to eventually see them leave, hopefully carrying with them a lasting sense of home, justice, and peace.
At the Little Bighorn monument on the Crow Reservation.