Philosophy of Partnership
JVC Northwest invites partnership with organizations and communities that respond to local needs in the Northwest. Our partnership provides value-added service, capacity-building, and accompaniment to agencies, particularly those invested in deepening their diversity, equity, and inclusion lens and practices. Through their service, volunteers contribute to the mission of each of our partners. JVC Northwest and partner organizations share collective power in order to co-create structural and cultural change needed for true equity.
The Application for 2023-24 Partner Agency Applications closed on Monday November 14, 2022.
If you would like to discuss options to complete an application to be considered an alternate for the 2023-24 Program Year, please contact the Program Coordinator for your locale (see below).
You will use the same Knack account that you used to submit your previous application(s). If you need assistance logging in or resetting your password, contact Monica Glasscock, Program Coordinator: Communications & Operations. 
If your program does not currently host a JV, contact the Program Coordinator for your locale to have an initial conversation. Not sure who to connect with? Each Program Coordinator's locales and emails are listed below. If after an initial conversation a partnership seems like a good fit, your next step will be get set up a Knack account.
If you are a new potential partner or if your organization has not partnered with JVC Northwest recently, email Programs Assistant, Monica Glasscock, to set up your organization's application, and Knack accounts for you and your team.
Please email the following details: Agency Name, Locale, Phone Number, and Website. You will also need to list the names, emails, and appropriate role(s) for each person. Not sure what roles to list? Reference this document for descriptions of roles.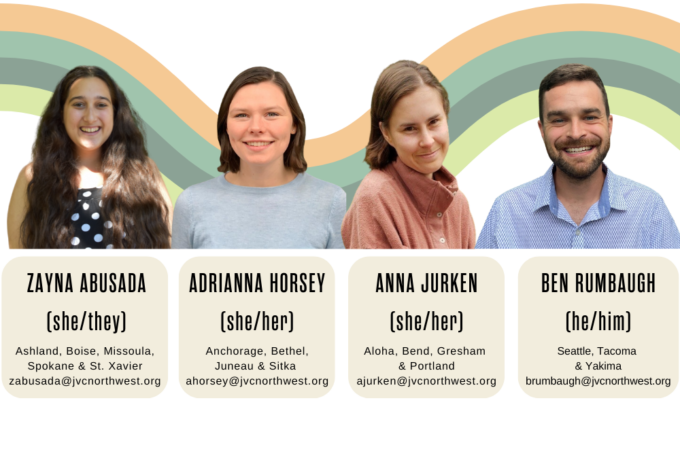 Application Elements
A complete application for both new and current Partner Agencies includes:
Application Submitted Online via Knack including organization, financial, program, and position information
Complete, compliant, and specific Position Description (part of online application).
Submitted in full by November 14th
Drop in to one of our Virtual Office Hours for technical assistance and ask specific questions about your organization's application. 
9 am to 11 am PT weekly on the following Thursdays: 
October 20 and 27
November 3 and 10
Application Overview Session recording covers:
Application elements
What to prepare before you start your application.
How to ensure a fully complete and submitted application.
Partner Agency Requirements
Before applying for a Jesuit Volunteer (JV)/AmeriCorps member, please review the following guidelines to ensure your agency will qualify for a volunteer. When a Partner Agency agrees to host a JV/AmeriCorps member, they commit to the following list of responsibilities: