JVC Northwest is committed to equity, inclusion, and justice. We strive to be an equitable space for diverse identities including, but not limited to, race, sexual orientation and gender identity, ability/disability, religious beliefs, nationality, age, and economic status.
Racial Equity
As a Jesuit, Catholic organization, our call is to uphold the dignity of all people, especially Black, Indigenous, and People of Color who have experienced and continue to experience exclusion and inequitable treatment. This means naming and dismantling the systems of domination that oppress people, empowering those already working to resist oppression, and building the beloved community where all belong.
LGBTQIA2S+ Equity
JVC Northwest affirms and supports our LGBTQIA2S+ (lesbian, gay, bisexual, transgender, queer and/or questioning, intersex, asexual, two-spirit) community. As a Catholic organization, we recognize and seek to heal past and on-going harms experienced by our LGBTQIA2S+ community.
We know we can't do this alone. We invite you, our community, to journey with us, help guide us, and hold us accountable.
Below you will find information on where we've been and what we still have to do.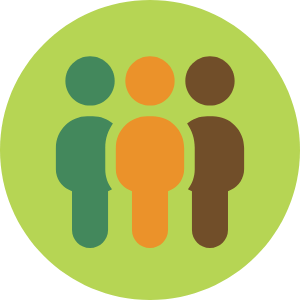 Equity Statement
Our institutional commitment to continually work for diversity, equity, and inclusion within all facets of our organization. We recognize that this work is ongoing.
2018 Equity Report
An equity assessment conducted by Resolutions Northwest based on a survey of JVs and former JVs, with an emphasis on BIPOC individuals
2020 Equity Report
A follow-up study conducted by The Improve Group and Bowman Performance Consulting with a focus on partner agencies and community stakeholders
---
Equity in Your JV Experience
We continue to work on ways to provide an equitable experience for JVs of all identities and experiences. A few highlights of our program year include:
Two Black, Indigenous, and People of Color (BIPOC)-only retreats
Equity trainings at Orientation: in our '20-21 Orientation we facilitated LGBTQIA2S+ Awareness training, Land Acknowledgments, Equity Informed Mediation, Intercultural Skills for Equity, Navigating White Spaces for BIPOC JVs, and White Accountability Meetings
JV Identity Groups: Ability, BIPOC, GayVC, Non-Christian, Working Class, and White Accountability groups. The White Accountability group is the only mandated Identity Group in our program
Mentorship program for BIPOC, LGBTQIA2S+, ability/disability identifying JVs, or any JV desiring additional support and connection throughout their service year.
Read the Equity section on our FAQ page to learn more.
Equity History
Acknowledgment of History
For more resources on the topics discussed below, click here.
Over the past several years, groups of staff and board members at JVC Northwest have reflected upon and wrestled with our story in order to write an acknowledgement of history with the intention of inviting all of our past, present, and future volunteers and community stakeholders into a process of continual reflection about our experiences, roles, and histories with the organization. Doing this is part of our own journey to expose our biases past and present, including the way we originally and currently view our service with JVC Northwest and our reflection through a 21st century lens. We do this so that together, we can understand the ways we have been a part of systems of oppression and work to dismantle those systems. In that way, we hope to better accompany the local communities in which we place our volunteers.
The Jesuit Volunteer movement traces its history to 1956 in rural schools serving primarily Native Alaskan villages. Facing a shortage of teachers, the Society of Jesus and the Sisters of St. Ann recruited college students to serve in the Copper Valley School as volunteers. Volunteers were soon placed in other boarding schools as well. In the decades that followed, this system of recruiting volunteers spread to other sites in Alaska and the Pacific Northwest and came to include a wide variety of service types beyond education. Today, JVC Northwest responds to local community needs in Alaska, Idaho, Montana, Oregon, and Washington by recruiting, placing, and supporting volunteers who provide value-centered service grounded in the Jesuit Catholic tradition.
For over 60 years, we have served in Northwest communities impacted by social, environmental, and racial inequality. As an organization, we have worked to respond to local needs. At the same time, through listening to the voices of Indigenous communities and our own evolving sense of how to best pursue justice, we know that at times we have perpetuated the very inequality we wish to defeat. Consequently, we are committed to looking back to the past, evaluating our present, and planning our future with the hope of responding to local community needs through volunteers who understand our history and who embody our Jesuit Catholic mission and our philosophy of service.
We commit to the Ignatian tenets of contemplation-in-action, to repentance and reconciliation, to keep showing up to do the work of anti-racism, and to nurturing cura personalis. To that end, we acknowledge:
Our historical roots in boarding schools which separate students from their families and cultures, and risk contributing to the degradation of Indigenous systems of education, cultural values, spiritual practices, and healthcare. Boarding schools in Indigenous communities were part of a federal government strategy to assimilate Native children into mainstream white America through forced socialization into white ways of being. While some families might have viewed this as their best or only option, we recognize that it is white colonial occupation and educational systems that originally forced and at times continues to force this "choice" on Indigenous peoples.
The danger that our presence, historically and currently, perpetuates systemic racism, white supremacy, colonization, anti-blackness, a "white savior" mentality, patriarchy, and clericalism. This occurs when we do not fully understand the role of privilege, power, and identity that accompanies our presence in communities.
Our relationship with the Catholic Church and with Jesuit priests who worked alongside our JVs in the Northwest and who sexually abused others.
JVC Northwest is committed to the ongoing examination of our history, the pursuit of our own education, and the restructuring of our practices and programs in order to restore justice and the trust necessary to work towards true equity. We strive for an operating model that is led and informed by people most impacted by injustice.
MOVING FORWARD
JVC Northwest is currently engaged in becoming an organization more comprehensively committed to equity and inclusion in all facets of our organization. Our unfolding understandings of injustice, exclusion, white supremacy culture, and colonization led us to hire an external consultant to conduct an equity study of our organization in 2017. With the guidance of a professional equity consultant, we are in the process of implementing our short-term plan to ensure true equity in all facets of our organization so we can better live our faith and core values.
In 2020, we hired a research team committed to equity and inclusion to help us understand our relationships with the communities in which we place volunteers, and to directly ask our partner agencies and communities what they need and want from us as an organization. The results of their study can be found here. We anticipate that integration of their work and recommendations will help us continue on our journey toward true justice – racial, social, and ecological – and to building communities committed to anti-racism.
Our Catholic Jesuit mission is the undergirding principle and reason we engage in the work of justice and reconciliation today. We drink from the deep wells of this tradition to sustain us on the journey, including the example of the prophets, the life of Jesus, and the Church's social teaching. We are nourished by our rich heritage of prayer and contemplation, and commit, in particular, to a regular practice of institutional examen to nurture hearts more sensitive to the stirrings of the Spirit in our midst.
We continue this journey with humility, knowing that we will inevitably fall short of our ideals. We continue in faith, trusting in God's Spirit to guide us. We continue in hope, believing with Rev. Dr. Martin Luther King, Jr., that the "arc of the moral universe is long, but it bends toward justice." We are convinced that we must co-create a culture and society that values each person and all of their intersectional identities. We center relationships and work each day to build the better world for which we strive.
Equity Timeline
Our work for equity is ongoing. Although there are many important steps yet to take, we want to be transparent about the intentional equity-focused actions JVC Northwest has taken in recent years. The steps featured on the timeline are by no means a comprehensive list of actions nor is the timeline conclusive. As we make further significant moves toward equity, we will continue to share these with our community.
---
Call to Action
Engage in this equity work with us! JVC Northwest is not a monolith; we are an organization formed by thousands of people over the last 60+ years whose intentions were and are to live out the values of: Community, Simple Living, Social and Ecological Justice, and Spirituality. We cannot do equity work without our larger community, especially community members most impacted by inequity and injustice. Please reach out if you have any questions or would like to share your thoughts about equity at JVC Northwest.