Mentorship Expands Your
Community!
Read about what it means to have a mentor with JVC Northwest!
What is the Mentor Program?
JVC Northwest works to match any current Jesuit Volunteer/AmeriCorps member (JV) with a Former Jesuit Volunteer (FJV) or Jesuit Volunteer EnCorps member (JVE) who can provide additional support through the JV's service year.
Additionally, we strive to intentionally connect Jesuit Volunteers/AmeriCorps members (JVs)  who hold underrepresented identities with mentors who hold similar identities, for extra support during their year.
Intentional Matching for JVs and Mentors who hold the following identities: 
BIPOC
LGBTQIA2S+
Living with a disability
We are also offering mentorship for JVs who need:

Extra support managing mental health stressors

Extra support navigating their spiritual journey
JVC Northwest recognizes that connections between FJVs and current JVs have been happening for decades in an informal capacity through our strong network of FJVs across the country. We are grateful for the new-shared resources and capacity to develop a formal mentor program. 
A mentoring program is an intentional step for Jesuit Volunteer Corps (JVC) Northwest to act on the goals of equity and inclusion.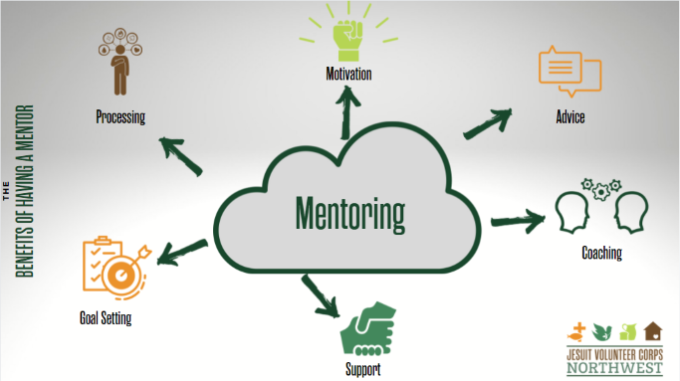 JVs might be interested in getting a mentor for additional support during their JV year. A mentor can provide another listening ear, support for reflecting on accomplishments, increased your awareness of one's own talents, and confidential space to share experiences. 
All mentors have been JVs or JVEs before and therefore can relate to navigating a year of service within communities. 

Please note: We expect mentors and mentees to meet 1x/month or as planned by each party. We expect JVs will:
– Actively communicate with mentors from start to finish
– Take an active role in scheduling monthly calls/meetings
– Create goals for their mentoring sessions
– Be willing to grow and adapt
– Reflect on identities and their intersections with systems of oppression
JVC Northwest Staff works with the JV and the mentor to create a good match. If after meeting with the mentor, and if it does not feel like a good match, JVs can return to JVC Northwest and request a change.  A new mentor is not guaranteed at this point of the process, however.
The Mentor Matching Process
Around springtime, JVC Northwest sends an email to Former JVs (FJVs) and JV EnCorps Members (JVEs), asking if people are interested in mentoring.
The Alumni Engagement Coordinator (AEC) introduces JV/AmeriCorps members (JVs) to the Mentor Program during Pre-Orientation sessions in May, June, and July. They receive another reminder during in-person Orientation in August. JVs who are interested can sign up using the JV Mentor Website Page. 
JVs interested in intentional mentoring based on shared identities with an FJV will indicate that need on the sign-up form. 
Once signups are received, the Alumni Engagement Coordinator will connect the JV and their chosen mentor via email. 
The JV and their newly matched mentor will coordinate a time to meet. Meetings can happen via phone, in person, Zoom, or whatever platform works best.