JV Orientation starts in...
In the Catholic tradition, taking Holy Communion is a ritual meant to bring participants into unity with one another. While this association may be of deep or no significance to different people, communion is more than a Sunday practice. Com in Latin translates to "together, with", and at its root, the word communion means an act of fellowship, sharing, and mutual participation. It is a movement beyond the individual to becoming a part of a larger whole. From this perspective, communion is what all of us are called to do on a daily basis.  
True communion is an intentional practice grounded in the present. Simple Living and Spirituality/Reflection are tools that support the act of conscious communion, allowing us to strip away the extraneous and busyness of modern life and become more intimately aware of ourselves, our communities, and the call to justice in our lives. This recalibration of perspective moves us from our own solipsism toward right relationship with everything that makes up the world we move within. When we practice conscious communion, we begin to perceive the interconnectedness of life. 
This year, we encourage you to live in opposition to the label "consumer," and instead, strive to be a communer. Endeavor to walk alongside those whom society wants us to believe is "the other," and to make conscious communion a daily practice. What shifts when we act in conscious communion with humankind, the air, water, earth, and sacred ecosystems within? In what ways might this collaborative process lead us to a more just future?  
Incoming JVs:
Join us for Summer Pre-Orientation sessions to help you transition into a successful year of service. All sessions are optional EXCEPT the Jumpstart My Service Year Training. Please remember to register individually for each event.

All sessions take place from 5-6pm Pacific // 8-9pm Eastern on Zoom.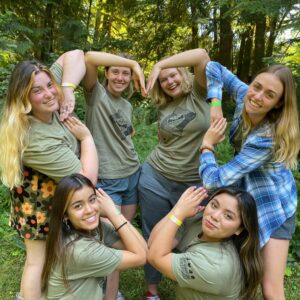 Preparing for Orientation
Onboarding Forms
Below is a list of everything that is due before you arrive at Orientation. Please note: all forms must be submitted prior to your arrival on August 7; we cannot accept forms at Orientation. All forms can be accessed online unless otherwise noted.
Criminal History Check Authorization
Government Issued ID
Health Insurance Acceptance/Waiver Form

Health Insurance ID (upload a copy if you decline JVC Northwest Insurance)

JV Information Form (with emergency contact info, cabin preference, bio, picture, etc.)
Medical Form and COVID-19 Vaccination Information
Policy Acknowledgement:

Code of Conduct
Covenant
Drug & Alcohol Policy
Whistleblower Policy & Addendum
Orientation Travel Form (now available!)
I-9 and W-4 forms (emailed to you directly)
Please keep a copy of the full version of the Code of Conduct for your records. Please note that there will be time for questions regarding the Code of Conduct and Whistle Blower Policy at Orientation.
In July, you will receive an email invitation from the "MyAmeriCorps" Portal. It is essential that you provide an accurate and timely response prior to Orientation.
Orientation weather is usually pleasantly warm, but the Northwest gets chilly at night and rain is always a possibility. The main meeting space we will be gathering most day is air conditioned. Camp Arrah Wanna provides lots of space for recreation, including a swimming pool. There's also downtime for reflection, music, and just hanging out. Please pack:
Passport or other ID documents. If you uploaded a copy of your passport some weeks ago so we could process your background checks, then please bring the passport with you to Orientation. If you did not upload a passport, then David (our Business Manager) will be in touch with you about what documents to bring.

We must see the physical documents in order to complete your I-9, and we must complete the I-9 before you can officially begin as a JV. So, if you forget to bring the document(s) to Orientation, you will have to have someone send it to us by overnight mail.

Comfortable, casual clothing for the week
Jacket or sweater
Rain gear (just in case!)

Swim suit (if you want to swim in the swimming pool)

Sleeping bag (or twin sheets and a blanket) and pillow
Towel, soap, shampoo, toothbrush, toothpaste, deodorant, sunscreen, bug spray, and any other toiletries or hygiene products you need 
Flashlight/headlamp
Musicians: bring musical instruments
At least a month's supply of medication, if needed; more if headed to a more rural locale
A small amount of cash for purchasing postcard stamps and JVC Northwest swag, if you would like
A spare pair of glasses and/or contacts, and a copy of your eyeglasses/contacts prescription
Clothing for service. Prepare to follow the dress code in your position description
College gear or small banner for college photo day (optional)

A small container of water from any water source in your hometown (a stream, a lake, the ocean, etc.) – or tap water if natural water is unavailable. This will be used

in the Sending Forth Service. (Make sure the container is 3.4oz or less if you will be bringing this in a carry-on bag.)
If you are concerned you won't be able to fit everything in these two bags, you are welcome to mail additional items to your specific JV community. The address for your community will be included in an email from your Program Coordinator in July.
After you arrive at Orientation and register on August 7th, you can relax until we have dinner. Optional activities will be going on throughout the day. This is a good time to call your loved ones to let them know you have arrived safely. After dinner on the first night, we ask you to turn off your cell phone and any other electronic devices for the rest of the week. We invite you to immerse yourself in the core values, community, and contemplative time. If you have extenuating circumstances around communication, please talk to your Program Coordinator.
Orientation Logo and Artist's Statement
Paige Jones (Tacoma, WA '22-23)
In 2013, a shocking documentary called Blackfish was released, exposing an ignorant public to the nauseating realities of an orca in captivity. These orcas have been victimized in the pursuit of voyeurism and capitalistic gain, forced to live solitary, isolated lives disconnected from their natural habitat and social systems. Almost symbolically, captive orca's fins, like those at SeaWorld, flop over, whereas the fins of wild orca stand straight on their backs. In witnessing the captivity of these orcas, we are called to ask, what is the true cost of consumerism and lost connection?
Tacoma, Seattle, and the land in between cradle a body of water connected to the Pacific Ocean called Puget Sound. The Sound is home to orcas, whose black fins can be seen breaching the surface year-round. Living in pods of varying sizes and engaging with larger networks of orcas in the area, they hunt, breed, and communicate within a complex social system that rivals humans. Their social, collective lifestyle makes them an idyllic mascot for the value of community.    
Did you know, when an orca calf is born, a close family member pushes them to the surface for their first breath of air, offering the mother a moment of rest after intense labor? Orcas live in matriarchal hierarchies, generations of female orcas sticking together for their entire lives. They support each other, feed with each other, communicate with each other. They are communers. They exist for and with each other. The contrast between captive and wild orcas is a stark reminder of the consequences of over consumption and invites us to experience the beauty of communing as we witness their straight-standing fins, cresting in the Sound. 
Paige Jones (Tacoma, WA '22-23) 
Orientation takes place at Camp Arrah Wanna in Welches, OR, a camp tucked into the woods at the base of Mt. Hood with simple cabins and lodge facilities, located 1 hour southeast of Portland.
If you are driving, consider downloading offline maps to your phone as service is spotty the further up the mountain you go.
At the end of Orientation, all JVs are either flying, driving, or taking the train to their locales. You are permitted to bring two pieces of luggage to Orientation. Please limit yourself to these two bags because space in our transportation shuttles will be very tight. Be sure your full name and contact information are clearly labeled on all bags!
Bag 1: 50 lb. or less: we will store this bag for you during Orientation week. JVC Northwest will pay the cost of checking this one bag when you travel to your locale at the end of Orientation.
Bag 2: The bag you'll have with you during Orientation, which should include a sleeping bag, pillow, clothes, etc. for that week. This should be standard airplane carry-on luggage size, regardless of your mode of transportation to your locale. If this second bag is too large to be carried on for free, please note that you will be in charge of covering the cost for this on your way to your service locale. Thank you for your understanding of the limited space and finances for luggage! See below for more about what to pack.
Please schedule your arrival in Portland for Monday, August 7. More information about arrival is listed below. If you are arriving before August 7, please plan to book your own lodging.
JVC Northwest arranges transportation from Portland International Airport and Union Station Train & Bus Depot on August 7th. JV AmeriCorps members arriving by car should drive directly to camp. Please consult the transportation arrival times below based on your transportation mode.
Please consider being COVID-cautious in these next weeks leading up to your departure for Orientation. Some suggestions are: limiting unmasked indoor contact with people outside your immediate household and avoiding large indoor gatherings in general.
Please take a COVID-19 self-test the day before your departure for Oregon.
If you test positive, please don't travel, and contact JVC Northwest Staff at our main number 503-335-8202 and we will start to arrange a new plan for you to make it your locale. In the event of a positive test before you depart, we will devise ways for you to catch up on what you miss at O.
Please wear a mask during your transportation from your point of entry to Portland to Camp. Once you arrive, we will have everyone test again during registration at Camp Arrah Wanna. 
We will only ask that you test again during the week of Orientation in the event that you start to feel ill. For those who feel sick and for those who test positive, we will have space in which you can isolate during Orientation to minimize the risk of it spreading within our group. We will have a nurse on-site to assist with both COVID and non-COVID health concerns. If your isolation needs to last past the final day at Camp we will arrange for a safe way for you to recover and make it to your locale eventually.