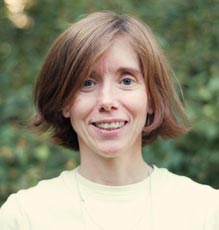 Martha McElligott,
Administrative Assistant to the Executive Director
---
A native Oregonian, Martha is the eleventh of twelve children.  She was raised in a small farming community where civic engagement through volunteering started at a very young age and whose parents raised the family with the expectation that they would graduate from college, but that they would also become contributing members of their communities in adulthood.  Having graduated from the University of Portland with a degree in Social Work with minors in Gerontology and Theology, she came to JVC Northwest having worked with frail, low-income, homebound seniors.  Her passion for working with the elderly is fulfilled through her current volunteer service outside of work.  Along with her husband, she is involved with  supporting their children's activities in school, church, choir, band, sports, and their faith community.  She also enjoys reading cookbooks, cooking, sewing, and the outdoors.
Want to contact Martha? Email her or give her a call at 503-335-8202.
---