July
The 2011-2012 JVs complete their year of transforming service on July 31.
August
August 6-11, JVC Northwest welcomed 141 Jesuit Volunteers at Orientation for the 2012-2013 JV year.
September
Seattle FJVs from '82-83 gathered at St. Joe's Parish on Labor Day Weekend to celebrate their 30 year reunion.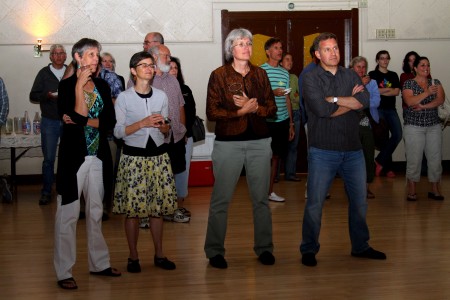 Fr. Jack Morris, SJ, co-founder of the Jesuit Volunteer Corps movement, visionary and inspiration to thousands of Jesuit Volunteers through the years, passed away early Sunday morning, September 30.
October
A memorial mass was held for Fr. Jack Morris, S.J. in Spokane on October 6th. Other memorials were held in Seattle, Portland, and Anchorage throughout the month. Click here for the video of the Spokane memorial.
The first retreat for the 2012-2013 JVs focusing on community took place in 4 different retreat locations throughout the Northwest.
November
41 former volunteers from 7 different service organizations gathered at Camp Ghormley in Naches, WA for former volunteer retreat led by Jack Kennedy. The retreat gave the former volunteers the chance to reflect on their service experiences and connect with one another.
December
The JVC Northwest community in Portland, Oregon gathered at the Loyola Jesuit Center for the annual Advent Gathering.
Thanks to everyone who helped make 2012 a wonderful year for JVC Northwest! Happy 2013!