On Wednesday, April 30th the JVC Northwest staff engaged in a belated Earth Day service project to clean up our office grounds and community garden. Our efforts resulted in an overflowing yard waste bin and funphotos of staff members outside  their typical cubicle environment. Check out the end of this post for resources to help you make every day Earth Day.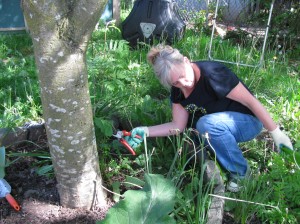 The JVC Northwest staff pours their heart and soul into making the Jesuit Volunteer program as great as possible, but this often results in less opportunities for direct service work, which is the hallmark of the JV experience. As a staff we decided to utilize Earth Day as the impetus for a staff service project and team-building activity. The JVC Northwest grounds and community garden needed some tender loving care and beautification after several months of heavy rain, brief periods of sunshine, and a bit of neglect.
The effort included a ton of weeding, some strenuous mowing, and a healthy amount of fun. The weather was beautiful and with everyone's effort the changes were quickly visible. Just like the JVs, staff members strive to live out the four core values, and this service project was the product of a concerted effort to affirm our commitment to ecological justice.
Each staff member engaged in multiple tasks, all of which varied on a scale from pleasant (beautification) to comically challenging (mowing 8 inch grass with a classic push reel mower). Regardless of the challenge each staff member went from task to task with a simple appreciation for being with one another outside on a gorgeous day.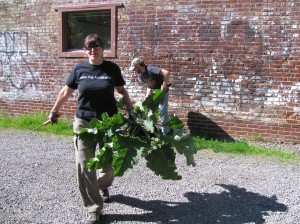 If you'd like to see the full album from our Earth Day Clean Up 2014, please click here.
A few of our Program Coordinators also compiled a brief list of resources for current JVs to utilize in an effort to be more environmentally conscious and plunge even more deeply into the values of social and ecological justice:
Meteorologist, and FJV, Eric Holthaus (Woodburn, OR '03-04) reflects on his decision to never fly again.
Missing Ingredients – a look at worker's rights and consumer choice missing in our food system.
Filmmakers document marine debris that travels across Pacific Ocean currents and ends up on remote beaches in Alaska.