Each year at Orientation a JV returning for a second year of service is invited to share a personal reflection during the Missioning Liturgy that concludes Orientation. This year, Shannon Cogan (Bethel, AK '13-14, Portland, OR '14-15) offered insight into her year serving with Native Alaskans, a reflection that was poignant, moving, and deeply personal.
Shannon did en exemplary job of weaving the liturgy's first reading into her experience working at the Alaska Public Defender Agency this past year. For context you will find that first reading followed by Shannon's reflection.
1 Kings 19:9, 11-13
At the mountain of God, Horeb,
Elijah came to a cave where he took shelter.
Then the LORD said to him,
"Go outside and stand on the mountain before the LORD;
the LORD will be passing by."
A strong and heavy wind was rending the mountains
and crushing rocks before the LORD—
but the LORD was not in the wind.
After the wind there was an earthquake—
but the LORD was not in the earthquake.
After the earthquake there was fire—
but the LORD was not in the fire.
After the fire there was a tiny whispering sound.
When he heard this,
Elijah hid his face in his cloak
and went and stood at the entrance of the cave.
__________________________________
"Hello everyone. My name is Shannon Cogan and I served in Bethel, Alaska at the Alaska Public Defender Agency as a JV this past year.
In tonight's first reading, Elijah hears God not in the blustering winds, tremendous earthquakes, or roaring fires, but in a quiet whisper after the storms… The author of Kings says that God is not in the grandiose, provocative, and obvious. Instead, God exists in the more subtle, quiet parts of life. And those intense storms, those attention grabbing shouts, can distract you from hearing the whispers if you aren't paying attention.
My reflection is a love story and it is a response to the dominant narrative that is often told about Bethel. We've been learning a lot about storytelling this week and for much of my year, my housemates and I had mulled over and conversed about the stories that can be told about a place and a people.
The dominant narrative of Bethel is similar to the pervasive "dominant narratives" told of so many monetarily poor areas in the world. Almost every article and book you could read about Southwestern Alaska, particularly Bethel and the surrounding villages, shouts about high rates of poverty, an epidemic of sexual assault and domestic violence, failing school systems, an Alaska Native "alcohol problem."
I would liken the violent winds, earthquakes, and fire described in today's reading, which were powerful, yet devoid of God's presence, to the dominant or single narrative about Bethel.
The pastor at the Catholic Church in Bethel, Father Chuck, a Jesuit,makes sure his congregation and JVs know what Amos 4:4 reads: "Come to Bethel and sin." And it's unfortunately fitting because the dominant narrative shouted of Bethel condemns it for its many sins. It is a place called the Armpit of Alaska by outsiders.
Buried somewhere in the dominant narrative, the hidden narrative describing the effects of colonialism might be mentioned briefly, but the shouted perspective does not have room for those whispers. The prevailing narrative tells us that Bethel needs many helpers. That it needs well-meaning people like us. We know the isms—classism, sexism, colonialism, racism—and how to recognize them. However, we often don't realize that, despite our good intentions, we can perpetuate silencing the whispers of the people and places we serve. That is something I slowly came to recognize this past year because I was proven wrong many times over. That was uncomfortable, embarrassing, and confusing, but necessary. I needed to slow down, humble myself, and check the ways I was complicit in the "isms" in particular, colonialism and racism.
The reality is that helpers have inadvertently and not-so-inadvertently hurt people in the Bethel area for many years. Colonizers in the form of missionaries and adventurers brought diseases and foreign systems of criminal justice, education, land management, and many others.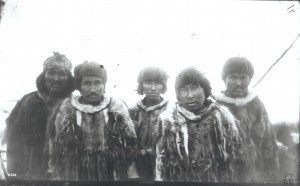 The whispered narrative of the Bethel area is about "pre-contact" times, a time before white people colonized the area. "Pre-contact" times are certainly not to be romanticized as some sort of utopia; subsistence hunting and gathering is not a cushy lifestyle by any means. But before colonizers, the Yup'ik were not living under a foreign sovereignty. Colonizers introduced influenza which caused the "Great Death." The "Great Death" occurred in the early 1900s when over 60% of Yup'ik people died of disease; this left a generation of children orphans and entire villages disappeared as the villagers succumbed to mass deaths. Orphaned children and other Yup'iks were sent away to schools where many were abused and humiliated for speaking their language or doing anything remotely "Native". This is not an unfamiliar narrative to indigenous peoples worldwide. The way in which the Yup'ik were taken advantage of was well-meaning people thinking they knew what was best, that their ways were superior. I think it is helpful to imagine if this situation were flipped around. If people with a drastically different way of life came into our communities and began to take over our legal and educational institutions, our social services. How would that feel? How would people react? This whispered narrative receives little attention even though the effects of historical trauma are seen today in the negative shouts, those horrible statistics, about Bethel and Alaska Natives in the area.
I found my own perspectives, which had initially been informed by the dominant narrative, broadened by the whispers I heard in Bethel. I fell in love with it as a place and community. The river in the winter transforms into a hub of activity for ice fishing, cross-country skiing, dog mushing, and driving on the ice road. When the glowing, shifting green lights of the Aurora appeared in vast sky during the middle of winter, it caused texts to be sent throughout town to get out on the river to see it (or a phone call to the JV house). The endearing radio announcements for Sarah so-and-so's lost wallet, for the deceased elder's feast, for a fiddle dance on Saturday night. The massive turnouts for high school sporting events, just like any other small town. These whispers showed to me that the story of Bethel as an "Armpit" and a place in desperate need of fixing is unbelievably limiting and misleading.
There is nothing wrong with discussing the issues of a community, I'm not saying that—no place is perfect, but there is a problem when that discussion is not tempered by another perspective's voice. What I found to be the most frustrating, confusing, enraging, and saddening part of this year— was when I found the shouted narrative to be the only narrative given a voice. Oftentimes I was guilty of this too, I found myself giving the shouted narrative the benefit of the doubt. I had been taught to trust the shouters and communicate in the same way as them. But we have an obligation, a responsibility to hear the whispers, just like Elijah waited in the cave for them.
If you open yourself to these experiences, you'll be the one whose life is profoundly changed and given much more, by listening to the whispers that surround you. Sometimes the best thing you can do for people or a place is learn from them.
This year, you will be surrounded by people who have also committed to intentionally examining and learning from the shouts and whispers that arise in your placement, locale, within your house, and relationships. You have people to share this experience with. This year is a space for questioning your own dominant stories because we all come in familiar with them.
And as you are proven wrong, as that single narrative is subverted and then flipped around and then thrown up into the air and obliterated, you will be changed.
This reflection is a love story because I fell in love with Bethel during that process of tempering the shouts with whispers. So this year I am asking that you give the whispers space to be heard, listen to them, and let yourself feel their weight.
Thank you."