JVC Northwest is proud to bring back its monthly Featured Former JV post by highlighting Teresa Knipper (Tacoma, WA '83-84). Teresa was recently awarded the "Catholic Women in Service to the Community" recognition by the Diocese of Trenton's Mount Carmel Guild for her work with prayer shawl ministry. In her own words Teresa describes the history of prayer shawls and how they have made a profound impact on her life.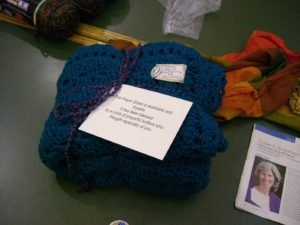 Before I delve into my own history with prayer shawls, a brief history on them is helpful. In 1998, Janet Severi Bristow and Victoria Galo, two graduates of the 1997 Women's Leadership Institute at The Hartford Seminary in Hartford, CT, gave birth to this ministry as a result of their experience in a program of applied Feminist Spirituality. Compassion and the love of knitting/crocheting have been combined into a prayerful ministry and spiritual practice which reaches out to those in need of comfort and solace, as well as in celebration and joy. Many blessings are prayed into every stitch.
Whether they are called Prayer Shawls, Comfort Shawls, Peace Shawls, Mantles, etc., the shawl maker begins with prayers and blessings for the recipient. The intentions are continued throughout the creation of the shawl. Upon completion, a final blessing is offered before the shawl is sent on its way. Some recipients have continued the kindness by making a shawl and passing it onto someone in need. Thus, the blessing ripples from person-to-person, with both the giver and receiver feeling the unconditional embrace of a sheltering, mothering God.
I started the prayer shawl ministry at my parish in Princeton, New Jersey in 2005. Since then we have given out over 1000 shawls to grieving families, cancer patients, new church members, and wedded couples. One especially poignant ministry that we have contributed to is Prayer Shawls for Fallen Soldiers, a ministry at the Air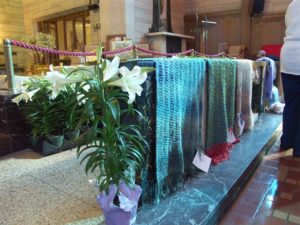 Force base in Dover, DE that gives shawls to families of soldiers as their remains are received on the tarmac from overseas. My group also contributed to the effort in Connecticut to provide shawls for every family involved in the tragic Sandy Hook School shooting.
This ministry is the place where the passion of my creativity and love of color strikes against the need in the world, and it is a place of community where healing can begin. It draws people together in ways that we could not predict. In November my group will be sponsoring an ecumenical gathering of prayer shawl ministries in the greater Princeton area to build extending circles of support and fellowship.
I was recently a humble recipient of the "Catholic Women in Service to the Community" recognition by the Diocese of Trenton's Mount Carmel Guild on October 17, 2014 for work in my parish with prayer shawl ministry. As I said in my acceptance speech, I firmly believe that "these shawls bring healing and comfort in an embodied and prayerful way for both the giver and the receiver".
I feel my Jesuit education at the University of Scranton and my subsequent service in JVC Northwest taught me that there are no "innocent bystanders" in life. There are frail and marginalized people in your town , on your street, or perhaps in your own home whose suffering you can help to alleviate or simply accompany in their pain. JVC Northwest gave me the vision to see that person but also to discern my own response to that aching need in the world.