2016 Orientation has come and gone but you can get a glimpse into all the week had to offer through our photo recap. If any of these images inspire you or help you reflect on your own Orientation or time as JV, be sure to leave us a comment!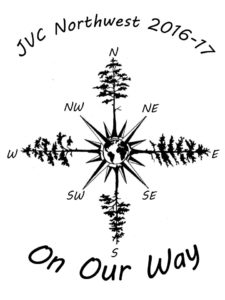 This year's Orientation theme was "On Our Way", corresponds with our 60th Anniversary logo, both of which depict a compass: a fitting symbol, as it represents the transformative journey of the Jesuit Volunteer experience and how that experience has helped many JVs find their direction and an understanding of their life purpose. The compass holds the four core values that guide our journey and help point the way forward in our work and life.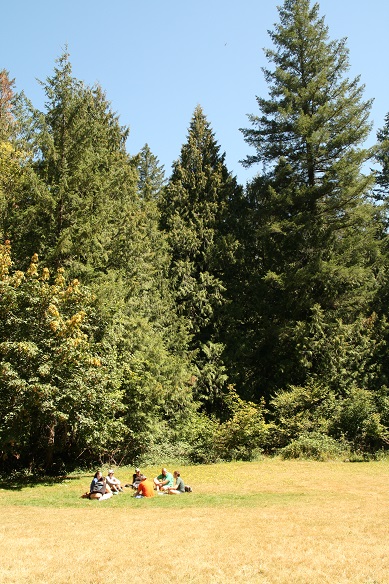 JVs spend their week surrounded by the natural beauty of the Pacific Northwest. Here, JVs chat in the meadow of Camp Adams between sessions. Camp Adams, in rural Molalla, OR, has served as the home of Orientation for over 20 years.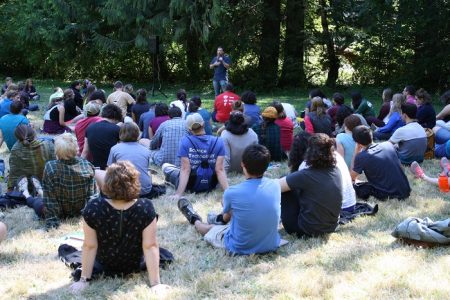 The week is chock-full of presentations and discussions around values, community, and the strengths and struggles of each locale. Here Paul Grubb, SJ (Juneau, AK '95-96) speaks on the meaning of vocation and his decision to enter the Jesuits.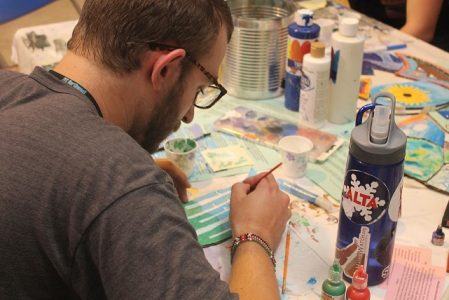 Throughout the week JVs work on their community mandalas, each adding their own personally crafted piece until a communal whole emerges. Once completed, the mandalas are hung in the JVs' houses, joining the mandalas of many prior JV communities.
An Orientation tradition, JVs grab their partner and swing 'em round for an evening of square dancing.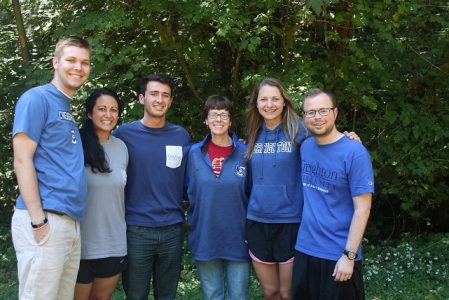 Photo day! Here, the Creighton alumni group show their Bluejay pride alongside fellow alum, JVC Northwest Executive Director Jeanne Haster (Forth Worth, TX '81-82) (fourth from left).
Photo day continues with community photos, and it appears Portland Mac house has already "built" some nice rapport.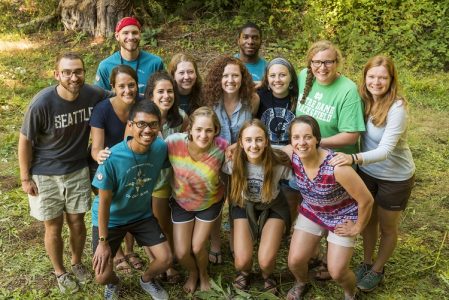 We're grateful for the 14 Jesuit Volunteers who are joining us for a second year of service. Thank you Steve, Brian, Leanne, Zach, Michelle, Monika, Laura, Emma, Kaitlynn, Hopey, Tony, Emily, Monica, and Lauren!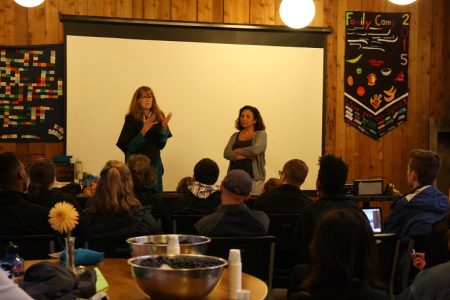 We were lucky to have Pam Ingalls (Seattle, WA '80-81) and Bookda Guptar share about their involvement with the Bethlehem Peace Pilgrims, a group that walked 6,500 miles from Seattle to Bethlehem to raise awareness about the dangers of nuclear proliferation. The group was led by Fr. Jack Morris, S.J., co-founder of the JVC movement.
The last day at camp held our first Simple Living Fair, where FJVs and friends of JVC Northwest had booths that highlighted an aspect of simple living. In this photo Chris Waldref (Spokane, WA '13-14) teaches a group about bicycle maintenance.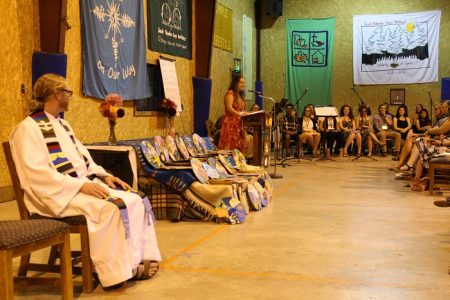 Orientation closed with our annual Missioning Banquet and Liturgy. At the liturgy, presided over by Daniel Spotswood, S.J. (Omak, WA '05-06), second year JV Hopey Fink (Hays, MT '15-17) gave a beautiful reflection on her service, thus far, and what it has meant to her to work with the Native peoples of Montana.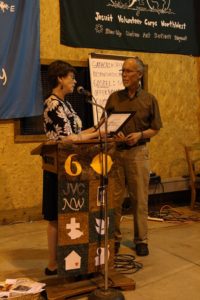 This year's Missioning Liturgy also provided an opportunity to recognize Mike Benton, who led the music, and so much more, at Orientation for 25 years. We thank Mike for his passion, his humor, and his kindness to the thousands of JVs and staff he impacted.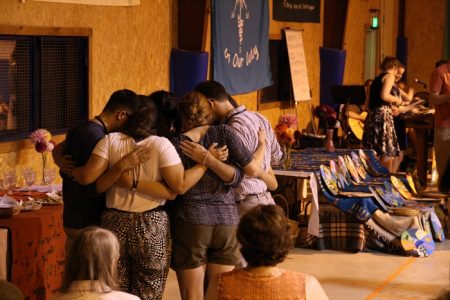 At the Missioning Liturgy, each JV community is "missioned" by their Program Coordinator with a Jerusalem cross, an individual blessing, and a communal blessing. Here the Anchorage JVs gather together while the completed mandalas sit by the altar in the background.
And here they are, the 2016-2017 JVs! Another huge thank you to all who participated in Orientation 2016, whether near or far. We're excited for the year ahead as the JVs are officially "on their way".
See more from Orientation and follow these JVs along in their year on our new Instagram page! https://www.instagram.com/jvcnorthwest/