This Christmas Season, we invite you to "Extend the Table". This is the theme our volunteers are exploring this year–to honor a spirit of radical hospitality in their service with those on the margins. As we share some of the ways they're extending the table, we hope you'll be inspired, too. We invite you to join in our efforts to extend the table to current and future generations of volunteers. Below, current JV Sheryl shares her service with Care Partners Hospice and Palliative, Hillsboro, OR.

What does "Extending the Table" mean to you?
I see this year's theme of "extending the table" in two dimensions. Primarily, I think of the dining table, a place of nourishment, sharing, and human connection. I see it as a place where both basic and higher-order needs are met. To extend this table is to welcome more people to it—to hold a space for sharing, connection, and nourishment for those who may have been excluded. Secondly, I see the 'table' as a place where issues are discussed and decisions are often made; therefore, a seat at the metaphorical table is a position of power and privilege. Extension of the table, to me, means embracing the presence of new and different voices such that they not only feel welcome but that they also feel heard. After all, where is the meaning in a dinner invitation if there is no room to speak?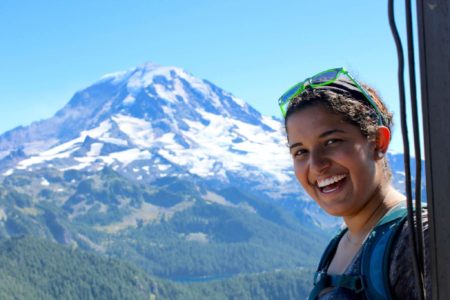 How are you extending the table through your year of service?
This year, I am very grateful to be serving as the Immigrant Community Outreach Coordinator/Hospice Volunteer at Care Partners Hospice & Palliative in Hillsboro, Oregon. In many ways, my role challenges me to find new and innovative ways to make hospice and palliative care services more accessible to immigrant communities in the Portland area. The goal of hospice is to help patients live as well as they can for as long as they can and to support families along the way.

I am engaged in outreach, which involves educational efforts for the broader community, but my major focus is to build partnerships and serve as a liaison between immigrant community organizations and Care Partners; in other words, my position requires me, primarily, to listen. Collaborating with our clinical staff, I also serve as a patient navigator and I am able to advocate for specific language and cultural needs surrounding high-quality hospice and palliative care for our families. As a hospice volunteer, I often sing and play ukulele, utilize my Spanish language skills, and am asked to simply be present with the immigrant families on our service. I come from an immigrant family myself, which often leads to opportunities for special connection. Each dimension of my role feeds my understanding of how to navigate the difficult work of extending the table to all. As a volunteer, I am charged to show up; through outreach and advocacy, I am challenged to translate my observations and learning into a more inclusive table. With death in the room, it is profoundly clear to me—now more than ever—that each person I meet so deserves to live, and to live well. The validation of human dignity is integral to hospice care, so it feels natural to be thinking about how to extend the table at the end of life. In my mind, this is the very least we can do for each other.
Extend the table to more volunteers and those with whom they serve