Creating Safe Spaces for Homeless Youth in Oregon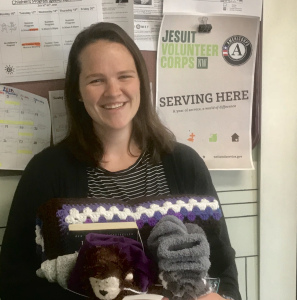 Monica Keenan is a second year Jesuit Volunteer AmeriCorps member who has served in the Aloha, Oregon community this year. Part of her role included assisting homeless youth at a shelter in Portland. Losing one's housing is stressful for anyone, but especially for a child. Recognizing this, Monica created spaces for their students to process the loss of stability and to be a kid again.
Starting a new school year can be hard; starting a new school year while being homeless is even harder. In Washington County, 2,393 students were homeless in the 2016-2017 school year. This has increased 30% from the recession in 2008.[1]. At the Community Action Family Shelter in Hillsboro, a suburb of Portland, Oregon, there is a space for students to process this difficult life experience. The Children's Program Sensory room, also known as the Calm Down room by program participants, serves as a space where a child can thrive by regaining autonomy amidst the chaos in their lives. Started in July of 2017 by former Jesuit Volunteer AmeriCorps Member Hannah Eby, the space has become popular among children in the shelter program. The children in the shelter have been experiencing the chaos of homelessness, so the Sensory Room is a space that can help them connect with their five senses and calm themselves when they are feeling stressed. Filled with toys, lights, and seating that is specifically designed to engage a child's five senses, the room helps children regain some autonomy in their lives and allows them access to a safe space to process their emotions when life is overwhelming.
Chris* was one child who used the Calm Down Room for this purpose. Every bit your typical seven year old, Chris was having a hard time with his adjustment into first grade. He loved being creative, playing with Legos, and learning new games. But Chris's mischievous nature typically ended in some form of reprimand at school and at home. The week before his family was expected to leave the shelter was exceptionally difficult for Chris. He got into trouble at school, and on the bus, as well as when he arrived home (presumably for getting into so much trouble throughout the day).
When he came to the Children's Program, he immediately ran into the Calm Down room. After giving him some time in the space alone, we talked about how Chris was feeling. Once Chris heard, "It's okay to be upset, angry, or sad. Feelings aren't bad; you can feel the way you feel," he flipped on a light and noise maker, went to the sensory chair, and started to cry. When he was ready, Chris calmly returned to the group and exhibited many positive behaviors for the rest of the afternoon. The Sensory Room gave Chris the opportunity to experience his emotions in a safe, controlled environment. In the Sensory Room, and the Children's Program in general, Chris was able to be a regular first grader again, and escape the weight of homelessness he carried.
Chris is not alone. Over fifty children have come through the shelter within the last 12 months, each of them having experienced the trauma of homelessness differently. As a Jesuit Volunteer AmeriCorps Member, my role is to build capacity for the organization I serve and I see how my presence makes a difference to these kids every day. Whether that is through breakthrough emotional developments or just walking through the front door to be bombarded with the question of "When do we get to come with you?" I am honored to serve at the Community Action Family Shelter, as it provides a safe, structured environment that allows children experiencing homelessness the space to be kids again. This can help the children process and relieve their stress and ultimately help the rest of the family do the same. While I can't solve every problem these children are facing, I can be present to help as they build their own resilience and relieve some of their stress through fun, safe, and enriching activities.
*Name changed to honor confidentiality.
[1] https://www.co.washington.or.us/Housing/EndHomelessness/upload/2017-Homeless-Assessment-Report_Year-9-of-10-Year-Plan.pdf