Empowering Native American Students at St. Labre's Dormitory
Only 67 percent of Native American children graduate high school and only 17 percent go on to further their education. Through tutoring, being present, and empowering their students, JV AmeriCorps members Michael DeSantis and Caroline Fenton (Ashland MT '18-19) hope to change this statistic for the students at St. Labre's dormitory. Read more about Michael's experience below.
As I sat down to help Chloe*, a senior student at St. Labre Indian Catholic High School in Ashland, Montana, with an algebra word problem, I asked her what about the problem was confusing to her.
"I don't know," she responded. "I'm not good at math."
I've had some version of this conversation with dozens of students in the few months since I began my year of service as a Jesuit Volunteer AmeriCorps member at St. Labre's dormitory. Dozens of conversations that each boil down to the same five letters that when put together spell "I'm not." These five simple letters that somehow bear all the weight of centuries of oppression of Indigenous peoples in the United States as well as the many inequalities within the American education system.
Knowing full well the daunting challenges that face Native American students, I did the one helpful thing I could in that moment: guide Chloe through that one algebra word problem. I asked Chloe what the problem had given her. Then, I asked her what she needed to find. With just a couple more open-ended questions to prompt her, Chloe soon arrived at the answer to the problem. "Man, I didn't know math could make so much sense and seem so easy!" she exclaimed.
I've seen many other moments of learning, realization, and self-discovery this year. Still, I was caught off guard by the forcefulness of Chloe's exclamation, her sudden enthusiasm for math, and her hesitant confidence in her own math abilities. This moment might represent a small moment of learning or discovery for students at other schools. However, for most of our students, such a moment is an empowering experience and one that subtly resists the continued oppression of Indigenous peoples in the United States.
St. Labre primarily serves students from the nearby Northern Cheyenne and Crow reservations. This means that our students' experiences of education have been profoundly shaped by the realities of home, social, and school life for Indigenous peoples in today's United States. Nationally, only 67 percent of Native children graduate high school and only 17 percent go on to attend education after high school, compared to national averages of 82 and 60 percent, respectively.[1]
Many students begin their high school careers at St. Labre reading below their grade level, and St. Labre students consistently score low on standardized math tests, both being determinants of a student's likelihood that they will pursue further education. As a result, I spend a great deal of my service time tutoring students like Chloe to help them develop their academic skills. I work with Caroline, a fellow JV AmeriCorps member serving at the dormitory, to facilitate a nightly study hall for students struggling in their classes. Moments like Chloe's joy at realizing how to solve the problem she was working on are daily occurrences that mark our students' progress in a very tangible way.
However, most developments come more slowly, especially with the many first-year students who make up the majority of any given study hall session. Since many of our first-year students enter with reading ability below their grade levels, they struggle mightily with homework assignments that require them to read textbooks. Caroline and I often sit with students for extended periods of time to help them read and understand passages so they can respond to homework questions. For these students, progress is marked every time they read a passage on their own or when they formulate their own response to a question.
Beyond this academic assistance, Caroline and I also try to mentor and empower students in a more holistic way. Students' academic struggles are made even worse by a widespread attitude of self-doubt amongst St. Labre students. Like Chloe, many students initially react to homework prompts by saying phrases such as "I'm stupid," "I don't know," or "I can't do that." It's a feeling of doubt and inability that emerges from the systematic disempowerment of Indigenous peoples. In whatever way we can, we try to help students to overcome their feelings of self-doubt by highlighting their gifts and celebrating their successes. Every time Chloe and other St. Labre students are able to overcome their feelings of self-doubt, they challenge the racial order that seeks to disempower them.
An algebra problem might seem like a small, insignificant exercise. Still, at St. Labre it can represent a small step towards racial and educational justice. It can help students realize that they are smart enough to think critically about their experiences, that they do know how to improve life for their community, that they can achieve success. And that is significant.
*Note: Name changed to protect student's anonymity.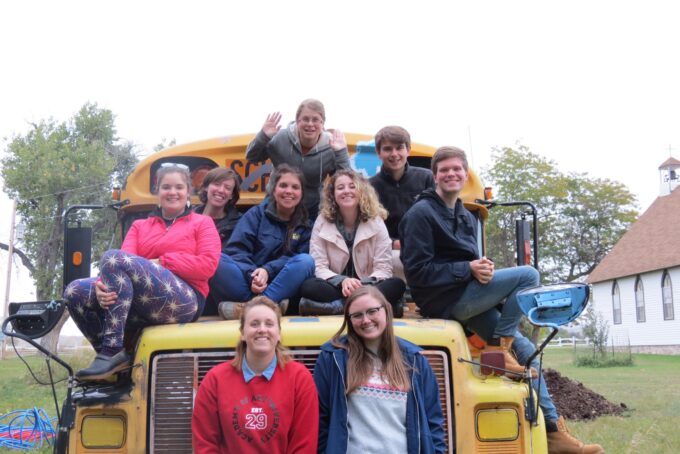 Interested in making a difference at a place like St. Labre? We are now accepting applications for the '19-20 service year. Apply today!