A Year of Cultivating Hope
By Nadia Busekrus (Hood River, OR '18-19), who serves as the Prevention and Community Outreach Educator at the Hood River County (OR) Prevention Department.
On a snowy afternoon in late February, I found myself at my desk tearing up as I read statistics about youth mental health and suicide in Oregon. My heart ached as I read through data revealing that a growing number of middle and high schoolers in my service community were experiencing hopelessness, depression, and suicidal ideation. Then, a few days later, these statistics took on a face and a name during a group activity I was leading at one of our after-school programs. I currently serve as a JV AmeriCorps member at the Hood River County (OR) Prevention Department and my role is Prevention and Community Outreach Educator. I recently asked students during one of these group activities to go around and name some of the people we look up to and can rely on or talk to when we feel sad. One student, though, was not able to name a single caring adult in her life. This hit me deeply.
Having recently returned from our most recent JV AmeriCorps Retreat, which focused on social justice, I had been reflecting on the many privileges in my life. In particular, while growing up, I had several adults in my life who were there for me to listen to my fears and joys and to encourage me no matter what. Hearing my students' stories opened my eyes to the fact that having mentors and caring adults – such an important protective factor against substance misuse and feeling of isolation or despair – is not a given.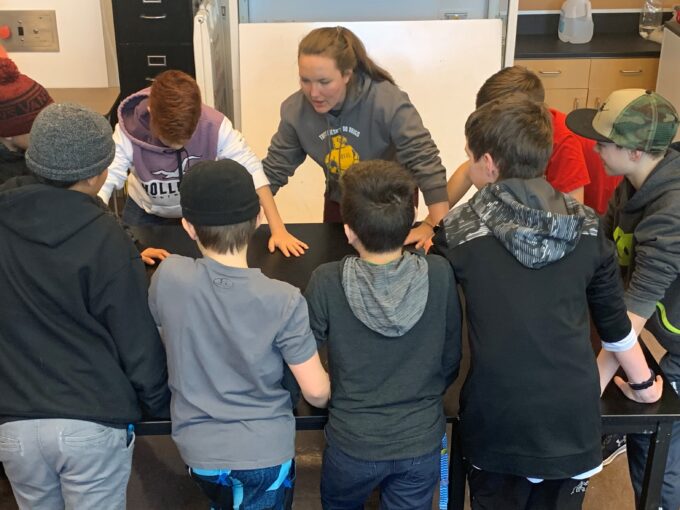 At first, learning that almost 29% of the high schoolers and more than 30% of the middle school students I was encountering reported feeling "sad or hopeless almost every day for 2 or more weeks" [1] made me feel powerless. I envisioned a community where every student would feel loved and accepted and supported, but felt like I would have to come up with some cure-all program to do so. Where could I even begin?
St. Francis of Assisi is said to have stated, "Start by doing what's necessary; then do what's possible; and suddenly you are doing the impossible." I can't be a mentor to every young person in my community, but as a JV AmeriCorps member, I can be a caring adult for my Health Media Club students. I can ask them about their days and listen attentively, I can plan activities that would help them to identify their strengths and goals, I can ask them to share about what they are passionate about and grateful for, I can laugh at their jokes and play fun games with them. I realized that no single person can transform our community, but if I give 100% in my service then I am giving my best toward that vision I long to see.
[1] Oregon Health Authority. 2018. "Student Wellness Survey: 2018."