Reflections on Re-Centering and Family
Please help support current and future JVs by giving to our year-end Family Together Campaign.
Re-Center Together. The phrase adorns the JVC Northwest shirts distributed to us at Orientation, reminding us of the myriad reasons why we chose JVC Northwest: to devote a year of our lives to living simply, together working to disrupt, deconstruct, and defend, while simultaneously trying to create a more just and inclusive world around us.
As an Additional Year JV, I can say I began a lifelong journey of re-centering my heart during my first year in Yakima, WA. My heart began to twist, turn, break, bend, and mend in ways it never had before soon after I arrived and began to delve into service and community. As I reflect on my first year as a JV, I am able to see with clarity the importance of every heartbreak; for that is where new roots began to grow. Roots of compassion, justice, and love–for the earth, for my neighbor. Also, roots of anger, frustration, and fear–for the injustice and hate that I was bearing witness to day after day. My second year in Omak, WA, has only furthered this growth at the center of my being. I am at the crux of two extraordinary experiences, often feeling as though I am unable to catch up to the rapid growth that is going on within me.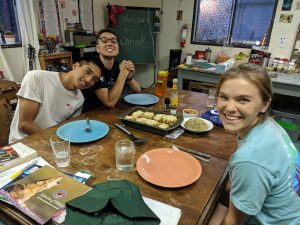 Being a JV has taught me about the importance of a wholesome, unconditional love. This love looks awfully like staying up late to do all the dishes in the sink, just so your community mates can rest. It looks like your community mate brewing coffee each morning, so it's ready for you when you walk into the kitchen, still not quite ready to take on the day. This love rumbles as little feet freely stampede across pads of concrete, and it feels a lot like the warm rays of sunshine after a long winter. What I find to be the most spectacular part is that this love also smells like my mom's homemade chocolate chip cookies, and sounds like my dad's words of encouragement I have heard time and time again. What I didn't understand until now was that I had been experiencing unconditional love throughout my entire life; this idea did not solely belong to my JV experience.
One of my community mates from my first year connected dearly to this quote by Terry Pratchett:
"Why do you go away? So you can come back. So that you can see the place you came from with new eyes and extra colors. And the people there see you differently, too. Coming back to where you started is not the same as never leaving." 
It took leaving my family, leaving home, to understand that this idea of love that I thought was new was actually something that had been taught to me years ago. This love had planted root in my core long before I chose to be a Jesuit Volunteer. And I think that is what the theme "Re-Center Together" is all about. Remembering who you are, where you come from, and integrating where you are now into your being. Allowing your JV year to penetrate your spirit, inviting the people around you to change your heart for the better.
My sister is a JV in Anchorage now, and she is feeling all that I have felt during my [first year] experience and more. She can now better comprehend how being a JV has shaped and changed my heart, and how it has given me a greater appreciation for our family and where we come from. My parents now have a better understanding of not only my sister's and my individual experiences, but the world around them, as well. Our family has become united under social justice and ecological issues. One could say that they have been Re-Centered, as well.
I am eager to see how the rest of my year in Omak unfolds, and interested to see how this expansive love that I have discovered continues to shape my inner being for a long, long time.
— Taylor Hayes (Yakima, WA '18-19, Omak, WA '19-20)
******************************************************************************************
Since I am serving at an emergency shelter, it is difficult to describe a typical day of service for me, because every day is truly different. At least, the days all begin relatively the same: I bike four miles to service, arriving right around 7:30 a.m. After making myself some oatmeal and a cup of coffee (a necessity), I sit down with the midnight staff, as well as other day shifters and go through what is called a "shift change." In these meetings, the former shift relays anything worth noting that occurred during their shift. This could be anything from which participants need additional support to which employee called out sick that day, to anything wild that happened the night before, e.g., if the police or paramedics were called, if there was a fight between participants, or the occasional ghost encounter. This meeting helps us to prepare for the day to come.
After our meeting I sit at the shelter desk, making myself available for any participants who need assistance. Usually I will also help our children's advocate to make sure the kids in shelter are up and ready for the cabs or buses that take them to school.
Throughout the day I also answer our business and crisis phone lines. Calls on the crisis line can include people wanting to screen into shelter, which consists of a series of questions we ask in order to determine if they are experiencing domestic violence, whether or not they would be appropriate to bring into shelter, and their level of lethality. In order to determine their lethality level, we ask a series of questions regarding variables that are known to increase risks to victims in these relationships. These questions include "does your partner own a gun?" "does your partner try to strangle you?" and "has your partner threatened or tried to commit suicide?" Once the screening is finished we discuss it as a team and make a unanimous decision whether to clear or deny them.
Additionally, as the JV, I serve as the employment specialist, and am also responsible for creating the group calendar and tracking meals for our grant-funded food. As the employment specialist, I meet with participants to develop their resume and search for jobs. As for creating the group calendar, I compile and distribute the calendar that shows which groups are being taught and when. These groups include "safety planning," "trauma recovery and empowerment," as well as "healing through the arts," among others. My favorite part of working with the calendar is creating the poster each month on the cork board in shelter. I love trying to make it as festive and fun as possible for the women and children residing in shelter.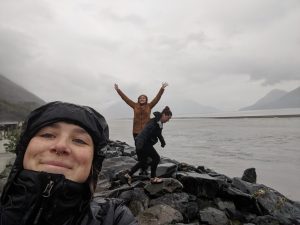 Working in shelter can be pretty hectic at times (like it was today, when three out of the five day shifters called out). Therefore while I am responsible for all of these things, I have to try to be flexible, as I have to be prepared to tackle tasks as they arise. These situations could be walk-ins, a medical emergency in shelter, a participant in crisis, a suicide call, and plenty of other common and/or unique events.
While this work is often difficult, I enjoy each and every day I serve at AWAIC [Abused Women's Aid in Crisis]. I value the relationships I've built with staff, as well as program participants. Here, I've felt immense joy as well as debilitating heartbreak; I know that now, in this moment, I am where I'm meant to be.
— Maddie Hayes (Anchorage, AK '19-20)