Answering the Call
JV EnCorps Members Witness our Southern Border
In November, Rio Grande Valley Chapter members of Call To Action (CTA) hosted a weekend conference to focus on border conditions in McAllen, Texas. Two Portland '19-20 JV EnCorps members, Kathleen Glover and Margaret Johnson, answered that call! In two very full days of traveling, the 50 CTA conference participants heard the stories of local immigrants (from long-time to recent or undocumented), met local community members dedicated to helping migrants, toured assistance facilities, talked with people who call the area home, and met other CTA participants with kindred concerns.
Kathleen reflected that their journey offered "a valuable first-hand experience of the South Texas border in the midst of the crisis created by the federal government's dramatic changes in asylum and refugee policy." It was a journey of awakening.
"I had a chance to put my hand in the Rio Grande River," Margaret says, "and reflect on how narrow and benign it looks, a natural and friendly division between neighbors in two countries. In contrast, I had a chance to touch a section of new border wall—so unnatural, ugly, and threatening to peo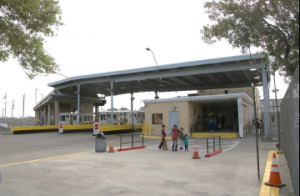 ple and environment."
The highlight for Margaret was to cross the bridge from Brownsville, Texas, to Matamoros, Mexico, to visit one of the refugee camps where asylum seekers from Mexico and Central America are being forced to wait in squalid conditions while waiting months for their chance to have their cases heard. "I was shocked and horrified by the desperately poor conditions! I have seen other homeless camps, but nothing like this where people have no resources, and are totally dependent on aid from both the United States and Mexican aid groups. Seeing it with my own eyes had a great impact on me!" Margaret says.
For practical reasons, the journey had to be no more than 50 participants. However, this limitation turned into a great asset. People got to know each other while traveling in vans and meeting in small groups to reflect on their experiences. Throughout the experience, everyone was encouraged to think ahead about how their time on the border would strategically shape their activism back home. The focus was on "what can I do after I have seen the border?"
Now back home in Portland, sharing their journey with other JV EnCorps members has amplified that call for many in the JVC Northwest Community. Below are some links to relevant articles for more information about the crisis at the border.
https://knightfoundation.org/articles/out-of-many-one-immigration-identity-and-the-american-dream/
Pope Francis denounces 'inhumane detention camps' for migrants in Christmas message
The Unimaginable Reality of American Concentration Camps
What Christmas Was Like in an Asylum-Seeker Tent City on the Border With Mexico
Hundreds of Asylum Seekers Await Court Hearings
Uptick in flu, chickenpox, lice and sexual assaults at border migrant camp, health official says