As wildfires burned across the West Coast this summer, the American Red Cross mobilized volunteers from across the region to assist evacuees. Among those volunteers was second-year JV/AmeriCorps member Nickie Dinovo. Just a couple weeks after beginning her new position with the Alaska Red Cross in Juneau, Nickie was asked to deploy to Northern California where the need was greatest.
We caught up with Nickie shortly after her deployment to ask about what Red Cross wildfire relief efforts look like, particularly in the midst of the COVID-19 pandemic.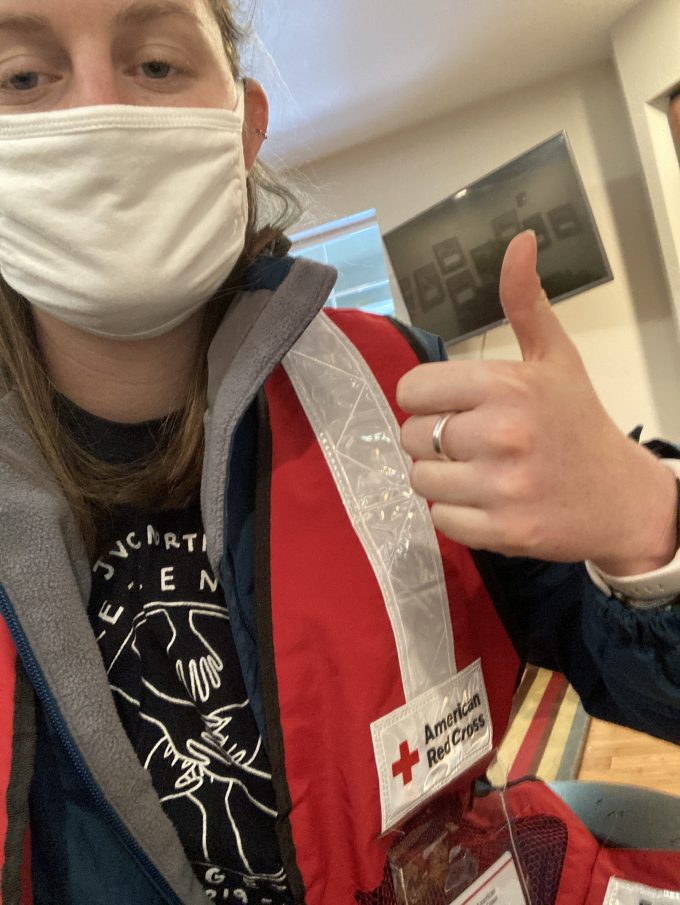 Where were you deployed? In what ways were the communities you served affected by the wildfires?
I was deployed to the Northern California wildfires. My first week was spent in San Jose and my second week was spent in Napa. The communities that I was serving were mainly impacted by being displaced from their homes. Some knew that their homes had made it, others knew that their homes did not, but many of the people whom I was serving were still waiting to hear the fate of their homes.
What did your service consist during your deployment?
For the first week, I was in a non-congregate shelter in San Jose The "shelter" was a hotel that the Red Cross and the Californian counties had set up for the people who had been evacuated. We spent our 12-hour shifts being of service to those who were living in the shelter. We handed out meals for breakfast, lunch, and dinner that were mostly donated to us from various restaurants or organizations around the city. We made sure that the residents in the shelter had plenty of snacks and water.
We were also there to aid the clients in navigating how to get assistance for medical needs, mental health needs, and other administrative-type duties. Mostly, our days were spent in the shelter lobby, being a positive presence. My fellow Red Cross volunteers and I were there to support our clients. We spoke with them about this trauma they were facing and we were always there to be a listening ear for their troubles.
My second week, I was in a LAC (Local Assistance Center) in Napa. One other Red Cross volunteer and I were set up at a table in a large room along with many other people providing various services to the evacuees. For example, there were people there from FEMA, others were there from mental health services or from housing services. Evacuees had the option to come to us if they were in need of Red Cross's services, give us their info, and then we would connect them with someone who could assist them with whatever they needed.
How did COVID-19 affect disaster relief efforts?
Shelters were a whole different experience during COVID-19. Whereas in previous Disaster Relief Operations (DROs), volunteers would be placed in a congregate shelter, such as a large gym or church, in this DRO all of the shelters are non-congregate hotels. This also meant that instead of the shelter volunteers like me constantly doing outreach and paperwork, this duty was mainly left up to virtually deployed volunteers.
What were your preparations like in advance of your deployment?
We were told when first beginning our service, and even before that in our position description, that deploying might be a possibility. As the situation in California began to worsen and more and more people began to deploy, the likelihood of [fellow JV] Lauren and I going seemed to get more real. Then all of a sudden one evening, a mere two weeks after beginning my position at the Red Cross, I got a call from Anchorage asking if I could deploy. I agreed, booked my flight the next morning, and left the day after that.
What was it like to be separated from your JV community so early in the year?
Being separated from my community so early in the year was a little unsettling. I had really been enjoying my community and our cozy home in Juneau, and was sad that I had to say goodbye to them for a whole month (although deployment was just two weeks long, I also had to quarantine away from community in a hotel for another two weeks upon my return). We made sure to connect regularly and still had our community meetings and spirituality nights via FaceTime. I was very happy when I was able to return home and get back to them.