JVC Northwest Communications Coordinator Phil Gerigscott chats with Jenny Gardinier, Clubhouse Manager at Okanogan Behavioral HealthCare (OBHC), and former Jesuit Volunteer Ino Gonzales ('19-20), to learn more about life as a JV AmeriCorps member serving at OBHC.
The following dialogue has been edited for clarity and brevity.
Phil: What is life in Omak like?
Jenny: I come from a town of a thousand people and Omak about four thousand people. And it's mountainous, it's right close to the Cascades, so it's beautiful.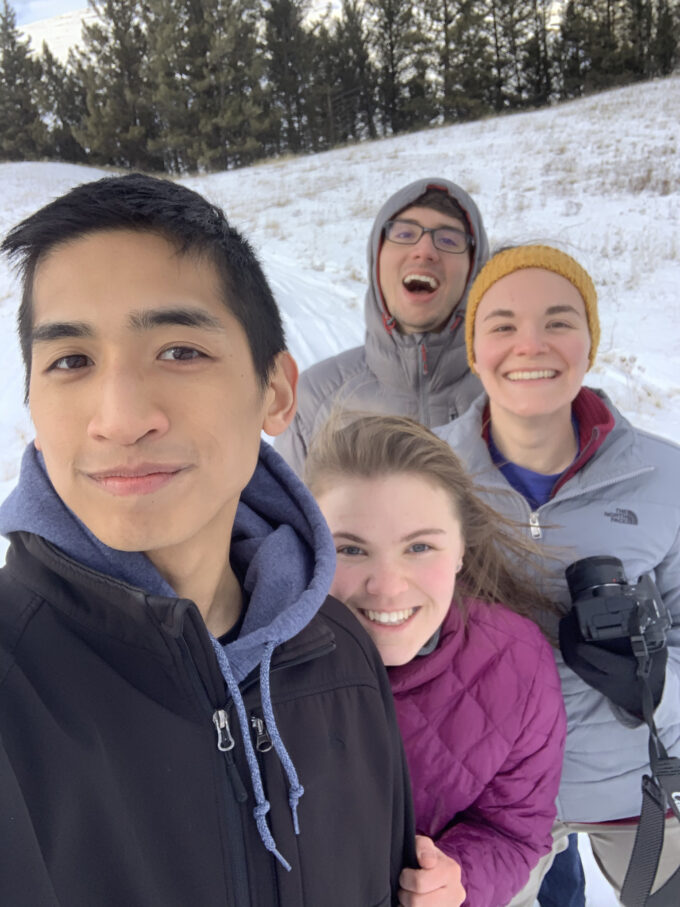 Ino: We lived in this double-wide trailer that had a ton of rooms. It was a wonderful experience living with three other JVs. We cooked dinner together every night. And after dinner we'd probably be playing cards all night, we watched a ton of movies, and almost every single weekend we were out taking a trip, going hiking in our backyard, or getting lost somewhere in the mountains of North Cascades.
Being able to spend a lot of time with them was definitely one of the core, best experiences of being a JV because also at the end of the day that was a very important tactic for being able to destress, reflect, and refresh.
Phil: Jenny, can you tell us a little bit about your role as Clubhouse Manager?
Jenny: I have always been really interested in mental health. So that kind of brought me into the peer counseling field, which brought me to Okanogan Behavioral HealthCare, and then where I leaned about the Clubhouse about a week after I was hired.
The Clubhouse environment to me is we support each other so we can go out and support others. It brings tears to my eyes to witness the strong bond between the Clubhouse members and the support they've offered each other, and the hardships they've been through.
"we support each other so we can go out and support others."
Ino: I was a Jesuit Volunteer at OBHC and my specific role was as a Case Manager. They have a facility there called the Shove House which is a therapeutic support environment for clients and patients who are experiencing chronic homelessness on top of mental illness or other substance use disorders. Essentially what my role was, in person, peer support, always available resource in terms of always being able to find jobs, get to medical appointments, even drive to pick up a Social Security card. Anything that is important for the next step of someone's individual recovery goals. So for the group sessions, we'd talk a lot about healthy living practices that are specifically catered to someone who is undergoing recovery. And then I would either be doing one-on-ones with different clients throughout the day, visiting the clubhouse, or going on walks with the residents and clients.
Phil: Sounds like a lot of relationship building.
Ino: Oh, absolutely. And as someone who graduated from a medical background and is continuing on a path and career toward medicine, being able to explore that patient care route was something that was very important for me and something that I got a lot out of from OBHC. You learn a lot in college. But it's one thing to have that academic knowledge, and then actually see how it applies in the person in front of you. Being able to really form those relationships with everyone at OBHC and the Clubhouse taught me way more than I was able to learn in a classroom.
Jenny: It's a really exciting time to be coming here to learn as a JV, I would think. We've been able to get a pretty substantial grant to be able to expand our facility. We're in the process of doing raised beds and gardens—we got another grant for that—and to offer more outreach services for the members.
Nathan was one of our amazing members that did a lot of our group topics and he became a full-time volunteer. He said so many amazing things and helped us here. I just want to read his quote. "My name is Nathan. I've been going to the Clubhouse for just over a year. I believe we heal in relation to each other. True healing takes place when someone cares and shows sincere interest. You can't heal a mind with another mind. You heal a mind with your heart. We set a tone at the Clubhouse where it's a place where our hearts are open is the norm. This in turn can become contagious and spreads out into our community."
"You can't heal a mind with another mind. You heal a mind with your heart."
---
Lean more about Okanogan Behavioral HealthCare, visit their website.
To see a list of all the places Jesuit Volunteers serve, click here.