A five-part reflection on faith and ecological justice by JVC Northwest Board Member and Former Jesuit Volunteer Fr. John Guyol, SJ
Background:
500 years ago, a cannonball struck the leg of Ignatius of Loyola, a Basque soldier. This violent moment forced the future saint into months of convalescence. It was a time of paralysis, a time of pain, and likely a traumatic time of reliving the warfare he had experienced. This time could have led Ignatius down many trails. It ended up being a time of conversion that started Ignatius on the path that would lead him to mystical experiences and the founding of the Society of Jesus.
A. Application: In a world increasingly wrought by climate disasters, many throughout the world find themselves having their own cannonball moment. A system of violence and power has led to an altering of the climate and the ensuing catastrophes have struck against us. For some, wildfires, hurricanes, drought and famine have ripped away their former lives. For others, a growing dread is rising in their hearts as they see these horrors take place and they feel frozen, paralyzed.
B. Reflection: Ignatius was unable to ignore the effects of his cannonball. The same holds true for a growing number of people, as they are hit by the cannonballs of changing climates. As these cannonballs continue to rain down upon us, how are we being paralyzed? How are we struggling to heal? How are we handling these cannonballs?
Background:
As Ignatius lied in bed, immobile and in pain, an important process began. He was led along a path of conversion that took him from feelings of ineptitude to a passionate desire to be on mission. An essential element of this conversion was Ignatius' imagination. Ever a dreamer, Ignatius was torn between dreams of chivalry and knighthood and an imagined future that reflected the lives of famous saints, such as Dominic and Francis. As he dreamed, he came to the realization that his heart was lifted more by his dreams of sainthood. Upon feeling this new future tug on his heart, he had to let go of his former dreams. They no longer provided the joy they once did.
A. Application: Many of our old dreams are no longer possible. The dream of continuous growth, endless resources and no consequences has turned into a nightmare. It is time to imagine a new future, to be inspired by new dreams. These dreams can take shape in as varied ways as the communities and ecosystems we find ourselves in. Maybe this dream is lived out through lifestyle changes, advocacy, spiritual groups, community oriented living, or environmental restoration. 
B. Reflection: What is your dream for the future? Which old dreams need to be reimagined? Whose stories fill your imagination? Who inspires you? How can you reflect this inspiration in your own life?
Background:
Physically healed from his wound and energized to begin a new life, Ignatius became a pilgrim. It was a pilgrimage full of detours and struggles, but it was one that ultimately led him to a mystical experience along the River Cardoner. There he was shown a new vision of the world and granted many spiritual graces. While we do not know the full extent of his experience by the river, we do have his Spiritual Exercises. These Exercises are bookended by the Principle and Foundation and the Contemplation to Attain Love. These two exercises encourage us to understand that we are grounded in God's unconditional, creative love and that it is from this love that we are called to respond.
A. Application: God showed Ignatius his primary identity: beloved. God, ever the creative Revealer, is consistently and endlessly revealing this same truth to us. We hear this truth proclaimed in Scripture, and it is reinforced and deepened through the revelatory reality of Creation. Much of the dominant culture provides us with the narrative that we need to buy or consume to love or be loved. This is not what that rest of Creation tells us. Let us listen to Creation as it reminds us that we have been created out of love and that all of Creation is good. Let this truth ground you. Let your response to this truth be the driving force of your Care for the Common Home.
B. Reflection: Ignatius allowed himself to be loved by God. He allowed himself to be changed by that love. How is the Creator of all Life revealing your beloved self to you? Are you allowing yourself to take on the identity of beloved? How do you feel called to respond to this love?
Background:
Often Ignatius is described as the founder of the Jesuits. It is true insofar as he was the primary teacher of the spirituality that grounded the Society of Jesus. However, there were seven founding members of the Jesuits. Ignatius was not alone in his endeavors. Instead of trying to answer God's call by himself, Ignatius had the wisdom to seek out companions for the mission, and the individuals he gathered around himself were not all of the same mold. They came from different countries, were of different ages, and had different temperaments. The family of Francis Xavier, one of the founding members, was even on the other side of the military conflict that led to Ignatius' cannonball injury. What they had in common was this: they knew themselves to be loved by God and desired to respond to that love through a common mission.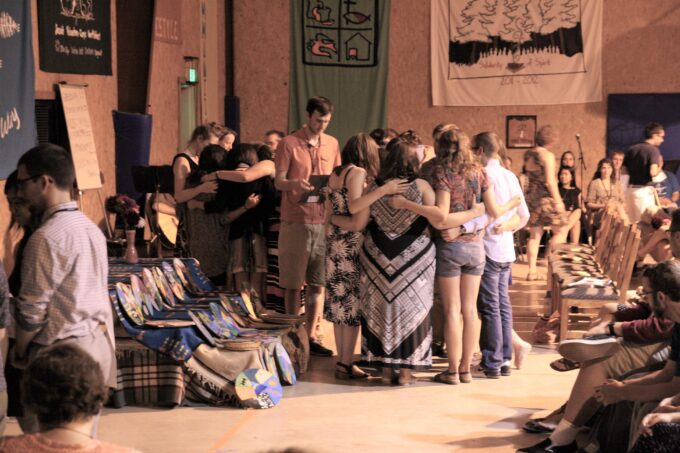 A. Application: The challenge of climate change can be daunting. The projections are dire. Even when we are enthused to work toward environmental justice, it can feel insurmountable when we feel like we are alone in the struggle. Let us follow the example of Ignatius and seek companions from diverse backgrounds and experiences to work beside on our common mission. When you go looking for these coworkers, allow yourself to be surprised by who might show up. Our common struggle for our home requires the efforts of a variety of people, people who come from different countries, generations, political parties, religions and lived experiences.
B. Reflection: Ignatius was not alone in his mission. Neither are you. There are wonderful people caring for our Common Home all across the globe. Who are some companions that you work with for environmental justice? How can you tap into the work already being done? Are you allowing yourself to be surprised in your efforts to collaborate with others?
Background:
Ignatius began his conversion as he recovered from a cannonball. He allowed God to move through his imagination, and new dreams arose. He went on pilgrimage and then on mission. He gathered companions. It looked like the conversion was complete. He was all set to get to work. However, there is one more crucial lesson that Ignatius was taught: trust. Ignatius and his companions had plans to go to the Holy Land. They had grand images of their futures, but they never got to the Holy Land. Instead, Ignatius spent the majority of his life in an office in Rome, writing letters. He was able to handle this complete shift in mission because he trusted the Spirit. He trusted that God was at work and that God knew the best course of action.
A. Application: Trust is a difficult skill to learn. It requires humility and the ability to hold everything loosely. It will lead to occasional frustration. Ignatius' life did not turn out as planned. His mission did not unfold as he thought it would. Similarly, our fight against environmental injustice will likely not end up looking as we thought it would. That is okay. Already, people are learning new ways to collaborate with the rest of Creation, new ways of building community and new sustainable practices. The rediscovery of the Book of Nature is unveiling new chapters of revelation. We must remain open to the Spirit's pull to a new way of doing things, a new way of struggling for justice.
B. Reflection: Just as Ignatius learned to trust in the guidance of the Spirit, so too must we. Despite the struggles we will face, we are continually invited to participate in the Spirit's work of justice. How is the Spirit calling you to new things? Is there anything that limits your ability to trust? What do you need to let go of as you accept the invitation to humility and openness to God?
Contributed by Fr. John Guyol, S.J.