This past Saturday, Portland, OR-area FJVs and JVC Northwest staff joined dozens of volunteers to tear up asphalt from the King Elementary School parking lot, making room for rain gardens. The work was not easy but with great folks (and food), it went by quickly, and with quite a few laughs.
The King Elementary School parking lot in Portland, OR has dealt with a drainage problem for several years. Because of this, rains cause parts of the parking lot to flood, making it difficult for students to avoid puddles, cars to park, and shoppers to explore the weekly King Farmer's Market on Sundays. Several local nonprofits teamed up to help address this issue, led by Depave and Green King. Depave promotes the removal of unnecessary pavement from urban areas to create community green spaces and mitigate stormwater runoff, while Green King aims to promote sustainable environmental practices by redesigning the King School Park and its surrounding areas.
JVC Northwest brought 11 FJVs and staff members to assist in the prying, smashing, and hauling of a few tons of asphalt. Rain gardens will be planted in early November in lieu of the asphalt, helping provide a natural way to alleviate the flooding issue. Here are a few pictures that show the crew in action!
Here we have the mighty group of FJVs and staff: (from left) Angela Francisco (JVC: Bridgeport, CT '11-12), Kaitlyn Devlin (Spokane, WA '11-12), Nathan Barrett (JVC: Hartford, CT '11-12), Danielle Bastien (Anchorage, AK '08-09, Portland, OR '09-10, Area Director '10-13), Zach Reuter (AmeriCorps: Spokane, WA '11-13), Elena Barreto (Hillsboro, OR '10-11, Wenatchee, WA '11-12), Kyle Eilenfeldt (JVC: Milwaukee, WI '06-07), Mary Hegel (Anchorage, AK '05-06, Portland, OR '06-07), Amanda Brown (Spokane, WA '11-12, Tacoma, WA '12-13) and Christie Costello (Portland, OR '09-10, Hillsboro, OR '10-11). Not pictured: Sam Higgins (Yakima, WA '09-10).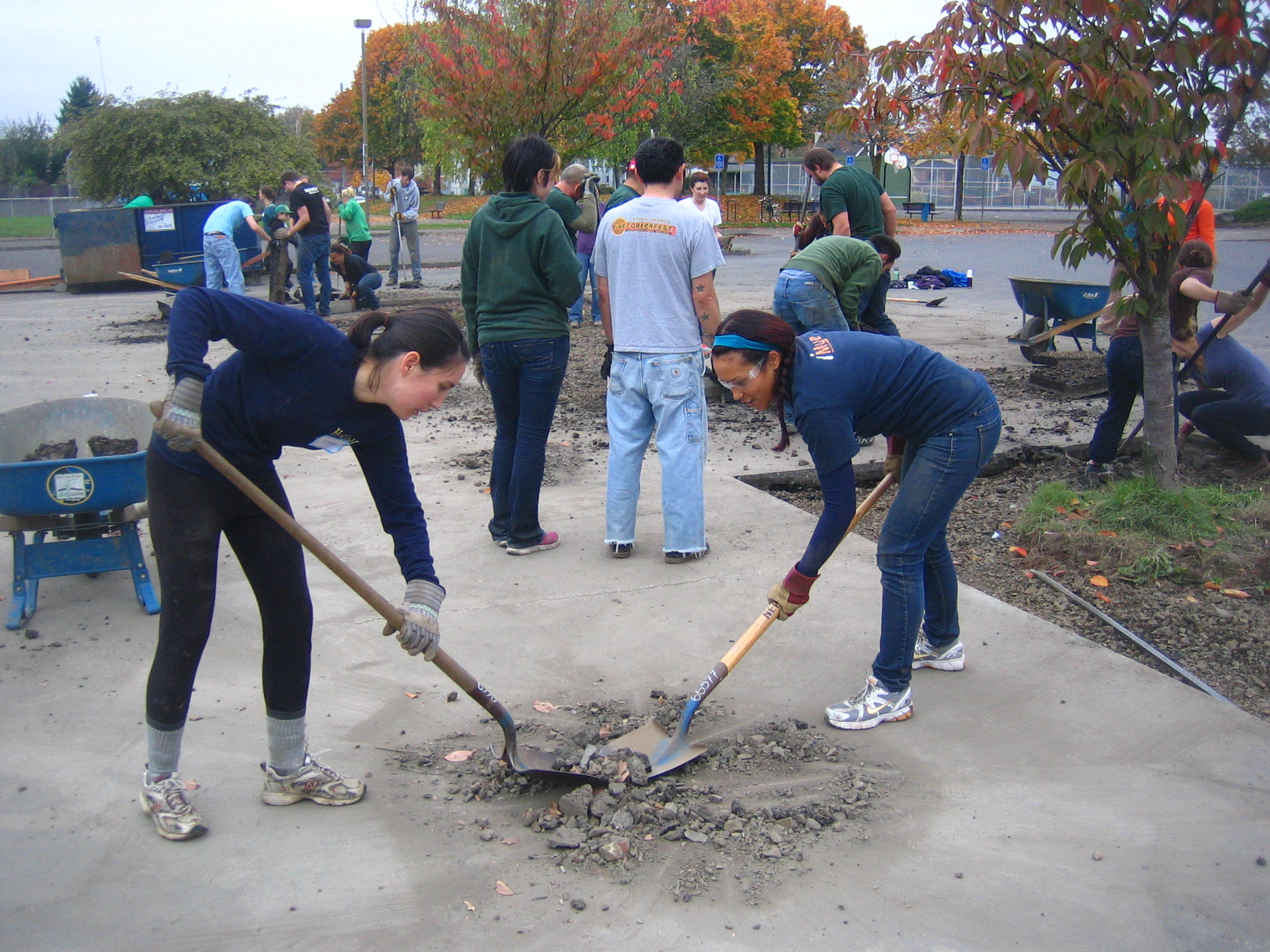 Elena and Angela teaming up to tackle an enormous pile of debris! Okay, this one was small but it doesn't mean they weren't working hard.
Danielle (far left) teams up with other volunteers to pry up a huge piece of asphalt.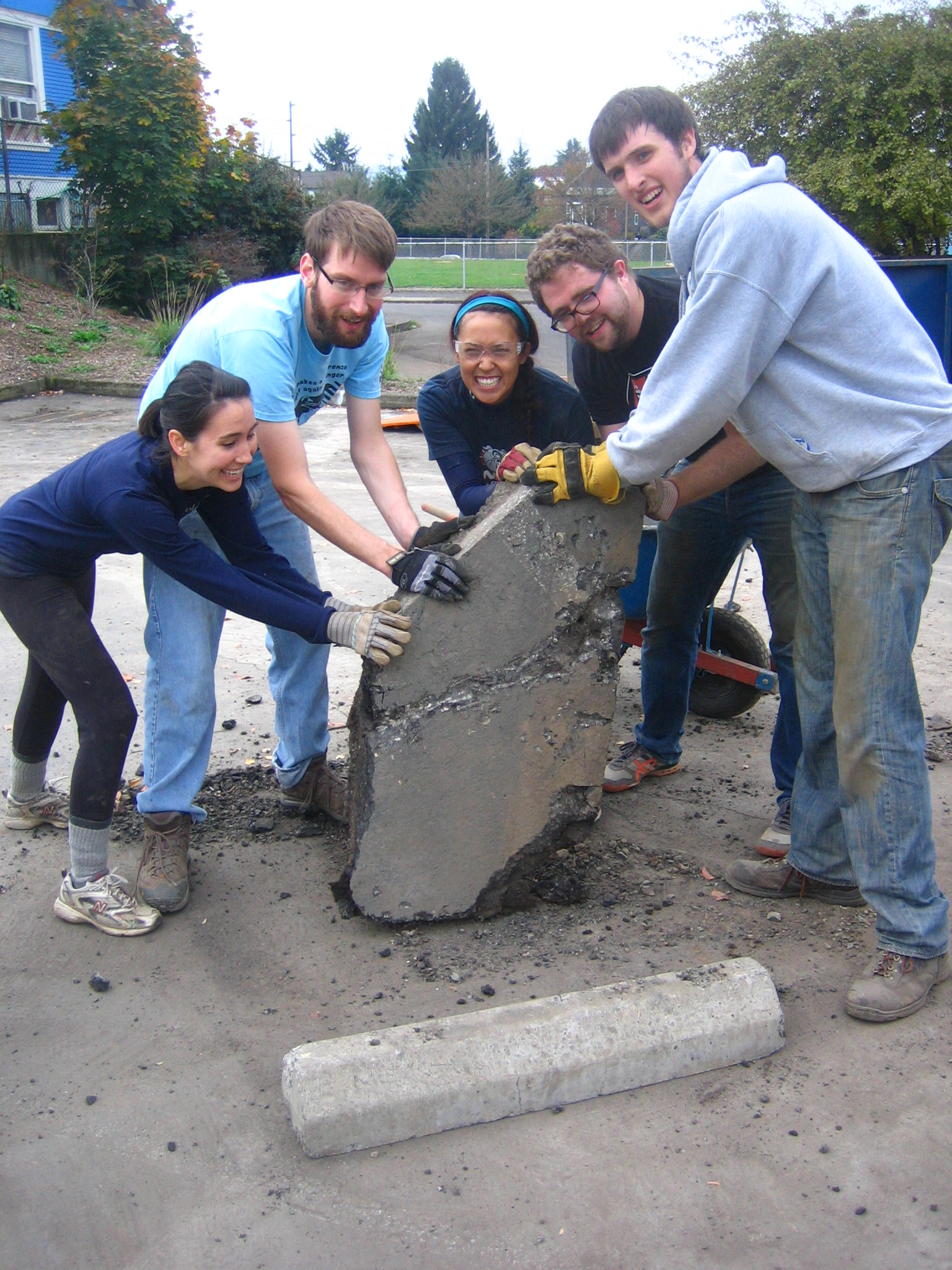 Step 1: Team up to try and break a big piece of asphalt on a big piece of concrete.
Step 2: Channel your inner Arnold Schwarzenegger to push it down with maximum force.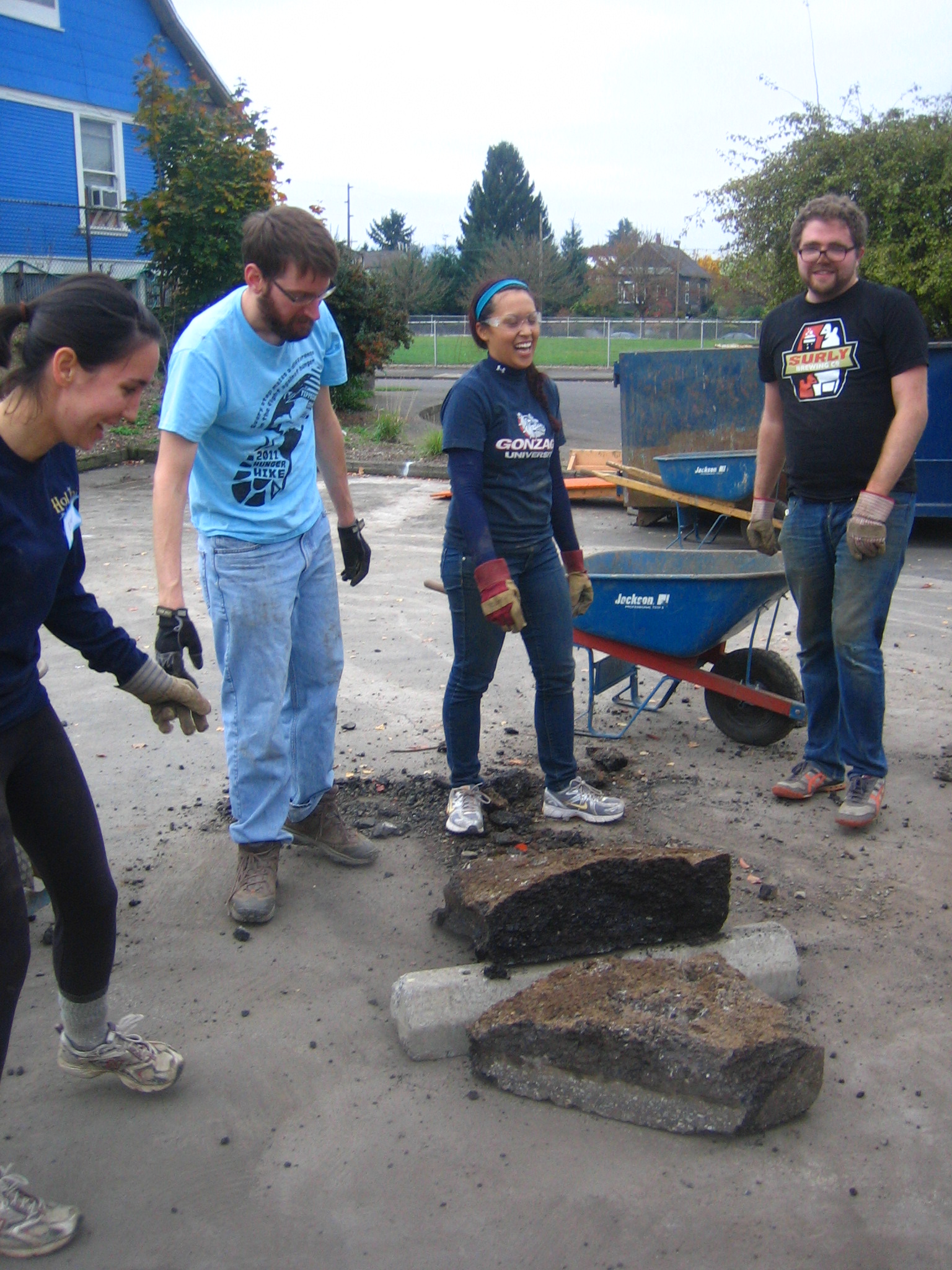 Step 3: Gaze in awe at the superhuman accomplishment!
Zach, Nathan, and Elena take a quick pause for a photo opp.
Everyone wields their tool of choice, except for Amanda – she chose to sit in hers.
JVC Northwest will be offering more of these one-day service opportunities for FJVs in the future so be sure to watch your email account and like our updated Facebook page to stay in touch! If you didn't hear about this event and would like to be brought in the loop for future opportunities like this, email outreach@jvcnorthwest.org.