JVC Northwest will celebrate its tenth annual Seattle Event this year on May 30th at Seattle University. The theme of this year's event is Companions in Service and we hope that you will join us as a companion in the celebration in less than two months.
Each year the JVC Northwest community gathers on the campus of Seattle University to celebrate the inspiring service of the Jesuit Volunteers (JVs) and Jesuit Volunteer EnCorps (JVEs) members throughout the Northwest. This year's dinner and fundraiser will mark the tenth(!) year that FJVs, JVs, JVEs, staff, Jesuits, Board members, friends, and family will gather together to reconnect with one another and the core values. What began as a celebration of our 50th anniversary led by a passionate group of FJVs and staff in 2006 at St. Bridget Catholic Church has become a staple of the JVC Northwest calendar that brings people from across the Northwest to pray, eat, laugh, and give with one another.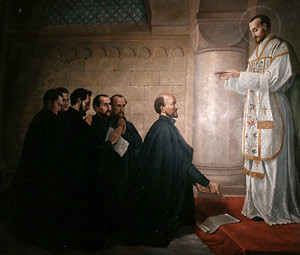 The theme of this year's event, once again conceived by current Seattle JVs, is "Companions in Service". The theme alludes to St. Ignatius' compañeros, the group of men who joined St. Ignatius as the first Jesuits and "companions" in the work he sought to do in the name of Christ and the Church. These compañeros (or companions) were crucial to the spreading and flourishing of the Society of Jesus across the world.
In much the same way, JVC Northwest views those who offer support at the Seattle Event (and those who attend in spirit) as companions in the work of the JVs and the organization. The money raised and the connections made are essential to our ability to provide a transformational year of service for our volunteers as they assist the impoverished and vulnerable members of our society.
Here are the details of this year's event – more will be added as they emerge
Saturday May 30th
Seattle University

5 p.m. – Mass in the Campion Chapel with Fr. John Whitney, S.J. (St. Mary's, AK '81-82)
6 p.m. – Dinner and program in the Campion Ballroom

Tickets

$55 – Individual

$440 – Table of eight

Program includes

Reflections from a current JV and JV EnCorps member
Call to partnership
Fr. Jack Morris, SJ Award presentation
Raffle

More

Complimentary parking in the Murphy Garage
Vegetarian and vegan dining options available
Complimentary beer and wine
Sponsorship opportunities (see below)
Registration for this year's event can be found online here. Formal invitations will arrive in mid April and also include registration materials in case you prefer that method. Questions regarding registration can be sent to outreach@jvcnorthwest.org. You can also speak with Outreach and Events Coordinator Zach Reuter at 503-335-8202.
If you are interested in becoming a sponsor for this year's event and having your company or organization highlighted to over 250 social-justice minded individuals, please contact our Development Coordinator, Whitney Johnson, at wjohnson@jvcnorthwest.org.
If you've been impacted by your time as a JV, or if a former or current JV has touched you in a meaningful way, we hope you'll join us as a companion on May 30th in Seattle.