Orientation 2015 will take place August 3-7 at Camp Adams in Molalla, OR. You can be a part of this timeless part of the Jesuit Volunteer journey no matter where you are.
As many of you know, Orientation is an essential part of the JV year that provides an opportunity for JVs to explore the four values of JVC Northwest, their reasons for joining the program, and their hopes for the coming year.
Orientation can also bring up many fond memories for the decades of former JVs that preceded this year's bunch, and we'd love for you to contribute to the new JVs' experience, whether or not you can attend Orientation.
See details below for ways to be involved, whether in person or from afar!
Can't Attend? Write a letter instead!
The incoming JVs will learn plenty at Orientation but a letter from a former JV providing advice, stories, or encouragement can go a long way to help ease the inevitable nerves.
Letters from FJVs and other supporters will be given to the JVs at the Orientation Banquet on 8/7.
Letters should be sent to outreach@jvcnorthwest.org or PO Box 3928, Portland, OR 97208
Please include your name and service info (example: Jane Doe, St. Mary's, AK '78-79)
Notes can be general or specific to your service locale
Letters/notes due by July 30 at 5 p.m.
Notes received after this may not make it to the Banquet (but we'll do our best!)
Want to attend? Join us at the Banquet and Missioning Mass!
Join the JVs at Camp Adams! Although you're welcome to come to Orientation at any point during the week, there are two opportunities we greatly encourage those in the JVC Northwest family to partake in: the Banquet and the Missioning Liturgy.
Banquet

Share a meal with incoming JVs, former JVs, JVEs, JVC Northwest staff, Board members, Jesuits, and other Orientation guests
Friday, August 7, 6:30 p.m., Camp Adams
Please arrive between 6 & 6:15 p.m. if possible
RSVP to outreach@jvcnorthwest.org or 503-335-8202 by July 31
Missioning Liturgy

Celebrate mass with the JVs and JVC Northwest community as they are missioned off to their service locales (immediately following Banquet)
Friday, August 7, 8:00 p.m., Camp Adams
RSVP to outreach@jvcnorthwest.org or 503-335-8202 by July 31
Need Overnight Accommodations?

Overnight lodging available on request

Priority given to elders and out-of-town guests
Camping available as well
Please include lodging/camping request in your RSVP!
Location of Orientation: Camp Adams, a rural, wooded site with simple cabins and lodge facilities, is located 45 minutes southeast of Portland. Click here for a map and directions to Camp Adams in Molalla, OR.
Orientation 2015 Theme: Let Peace Take Root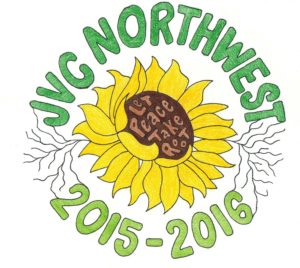 This year's Orientation theme was inspired by the lifelong peace and anti-nuclear proliferation activism of Fr. Bill "Bix" Bichsel. Bix was a lifelong friend of JVC Northwest and the Jesuit Volunteers, particularly those serving in Tacoma, WA. He passed away on February 28, 2015.
The Orientation logo contains a sunflower, a plant known for pulling radioactive contaminants out of the soil, as an acknowledgment of Bix's lifelong advocacy for an end to nuclear weapons.
We hope that you will help "let peace take root" in your own lives, as well as those of the incoming JVs!