Another new group of JVs, another Orientation come and gone, but you can relive the week that was in the photo recap we've drawn up. Follow the JVs from the time they landed at the airport to the closing Missioning Liturgy while reliving your own Orientation experience.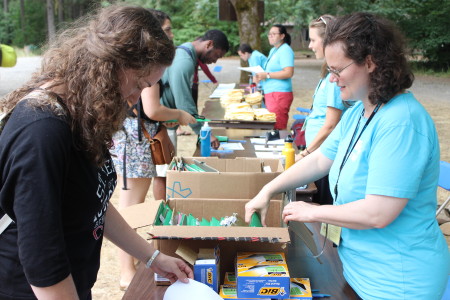 JVs arrived on Monday, August 3rd to Portland International Airport, where they were picked up by bus and brought to beautiful Camp Adams in Molalla, OR. Staff (like JV Program Manager Amy Potthast, left) eagerly awaited their arrival at the registration table with everything they'd need for the week. (Though I'm sure some JVs could have done without the paperwork.)
Once everyone had arrived, we all gathered in the meadow to perform a ritual of welcome. For those who hadn't experienced the Pacific Northwest before, it was an ideal time to take in the tall cedar trees and natural beauty of the region.
Pictured here is former Jesuit and spiritual director Jack Kennedy (standing), who has been a part of Orientation for decades, helping JV communities explore the meaning of Ignatian spirituality while also providing one-on-one support to JVs looking for spiritual direction, such as David Paullin (Spokane, WA '14-16)
Speaking of folks who have been coming to Orientation for many years, Mike Benton (center, in black) once again provided the musical element throughout the week, including the morning music and formulation of the JV choir and band for the Friday Missioning Liturgy.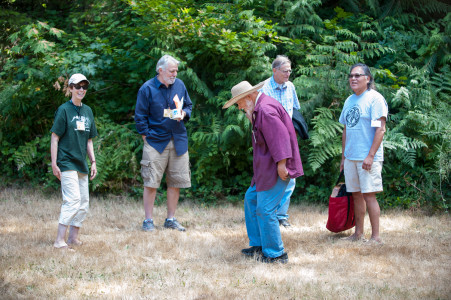 We were also very fortunate to have wonderful presenters and facilitators during the week. These include psychologist Dr. Kent Hoffman (second from left), Fr. Pat Twohy, S.J. (fourth from left), and Swinomish tribe elder of the Coastal Salish, Raymond Williams (far right). Also pictured here are JVC Northwest Executive Director, Jeanne Haster (far left) and the legendary Br. Fred Mercy, S.J. (center with hat).
Here you'll see JVs working on their community mandalas, which start as several individual pieces that each JV decorates and end up fitting together in a circle, representing the disparate parts that come together to form one whole community.
Here Carol Gabrielli (Portland, OR '81-82) hosts a session on Community Tools, where she goes over tips, strategies, and resources for how to engage in community living in an open and effective way. Br. Fred Mercy, S.J. was even brought up for the panel discussion to offer his wisdom on the topic!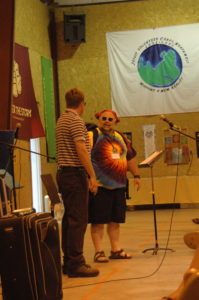 As they have for several years, Brian Mack (Seattle, WA '92-94) and Fr. Joseph Carver, S.J. (Seattle, WA '93-94) presented the "Top 10", a talk/theater production that goes over their own experience as volunteers and the top ten suggestions they have for new and returning JVs to live and learn as a community.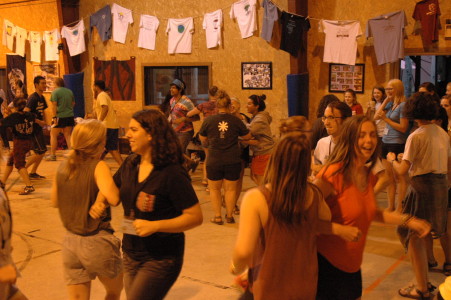 Another timeless Orientation tradition is contra/square dancing. A square dance band and caller came out to Orientation and hosted hours of good, clean fun for the '15-16 crew. Even Executive Director Jeanne Haster (Ft. Worth, TX '81-82) (not pictured) hopped in to partake in the hootenanny.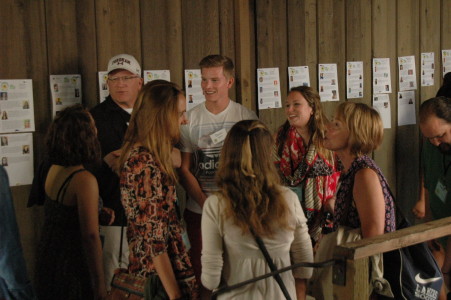 Friday of Orientation signals the beginning of the end of Orientation and includes a Banquet where former JVs, Board members, Jesuits, friends, and family are able to come out and join the JVs in a delicious meal before they head to their service locales the next morning. Here the family of Clare Kelly (Boise, ID '15-16) joins the celebration.
Following the Banquet is the Missioning Mass, the culminating event of Orientation where the JVC Northwest community celebrates Mass together and the JVs are missioned off before embarking on their year of service. This year's Mass was presided over by the wonderful Fr. Craig Boly, S.J.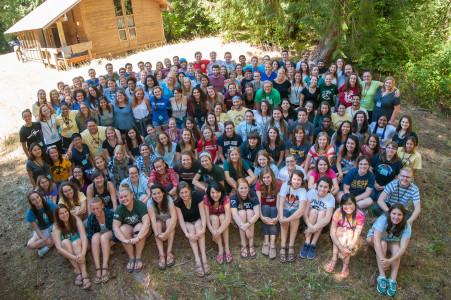 And here they are, the '15-16 Jesuit Volunteers, after a long, exciting, informative, and emotional week, ready to serve others and take on the world (or maybe just Omak, WA). Regardless, they'll always be in our hearts and minds this year, and we hope you'll keep them in yours as well.