This month's featured FJV is Caryl Casbon (Portland, OR '73-74), whose first published book of poetry, "The Everywhere Oracle: A Guided Journey Through Poetry for an Ensouled World" comes out this month. We interviewed her here about her life, the impact of her JV experience, and her fascination with poetry.
~ What have you been up to personally, professionally, and otherwise since your time as a JV?
My 65 years of life have been blessed with so many opportunities, changes, and surprising directions. After my year as a JV, living in the MAC house in NW Portland and working at the Public Defender Office in 1973-74, I learned, well, about how much I didn't know about working with people. So I enrolled in the Leadership Institute Graduate Program in Spokane to earn an MA in Applied Behavioral Science. After directing two YMCA centers in Portland, I moved into education, eventually working at Lewis & Clark College in the graduate studies program for 13 years. In 1997 I was
introduced to Parker Palmer, became a facilitator through the Center for Courage & Renewal, and subsequently began a Courage to Teach©, Courage to Lead© program at Lewis & Clark, programs centered on nurturing the heart of the teacher/leader.
As it turns out, this was a profoundly significant juncture in my life, since this is work that I am still about, where we explore the intersection of the soul and role, the nature of deep listening and discernment, and the power of paradox in retreat programs based on Quaker practices. Since those early days, I have taken this process into many arenas, including programs for clergy, and initiatives that address end of life care, such as the Anamcara Project through the Sacred Art of Living Center in Bend, OR and Befriending the Unknown program through the Alliance for Living & Dying Well in Santa Barbara, CA. At age 50 I attended the Chaplaincy Institute, an Interfaith Seminary, and was ordained in 2001, (proving…you are never too old to go to school!). I now work as a writer, spiritual director, retreat leader, speaker and interfaith minister in Bend (and the many other place this work takes me!)
~ How and when did you get into writing poetry? What does poetry do for you?
I am a card-carrying English Major, a lover of words, stories, and language in its many stripes, and have kept a journal for as long as I can remember as a safe place to process my life, pray, notice patterns, process challenges, and witness Grace. I write to know what I think. About four years ago I just quietly started writing poetry for myself in my journal, and enjoyed it. It was oddly freeing.
Poetry invites me to discover the meaning in what I am seeing in the world in a deeper way; it strengthens my metaphoric muscles. When I am writing poetry, everything around me is charged with nuance and meaning. I can take a disturbing experience and use it in a way that is surprisingly redemptive. It helps me witness Spirit working in my life, and then share it with others. I experience writing poetry, and the creative process in general, as co-creation with the Divine. It has taught me to ground in prayer, then see what comes through. I am constantly amazed! This is how I want to live! Truly, it doesn't get much better than this!
~ What reason(s) eventually drove you to write/compile "The Everywhere Oracle"? What topics do the poems cover?
While I was originally writing poetry for fun, I gradually began sharing poems with a few trusted friends, including my husband, Jay. They egged me on because they enjoyed it, and even asked to share the poems with their friends! Wow. I also was blessed to have a spiritual elder and mentor in my life, Maryellen Kelley, who said that it was about time I owned that I am a poet and to get on with it! She also said, "You know, Caryl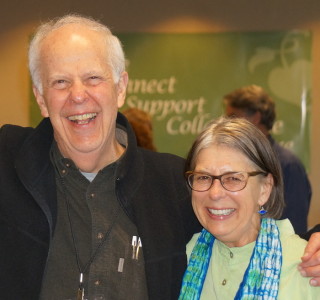 Ann, these poems aren't for you." Well, I didn't know that, but I did listen. So a year ago this month, I decided to pull the poems into a collection.
It is such a powerful reminder how important it is to have support and encouragement when we are trying new endeavors. Maryellen died in May at age 87, but she got to see the rough draft, helped choose the cover, and I dedicate the book to her, as well as to Jay, who, thankfully, is very much still with me!
The themes of the poems are about the alchemy of change and how God evolves our souls and consciousness through an ongoing stream of change and challenge, and about the inner life and ways to listen to our souls, and the voice of the Divine that is offering an ongoing outpouring of direction, love and support, if we only listen.
– Your poems revolve around the themes of change and the inner life. What continues to draw you towards those themes?
William Stafford wrote a poem entitled, The Way It Is. It begins:
"There is a thread you follow
it goes among things that change.
But it doesn't change.
People wonder about what things you are pursuing.
You have to explain about the thread.
It is hard for others to see."
Through all of the shifts, detours, and new directions I experienced in following the trail of my vocation, starting with my time as a JV, the thread that has been there all along is my love for, and devotion to, nurturing and supporting the inner life, both for my own life, and in the lives of others. In our culture, things are so ramped up and pressured that people think of inner life practices as a luxury. Not me. I think of it as basic food, support, and a necessity to living a life that is nonviolent, grounded in your relationship with God, and imperative to our aliveness, wholeness, integrity and health.
In terms of the theme of change, if we are listening to the guidance of our souls, we are going to be drawn into new experiences, risk-taking, and challenging encounters. Your soul doesn't give a rip about your safety and comfort. It wants you to experience life and grow. In these places, we learn the hard way, often, about our shadows and our gifts through ever-changing difficulties, challenging people, etc. I think that's how we evolve and grow in consciousness. As long as you are on this planet, unless you are playing it safe and not trying new things, a conscious understanding of, and relationship to, change is a powerful stance to take. Of course change often finds us, for who goes out looking for challenges, right?
– What would you like the JVC Northwest community to take away from "The Everywhere Oracle"?
I have such fond memories of the JV retreats where we honored silence, shared deeply with one another, and discovered new things about ourselves, our callings to service, and our relationships with the Divine. I loved living in community, but also found it, well, challenging!
My hope for the JVC Northwest community is that these poems can be used in book groups, around the communal dinner table, or on retreat, where people explore their own relationship with the meaning and stories in the poems. The book includes a User's Guide at the back, with question to go with each poem. I could see a community reading a poem together before dinner, reflecting on the questions about it in the back, and sharing their responses with one another. As I state in the book:
"There is an immense difference between simply reading a poem for it's first impressions versus entering into a relationship with it. So many people say, 'I have a hard time with poetry. It's not accessible.' I know what they mean. Yet when you engage in conversation with a poem, it has the potential for touching you on a soul level. It can challenge you, speak to you, and invite you into a dialogue with your own inner teacher. It is in this way it can become a poem for you. When approached like this, there is no right or wrong way to interpret poetry. It is for you to discover its' unique meaning for your life, in spite of what your literature professor told you in college!"
So….I hope the JVC community can play with these poems, write their own, and thus, "become for you!"
Looking back, I wish we had written together that year I was in the JVC. There were so many amazing stories coming out of our work sites, communities and lives, not to mention, so much humor shared amongst us. Writing together would have been a terrific way to capture these things, and share them with others. But alas, too late for me, but not for you! Try it!
– Where can people find out more about you and purchase your book?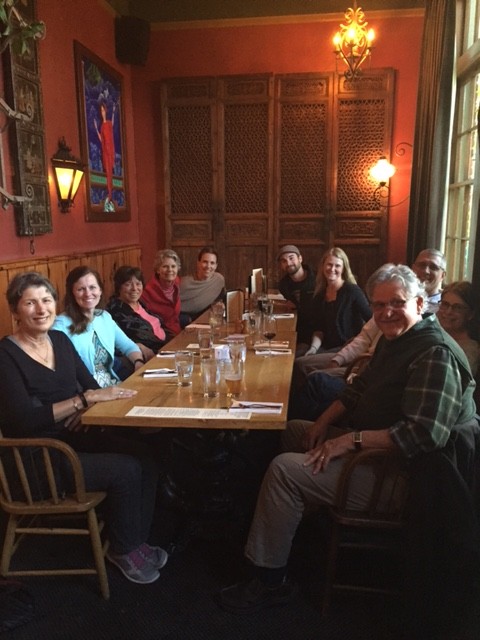 "The Everywhere Oracle: A Guided Journey Through Poetry for an Ensouled World", as well as a journal to go with it by the same title, can be purchased through Amazon!
If you have any questions, feel free to email me at: ccasbon@bendbroadband.com
I would like to end by sharing one of the poems from my book with you. Since JVC Northwest is grounded in the Catholic tradition, this poem is based on a Celtic tradition and my experience of traveling in Ireland with the Anamcara Project. It is about honoring the wounds we carry, and creating sacred space to understand the gifts they hold for us.
Blessings and peace to each current JV during this life-changing year, and to all former JVs as well.
God's Holy Mirrors©
Ireland shelters over 3,000 artesian wells
bubbling up in the barrens, fields, cow pastures,
some pilgrimage sites named for saints.
The wells offer thin places to seek healing,
to cleanse sorrows.
Tradition teaches pilgrims
to first dip strips of cloth into the holy well water
to bathe the wound, then hang them
in branches of nearby trees to air in the wind.
Next, circle and circle the well's dark, cold waters,
seven times,
in the direction of the sun
seeking illumination.
When you thirst, and draw up cold water with a bucket
from the depths,
you might catch a glimpse of your shadow
in your own reflection.
Then, you drink from the living waters of self-knowledge,
however cold and painful to swallow.
Sometimes pilgrims return year after year
with the same injury, until eventually they are ready
to hear its hidden message. Now they can depart for home,
the wound's scar a reminder of the hard-earned lesson
imprinted on their skin.
The Celts call Nature God's First Bible;
if that is the case, perhaps the wells are
God's Holy Mirrors.
Click the picture of Caryl's book to read more and purchase on Amazon.com