Earlier this year, the Hood River, OR JVs collaborated with local community partners and friends to organize a 70 mile pilgrimage in and around the Columbia River Gorge. As Lynsey Spaeth (Bethel, AK '13-14, Hood River, OR '14-15) details, the travel was not always easy but the experience was worth every step.
"Journey to the heart
Step toward understanding
Interconnection"
I wrote this haiku after participating in the first annual Camino al Rio, a pilgrimage path that starts in Parkdale, Oregon near the base of Mount Hood and journeys over various terrains almost 70 miles to the confluence of the Deschutes and Columbia rivers. Designed for those seeking a deeper sense of place, inner transformation, and fellowship, the Camino al Rio not only inspired these within my soul, it also fostered a way of reflecting upon my two years as a JV and facilitated the beginning of goodbyes to the service and places I had called home during my time with JVC Northwest.
Since I can remember, I have been interested in our beautiful blue planet, but it wasn't until my first year of service in Bethel, Alaska that I became intimately aware of the strength of my passion for ecological justice and right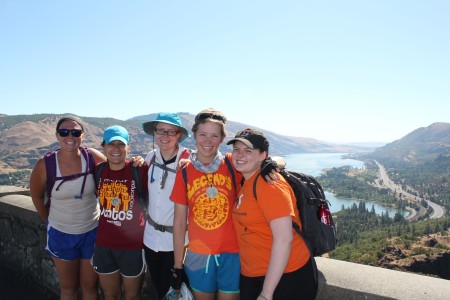 stewardship. This passion called me to serve a second year in Hood River, Oregon with the Columbia Gorge Ecology Institute. During my time there I served students throughout the Columbia River Gorge and taught about the importance of stewardship: protecting and preserving our natural landscapes for all organisms to enjoy. After a book club discussion on the idea of pilgrimage, I was inspired to help my friend Patrick create the Camino al Rio in order to spark a deeper connection to the Earth and provide the opportunity to view our home from a slower, more contemplative perspective.
The hot July days on the trails were filled with laughter and the companionship of fellow pilgrims. Evenings offered a space for reflection, learning about social and ecological justice, and sharing communal meals. It was in the solitude of the road that I discovered how deeply interconnected we as a human species are, not only to one another but to the myriad organisms around us and the soil and rock beneath our feet. What I had started to recognize on the banks of the Kuskokwim River in Alaska had finally become clearer: the innermost part of me is deeply dependent upon the Earth and the species she holds in delicate balance. The complex interrelationships fostered by the planet on which we live call me to humbly recognize the true beauty and value of sharing experiences with others.
In many ways my time spent walking the Camino al Rio helped me recognize my experience in JVC Northwest as a part of a larger pilgrimage. My two years of service were a journey towards creating lasting peace and a part of the struggle to bring justice to those on the margins. These experiences enabled me to walk, however briefly, in the shoes of others. That has been a gift that requires careful stewardship in order to share these important stories with those unable to dedicate time to serving on the margins. Like the Camino al Rio, my two years serving others were full of blisters, missteps, hot days, and fluctuating emotions. But, through all of the pain, I learned to love the Earth in a new way and, more importantly, I learned to love those I served more deeply and see my connection to others as sacred relationships. My pilgrimage experience called me into vulnerability and dependence on others in a way that no other experience has ever been able to do. It continues to call me into deeper relationships and participation in the on-going fight to create a more just world where the dignity of every being is fully recognized.
Lynsey currently lives in Wyoming. When she isn't off exploring rock formations, Lynsey can be found hiking or snowshoeing in the mountains.