For the past three years #GivingTuesday has been the philanthropic alternative to the abject consumerism of Black Friday and Cyber Monday. In this post former JV Amanda Wolff (Gresham, OR '10-11) reflects on why she is taking the opportunity this #GivingTuesday to give to JVC Northwest.
Why I'm Giving to JVC Northwest on #GivingTuesday
In the parade of barely-post-Thanksgiving "consumer holidays," Giving Tuesday stands out. It may be gimmicky in its own right, but this day devoted to generosity can be viewed as a challenge to remain in the realm of gratitude for a few more days. Don't get me wrong: there's nothing wrong with scoring a great deal or finding the perfect gift; but it is altogether too easy to be swept into door-busting before we've even recovered from the effects of the Tryptophan. I think we lose something when we move so swiftly into Christmastime, and I am interested in exploring the opportunities that might come from lingering in the Thanksgiving space. So this year, I'm trying out #GivingTuesday for the first time. I'm viewing it as an important next step in my celebration of Thanksgiving– a chance to put my gratitude into action and share what I have been given. It is also a much-needed opportunity, amid the advertisements and jingle bells, to at least partially resist the hustle and bustle of the holidays.
But to what organization should I give? As a Portland resident and member of Jesuit Volunteer Corps Northwest's newly formed Portland Alumni Council (PAC), I am still very much connected to JVC Northwest. I now work at the organization where I served in '10-'11 and I am a supervisor for a fabulous current JV. My ongoing connection to JVC Northwest keeps me grounded in the values of simple living, social and ecological justice, community, and spirituality, which continue to challenge me and shape my daily decisions.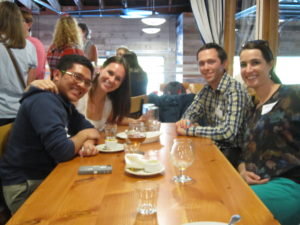 I am grateful for the work of this organization and the communities that strive together toward a different interpretation of meaning and success. Rilke wrote, "It is not enough to be swept along," and one way in which JVC Northwest challenges its volunteers, alumni, and friends is by urging us toward more intentional living. This, of course, is the very opposite of being swept along, and it often requires resistance to the comfortable momentum of the mainstream. In thanksgiving for this organization that inspires me toward deeper self-reflection, wider generosity, and more intentional choices, I am making my #GivingTuesday donation to JVC Northwest.
As we enter the Advent season, a time of quiet preparation, I appreciate the counter-cultural message of Giving Tuesday. Of course, I am even more thankful for JVC Northwest; this organization, and this community, has ruined me for life in wonderful ways and my donation is only a tiny gesture of my gratitude. Since JVC Northwest has also ruined me for Black Friday, I'm choosing to celebrate #GivingTuesday this year– and I hope you will consider joining me.
---
If you'd like to make a donation to JVC Northwest this Giving Tuesday, December 1st, click here.
Amanda served as an Anti-Poverty Specialist with Catholic Charities' El Programa Hispano in Gresham, OR '10-11. She is currently the SUN (Schools Uniting Neighborhoods) Site Manager and School-Based Services Co-Supervisor with the same organization. As she mentioned she is an inaugural member of the Portland Alumni Council whose hobbies include writing, reading, baking, hiking, and the Portland Timbers.