FJV Colleen Sinsky has been on the front lines of the refugee situation on the Greek island of Lesvos for several weeks, assisting refugees as they seek food, shelter, and safety far from home. Read on to see how she got involved in one of the largest humanitarian crises of our time.
I've been volunteering on the distant Greek island of Lesvos for over three weeks now, and will be here until mid-December. The decision to come was last-minute and motivated by seeing Syrian families sleeping under bridges in Istanbul, Turkey, on a recent trip there. It's because my heart has been "ruined for life" that I couldn't leave this part of the world without getting involved. After arriving here, I joined a small Norwegian Team of volunteers called "A Drop In The Ocean." Our name nicely summarizes the impact that each of us can have on an issue of this magnitude, whether on a remote Greek beach or from home. I have spent my time here working on the beaches to safely welcome refugee boats, helping in an overburdened refugee transit camp, as well as providing transportation, sorting donations, and staffing a lookout tower to watch for boats in distress.
Stories of heroism happen here every day, and I'm privileged to work alongside people exhibiting such courage. But for me, it feels important to just share a genuine smile while loading a bus, listen to stories of home, or help a tired mother dress her child in a new set of dry clothes. At a time when the world feels fractured by mistrust and fear, maybe it's these shared moments that are the most heroic. And the beauty of that kind of heroism is that you don't have to be on Lesvos to accomplish it.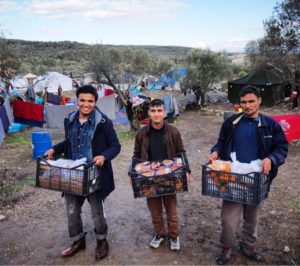 I think that the most important thing that anyone can do is to be outraged, and vocally bothered by a status quo that involves the slaughter and oppression of families, no matter where in the world it happens. There is a heightened sense of that injustice here on Lesvos, but this is really a tiny, yet dramatic, step on a long, traumatic journey for these people. I don't know what the answer is, and I feel overwhelmed each time I come up for air and read the news. When I talk to relieved Syrian mothers who have just landed on the beach describe the horror that their home has become, and how this risky journey into the unknown was their only option, I mostly just want to cry, and give up on living in a world that can be this awful. But the only rational response is to share a hug and a cup of tea, and to remember that while we're each just a drop in the ocean, that together we can form a current towards social justice. I have had enough incredible people in my life to solidify my belief that loving kindness will eventually turn the tide on oppression.
Love from Lesvos,
Colleen
Colleen served in Gresham, OR '10-11 as the Energy Intake Specialist at JOIN. When she isn't traveling the globe she resides in Portland, OR and can be found hiking, biking, and working for a more just and equitable world. A collection of five reflections Colleen wrote in Lesvos can be found here. Colleen's writing was also featured in a recent Street Roots edition and can be found here if you cannot buy one from a vendor.