October 7th marks the day AmeriCorps celebrates an exciting milestone, exceeding one million members! Jesuit Volunteer Corps Northwest is proud to partner with such an amazing and impactful program that provides services to the most vulnerable across the country.
A Brief History:
Back in 2010, JVC Northwest began our partnership with AmeriCorps by receiving a three-year National Direct AmeriCorps award from the Corporation for National and Community Service. Through this partnership that continued on in 2013 with another three-year grant, JVC Northwest was able to serve more people and increase our reach to more communities. In 2016, we are pleased to report we received an additional three-year National Direct AmeriCorps Grant, which allows us to expand our program to support 142 AmeriCorps members (up from 135 in previous years) serving in 22 locales, including opening up a new community in Woodburn, Oregon. These 142 AmeriCorps members serve in rural and urban areas across Alaska, Idaho, Montana, Oregon, and Washington providing intensive service in the areas of disaster services, economic opportunities, education, environmental stewardship, healthy futures, and veterans and military.
AmeriCorps Benefits to Members:
Throughout the service year, full-time JV AmeriCorps members receive a living allowance that funds their housing costs, food, utilities, transportation to and from the service site, medical co-pays and deductibles, and other costs that may incur. Upon successful completion of their service year, members receive an Education Award.
Not only does AmeriCorps benefit members through a monthly stipend and Education Award, the program offers true personal and professional development and enlightenment for their future endeavors:
FJV AmeriCorps member Amanda Pena (Gresham, OR '15-16 ) served at Catholic Charities of Oregon as a Case Specialist. Amanda shared, "I have never felt more loved, supported, encouraged, pushed and needed in a position than I have this past year of service. I was entrusted with great responsibilities and given true opportunities to grow and help grow this organization. I feel so respected and valued for my ideas and skills and potential, and I am forever grateful for this placement and the personal/professional development it has given me."
JV AmeriCorps member Jesus Espinosa (Portland, OR '15-16) served as the Ventanilla Outreach Coordinator at Wallace Medical Concern. Jesus had this to say about his AmeriCorps experience: "The entire staff at Wallace has been incredibly supportive and allowed flexibility in my position to cater to my strengths. I've been able to grow tremendously in 12 months and feel fortunate to have been able to leave a small mark in the clinic by the implementation of a new program aimed at increasing literacy in children of low-income families. My year of service exceeded greatly all my expectations and I will apply much of what I've learned to my future career in the health field."
AmeriCorps Benefits to Agencies
There are also countless benefits to the agencies where AmeriCorps members serve:
According to Downtown Emergency Service Center (DESC) in Seattle, WA: "The impact of JV AmeriCorps members cannot be overstated, for the agency or for the clients served. The members bring new energy, thoughtful insights, valuable experience in other work, and volunteer positions to the agency, as well as much-needed and highly appreciated help to the staff in this very challenging day-to-day work. To the clients, the members bring willingness, compassion, and a commitment to do their very best to help DESC's most vulnerable clients get the information, resources, and consistent, caring support they need to stay alive and continue moving forward in their lives, to the best of their abilities."
YWCA Missoula in Missoula, MT: "The YWCA Pathways Program offers crucial crisis intervention services to victims of domestic and sexual violence 24 hours a day. It is the largest program of the YWCA Missoula, operating with a limited number of employees but providing services to a large amount of women, men, and children in the community and outside of Missoula County.
JV AmeriCorps members are invaluable to the Pathways Program and we could not provide 'round the clock services without them. Throughout their one-year term of service, they impact individuals on a micro level and our community on a macro level. They might serve with an individual over the crisis line and help them solve a current crisis situation. They might serve with a woman at the shelter for several weeks setting short and long term goals with them, safety planning and providing personal advocacy, and connecting the woman to valuable resources in the community to start building a life free of violence for herself and her children. They also serve with children that have witnessed or experienced violence and are able to provide therapeutic play and a safe environment to kids that have often never been able to be true kids before. Some of these impacts can be measured in numbers (e.g. how many women and children stayed at the shelter), while others can only be measured in emotions and moments of safety, empowerment, and happiness."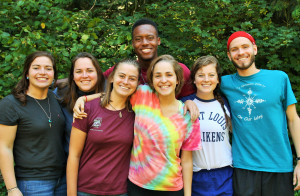 THANK YOU
JVC Northwest wants to thank all the past, current, and future AmeriCorps members who pledge a year to 'get things done' throughout the country! Also, we want to thank CNCS, partner agencies, stakeholders, and all those involved in making the JVC Northwest and AmeriCorps partnership a success!