On June 3 we brought together the JVC Northwest family to reconnect with one another and support the future of Jesuit Volunteer (and Jesuit Volunteer EnCorps) service across the Northwest. Our annual fundraiser once again took place at Seattle University, with this year's event focused on celebrating our earliest volunteers, those who served at Copper Valley School (CVS) in Alaska. Explore this wonderful evening through our photo recap!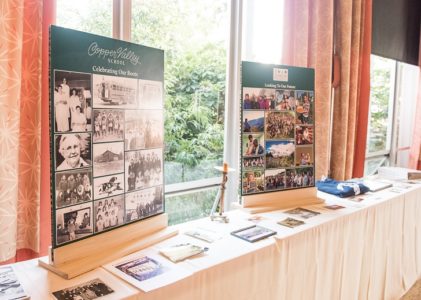 Since this event focused on honoring the legacy of Copper Valley School and the volunteers that served there, we created a Copper Valley memorabilia table for guests to explore. The table included yearbooks, pamphlets, pictures, a Copper Valley School sweatshirt, and much more.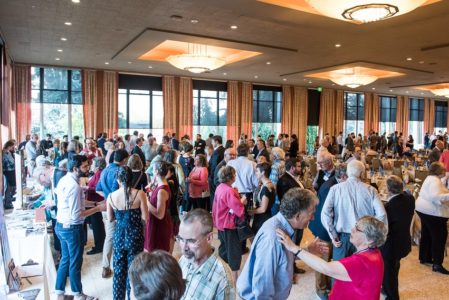 This year's fundraiser brought together 250 members of the JVC Northwest community, including a large contingent of former Copper Valley School volunteers, students, and their family, many of whom traveled from across the country to attend.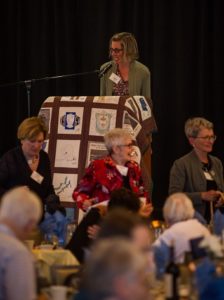 After the social hour the evening began with a pre-meal blessing from Seattle JV EnCorps Coordinator Helen Pitts. JV EnCorps has expanded from its origins in Portland and Seattle and as of '17-18 will include communities in Bend, Ore., Tacoma, Wash., and Kitsap County, Wash.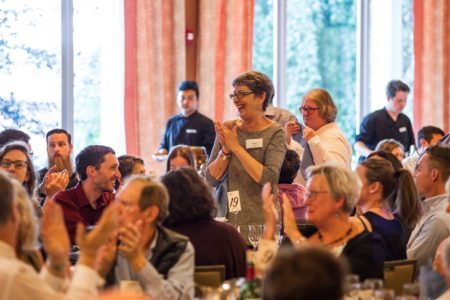 This year's event included former JVs from all seven decades of Jesuit Volunteer service. Pictured here is last year's Fr. Jack Morris, SJ Memorial Award winner Pam DiDente (Portland, OR '72-73, JVE: Bend, OR '14-16) standing to be recognized as part of all the the volunteers that served throughout the 1970s in attendance.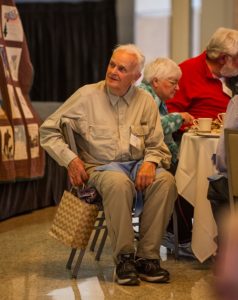 And what would this event be without the Jesuits! Pictured here is Fr. Tom Gallagher, SJ, who worked and lived at Copper Valley School in his early years as a Jesuit scholastic. Fr. Tom also presided at the pre-event Mass held at Seattle University's St. Ignatius Chapel.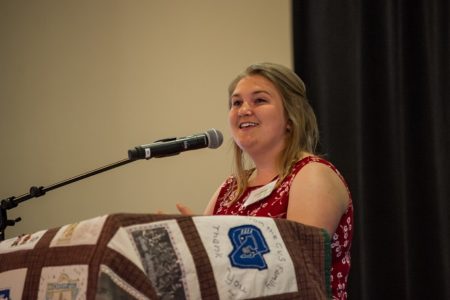 Current JV Lindsay Hueston (Seattle, WA '16-17) gave a reflection on her service and time in community, highlighting how her experience at Real Change News has challenged her to embrace "not knowing" how to fix everything and to fully live into her relationships with those experiencing homelessness in Seattle.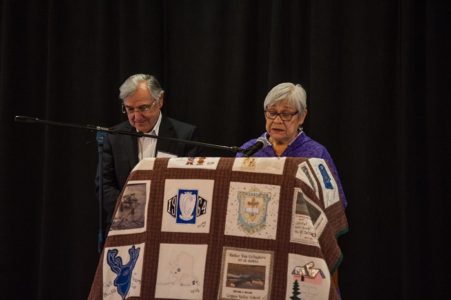 The evening also featured two former Native Alaskan students, Chuck Akers and Tiny Demientieff, who attended CVS. They spoke about their time at CVS and the various local and international leadership positions they've held, which they attribute, in part, to the positive and encouraging relationships they developed with CVS volunteers.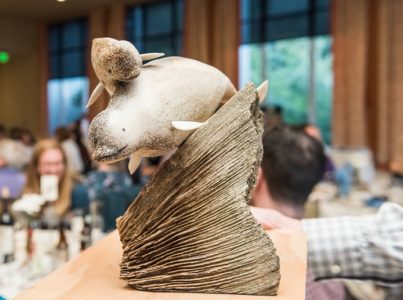 Chuck Akers, with assistance from fellow CVS alumnus Richard Jung, auctioned off a sculpture from another CVS alumnus (artist Roswell Schaeffer of Kotzebue, Alaska) of a mother whale and her calf, sculpted from an actual whale skull that washed ashore near the artist's home.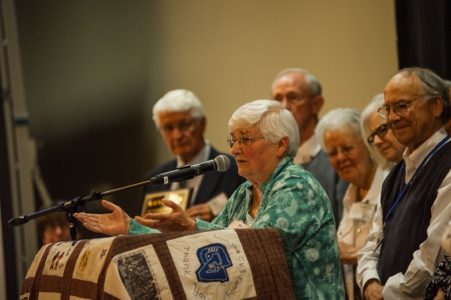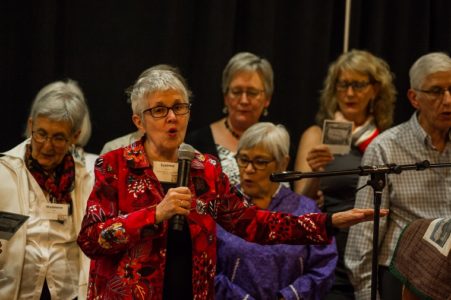 This year's Fr. Jack Morris, SJ Memorial Award was awarded to all the Copper Valley volunteers who served at the school from its opening in 1956 to its closing in 1971. FJV Bev Brooks (Copper Valley, AK '64-71), pictured at left, accepted on behalf of the Copper Valley volunteers present, speaking briefly on how her time there impacted the rest of her life. At the conclusion of her acceptance, the Copper Valley group, led by Suzanne Curtin (Copper Valley, AK '64-66), pictured at right, led the entire audience in singing the Copper Valley School song.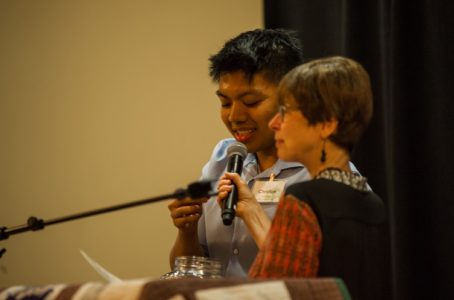 The night ended with the drawing for our five raffle prizes. Pictured here is JV Christian Banawis (Seattle, WA '16-17) as he reads off the numbers for the winning ticket with the help of JVC Northwest Executive Director Jeanne Haster (Ft. Worth, TX '81-82) to his right.
Finally, this event would not have been possible without help from our generous sponsors, pictured above.
If you'd like to see the entire album of pictures from this event please check out our Flickr page here. We hope to see you at next year's gathering at Seattle University on Sunday, May 20, 2018, which will be a brunch!