One JV's Experience with Today's Asylum Seekers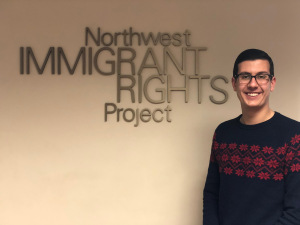 258 million migrants across the globe and nearly 26 million sought asylum or refugee status in 2017.
Never before has the world been so on the move.[1]  In this world of constant motion, I find it important to recall America's fundamental, yet sometimes imperfect promise of welcoming immigrants and providing shelter to the stranger.
One of those strangers was my father, who sought refuge in this country from war-torn Iraq more than thirty years ago. America, its institutions and people, welcomed him in and affirmed his dignity by helping him build a life that has raised him up and allowed his son to attend college and participate in a program like Jesuit Volunteer Corps (JVC) Northwest.  My father's story reminds me of the history of pluralism that runs deep in this country.
---
As an undergraduate at Georgetown University, my Jesuit education called me to reflect on how my experiences and identities would impact my career after leaving college.  In a growing national climate of fear and anger toward migrants, I realized that as the son of an immigrant, I longed to do something, however modest, to be on the front lines of reviving America's welcoming spirit.  As a JV AmeriCorps member placed at the Northwest Immigrant Rights Project (NWIRP) in Seattle, I serve to connect immigrants from low-income backgrounds in Washington State with pro bono legal representation.  Much of my day is spent in conversation with clients seeking asylum, educating them about the asylum process and discussing with them their reasons for seeking refuge in the U.S.  They speak many languages – Spanish, Arabic, Punjabi, and Q'anjob'al, to name a few – and represent many cultures, but they are united in their quest to escape religious, political, cultural, sexual orientation, or gendered persecution.
NWIRP's clients are people with families like you and me, who in a courageous feat have uprooted their lives and are now exercising their right, ingrained in international and domestic law, to seek this country's protection. Indeed, accompanying our clients through their immigration journey puts a face and a story to the statistics and stereotypes.
As an aspiring attorney, serving at NWIRP has also reminded me of the importance of legal representation in the legal system.
Immigrants, especially asylum seekers, without financial, language or institutional resources face a steep uphill battle in accessing legal counsel.  Picture yourself plopped down in a courtroom in a foreign country, being asked by a judge in a language that you don't speak to recall the most traumatic moments of your life.  Unfortunately, this is the norm in our immigration system.  Only 37 percent of immigrants are represented by an attorney in immigration court.[2]  So for many of our clients, NWIRP is a first stop and a last resort.  Despite the gravity of our work, NWIRP and its dedicated supporters contribute to a fairer and more efficient immigration system, and to a more just America.  For folks like my father, it makes all the difference.
---
Interested in assisting asylum seekers or one of the many other populations JVC Northwest serves next year? Check out our application to be a '19-20 JV.
[1] http://www.un.org/en/development/desa/population/migration/publications/migrationreport/docs/MigrationReport2017_Highlights.pdf
[2] https://www.immigrantjustice.org/issues/access-counsel