Reflections on Re-Centering and Family
Please help support current and future JVs by giving to our year-end Family Together Campaign.
— Tyler Wagner (Portland, OR '15-16, Portland Alumni Council '17-20)
During my JV year, one part of my service was helping to manage a small community garden. Many of the community gardeners were a group of Russian women who were close friends and some who were family members to each other. Many of them did not speak much English, but they quickly made me feel welcome among their community.
Over the course of the year, I helped organize a few work parties. At one of these work parties, a few of the gardeners asked me if we could organize a garden potluck, which seemed like a great opportunity for them to come together and also meet their desire to invite the other gardeners to join. When we had this potluck, there was some awkwardness with the language barrier among the people who joined, yet this awkwardness dissolved as people shared about the dishes they had made, including many with ingredients straight from their garden plot. People began sampling and complimenting dishes. Soon the room was filled with laughter and the evening was spent in joyful company.
Towards the end of my year, the group of Russian gardeners asked if I could help organize a Russian-language gardening class for their group. I connected with the Oregon Food Bank and we offered their 6-week "Seed to Supper" gardening course with one person translating for the group. It was fun seeing the excitement in the gardeners and hearing them share about the new things they planned to try with their gardens after each week of classes.
The last week of "Seed to Supper" was also my last week of being a JV, so to celebrate the class, we held another potluck. The food was delicious as usual and it was hard to say goodbye to each of the gardeners.
Over the course of the year, I was able to clearly see the family atmosphere of this group of gardeners. They cleaned up, weeded, and did other things to help out in each other's plots. They teased each other often but were very supportive of one another. They loved opportunities to gather together, especially around a shared meal. What also struck me was how quickly they invited me and others into this community and made me feel so welcomed. They collaborated on the potluck and gardening class, they offered me vegetables out of their garden, teased me and supported me in my role as a JV.
The garden community reminded me of the extended family I had growing up. Early on in elementary school, my mom became friends with seven other moms of my classmates. This group became friends who celebrated holidays, went on vacations, and raised us kids together. Food was often our gathering place, too, and I can still remember the pasta, bacon, edamame salad, and chocolate fudge—my favorite dishes I could expect to see at every potluck. A family that started with my mom, dad, brother and me expanded to include these seven other families.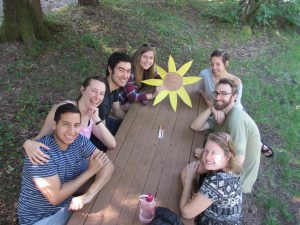 At community dinners during my JV year, I experienced another emerging feeling of family that often gathered around food. Long conversations over dinners of rice, beans and sriracha would often lead to various community mates ending up laying on the carpeted floor next to the dining room table, continuing the conversation but needing to lay down to let the food settle.
Now family is coming together even more as my brother, Joe, is in his JV year. He is even living in the same Portland community I lived in as a JV. He had the opportunity to visit my community a few times with my parents while he was a freshman in high school and has certainly heard me talk a lot about my experience over the years. Yet I was conscious of wanting to make sure he had the opportunity to make the experience and the JV family his own. In the weeks leading up to Orientation this year, I asked Joe if he would prefer that I not come to orientation as I didn't want him to feel as if I was somehow looming over his JV year. He said he didn't want to stop me from staying connected to the JVC Northwest community. Before he even entered the program fully, he understood that JVC Northwest is family.
Seeing Joe go through his JV journey certainly serves as a reminder and a challenge to live out the JV values. There are a few extra climate activism meetings and events I have attended in these past couple of months because of the accountability that having a younger brother at those same events provides.