Advent Reflection, December 2019
Please help support current and future JVs by giving to our year-end Family Together Campaign.
Jane Salisbury (St. Mary's, AK '78-80, JV EnCorps Portland, OR '18-20)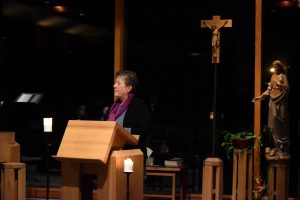 Good evening.
I think we have all heard a few talks about Advent – many of them lovely. Advent evokes patience, angels, saying yes, and above all, waiting. Waiting for something unknown, beautiful, mysterious and something that will save us.
But I think I have hit upon what, more than waiting, is the keynote of Advent, and indeed, life itself, for me, and that is hope.
Two months before my twenty-fifth birthday, I left for Alaska, hoping to leave behind a broken heart and realize my dream of living in a remote and wild place. I really wasn't sure why, but I had known for a long time living a life of service would be my happiness.
As I bounced down the gravel road into the village of St. Mary's in the Yukon Delta of western Alaska in the late summer of 1978, I felt the slow dawning of new hope. I knew that good work and a simple life lay ahead of me and I was happy.
For two years, I served there as a Jesuit Volunteer. I was the librarian and a sometime teacher at St. Mary's High School, a boarding and day school for Yupik students. The history of missionary encounters with Native people is fraught with ugly missteps and real tragedy, but still, there was a deep sense of community and mutual respect in my experience and in those years in Alaska. I found such light in that tiny village, even with its considerable troubles. The people I knew there persevered again many forces to keep their families and their land safe, and always seemed to be looking out to that endless horizon on the tundra, in hope.
And I found what I was looking for in JVC Northwest: hope and a commitment to keep it alive, a commitment to keep moving, always, in that direction.
In the years after I left JVC, I worked in public libraries, and especially with people living in isolation and on the margins: people isolated by age, illness, homelessness, disability. I found hope in their lives, in their curiosity, in their interest in the world, in spite of everything.
And I adopted a child, on my own – for me, the ultimate act of hope.
When I retired from my career as a public librarian, I knew that finding purpose would be the most important challenge, especially in a world that is no less beset with suffering than it was forty years ago. I knew I needed that infusion, that kick of hope and anticipation of a future of goodness. So I joined JVEncorps, which supports me in the volunteer work I do in the community, at Write Around Portland, Multnomah County Library and the St. Andrew food pantry.
JVEnCorps gives me this: a chance to talk with others who do volunteer service in their communities, to explore the spiritual dimension of that service, and to sustain our mutual hope for a better world. We wait, yes, for that better world, but we work for it, too.
At Advent, there can be a stillness, the hush of waiting in the cold and dark, a sense of peace that is coming to us. But it should also be a time of active hope, of knowing that our work is ahead of us, that we will say yes to it, and that that is what will sustain hope in us as we try to live lives that are worthy of the beautiful world that has been given to us.
Rebecca Solnit wrote a book called Hope in the Dark, which I recommend if you have not read it. I will close with her words:
"Hope is not a lottery ticket you can sit on the sofa and clutch, feeling lucky. It is an axe you break down doors with in an emergency. Hope should shove you out the door, because it will take everything you have to steer the future away from endless war, from the annihilation of the earth's treasures and the grinding down of the poor and marginal.. To hope is to give yourself to the future – and that commitment to the future is what makes the present inhabitable."
May your Christmas and New Year be filled with peace and joy and hope.