Reflections on Re-Centering and Family
Please help support current and future JVs by giving to our year-end Family Together Campaign.

Please help support current and future JVs by giving to our year-end Family Together Campaign.
— Lily Ayau (Juneau, AK '19-20)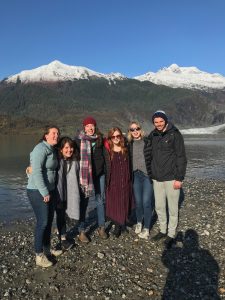 It's winter in Juneau, but the city feels warmer than ever. Invitations to holiday parties and Secret Santa gift exchanges mark every calendar, public markets and barn dances drip twinkle lights overhead, and snow-topped peaks tower just behind the cloud cover.
I grew up in the rainy coastal town of Hilo, Hawaii, which is about the same size as Juneau. I've heard that Hilo can come off as insular to those who aren't familiar with its peculiarities, but my sisters and I never saw it that way. Terms of respect like "aunty" and "uncle" peppered our vocabulary so that the lines between stranger and family blurred, creating a community of protection and collective responsibility for one another.
When I arrived in Alaska four months ago at the tail-end of a long, remarkably hot summer, Juneau felt insular to me. My service position as the Youth Wellness Specialist at the Zach Gordon Youth Center placed me within a nexus of familial, cultural, and educational relationships that grow into, through, and around each other. As I began to be integrated into that nexus, I found myself noticing a familiar rhythm of mutual responsibility, of bonds that reach across the strict boundaries of the nuclear family, of community cultural awareness and accountability.
In this new environment, I suddenly felt the call to reach back to my own upbringing, to recall the fluidity and constancy of a place deeply rooted in its Indigenous, cultural values. My eldest sister, a former JV herself, became my biggest confidant, my source of strength during these months of transition and change.
Together, we remembered and gave voice to many of the experiences we shared growing up, and attempted to locate our Hawaiian values within the values of JVC Northwest and within the Juneau community. As I look forward to the holidays and prepare for a new year of growth, I am reminded of how these values continue to shape me as a person and how I bear the responsibility of manifesting them in my everyday life, most especially in my service.
At the Zach, I prepare food and activities for the kids who come after school. We rock climb and play cards, we bake and play tag, we make art and make jokes for hours and hours until it's time for the younger kids to pile on their jackets and head home. On days I run errands or facilitate activities in the community, I return to the Zach and immediately find myself at the center of a wild and tangled group hug. Whatever stress or confusion I face during the day, these moments bring me back to myself; they re-center my energies and re-focus my vision.
When I think about the theme of re-centering together, I think of all the different meanings of the word family; of the aunties and uncles I knew growing up and the big groups of cousins that run around the Zach together. I think of nourishment, how we feed one another physically and spiritually. I think of a big group hug and a dozen smiling faces. I think of home.