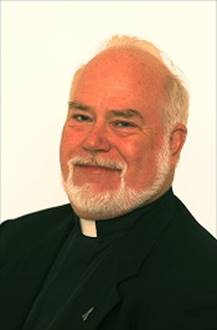 With deep sadness, we announce the passing of Fr. Chuck Peterson, S.J., long-time pastor of Immaculate Conception Church in Bethel, Alaska, and dear friend of JVC Northwest. He was among the dozens of people infected with COVID-19 in the retirement community for Jesuits in Los Gatos, California. Chuck passed away early on Thursday, December 24, 2020 at Good Samaritan Hospital in San Jose.
Chuck was first assigned to ministry in Alaska as a Jesuit in formation in the early 1960s, serving first at Copper Valley School before being assigned to pastoral ministry in Bethel. There, he immediately fell in love with the people and the place, and over the next several decades (with a short break to serve in the Rocky Mountain Mission in the '90s) he worked tirelessly to build local, Indigenous leadership in the Church in Alaska. He made the then-controversial decision to celebrate mass in Yup'ik, and was instrumental in the ordination of the first Alaska Natives deacons. 
He was a beloved friend and mentor to generations of JVs who remember his sense of humor, quick wit, and great laugh, as well as his empathetic and compassionate listening.
A private funeral Mass will be held for Sacred Heart Jesuit Community members only once COVID-19 restrictions are lifted. Please continue to pray for all those who mourn Chuck, and for the Sacred Heart Jesuit Community who remain on lock-down in an effort to stop the further spread of this virus.
We also invite you to share your memories of Chuck by leaving a comment on at the bottom of this page. We will share your remembrances with his family and the Jesuit community.