Yesterday, we celebrated the inauguration of the country's second Catholic president and its first female (Black, Asian) vice president. The election of Kamala Harris to the vice presidency, in particular, is a landmark moment for our democracy.
Yet, we are also aware of the deep rifts that remain in our society. We have not turned the page on the violence and racism we witnessed at the Capitol on January 6.
As a Jesuit, Catholic organization, we are deeply troubled not only by the overt violence and white supremacist ideology of the Trump supporters who stormed the Capitol two weeks ago, but by the justification of their actions in the name of Jesus and Christianity. "Jesus is my Savior. Trump is my President" read one sign. "Jesus 2020," read another. Video footage by a reporter from the New Yorker shows a man yelling in the Senate chambers, "Jesus Christ, we invoke your name!" to a loud chorus of "Amen!"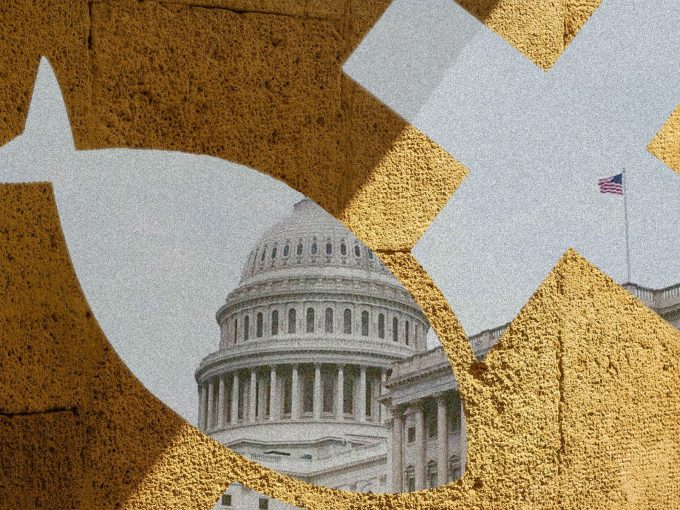 This, of course, is not the first time Christianity has been co-opted to serve the needs of the powerful – it happened in the Roman Empire after Constantine, it happened in Nazi Germany under the direction of a "Reich Bishop," it happened in the Christian justification of slavery in this country, and it is happening today in the white Christian nationalism at the heart of the "America First" movement. We see in this movement a nostalgia for an imagined white Christian America, with MAGA adherents claiming Jesus as the tribal god of a white America – a god full of vengeance, wrath, and violence.
But isn't there another Jesus? What happened to the Jesus who created a resistance community in opposition to the imperial and religious forms of domination and oppression? That Jesus wove together an inclusive community of fishermen and prostitutes, lepers and Samaritans, even former imperial collaborators and tax collectors to create a movement of dreamers who imagined a whole different way of being in the world – a vision they called the Reign of God.
The history of the Church is replete with examples of this tension between disruptive movements for justice and institutional preservation of power. Where do we fall? Is the Jesuit Volunteer Corps Northwest a prophetic movement for justice, or an imperial collaborator for the status quo? The honest truth is, we are and have been both.
The Jesuit Volunteer movement began in the 1950s in Copper Valley, AK, when volunteers helped staff a newly-opened Jesuit school for Native Alaskan children. While the majority of our volunteers built authentic relationships and provided genuine cura personalis – care of the whole person – as best they could, we also know we contributed to the destruction of native culture and the expansion of a dominant, white, U.S. culture. In the 1970s, many conscientious objectors to American imperial advancement in Vietnam became Jesuit Volunteers, choosing to serve life rather than become agents of death in a far-away land. Yet then, as now, charity carries the danger of becoming a paternalistic gesture that reinforces existing power structures rather than creating authentic relationships of empowerment. We know that we've done both.
We acknowledge that the white Christian Church in America has participated enthusiastically in the imperial and colonial endeavors of white settlers, often to its own benefit and enrichment. In the process, we contributed to the attempted erasure of Indigenous peoples and cultures, as well as the destruction of local ecosystems. The Jesuits, and JVC Northwest, have been complicit in that legacy. We acknowledge, too, that there is a direct connection between that legacy and the violent raid of the U.S. Capitol by white Christian nationalists.
Yet we also claim another strand of the Jesus movement – one that is prophetic, rooted in community, and committed to justice, equity and inclusion. In that strand of Christianity, diversity is strength, love is informed by critical analysis, and God is not white. We know we have a long way to go, and we know if we are to seek unity and healing, we must first seek accountability. We dig deep, drawing on the rich tradition of our ancestors in faith who were animated by the same Spirit of liberation and justice that burned in Jesus. We turn to you, our community, because we know we can't do it alone. Will you join us, and help us live into the more beautiful world our hearts know is possible?