Gladys Tejada (she/her) served as a '21-22 Jesuit Volunteer in Gresham, Oregon. Gladys reflects on her experience at Pueblo Unido PDX, where she served communities with vulnerable immigration statuses. 
Luisa called Pueblo Unido PDX one morning in September, a couple of days after having left the Northwest Detention Center in Tacoma with her newborn daughter. While on the phone with her, I could hear the people around her in the background as well as the cries of her daughter. Luisa was living in a shelter while waiting to hear more about her upcoming court appointment, and while there she heard about Pueblo Unido and immediately called.
Pueblo Unido is a non-profit that connects those going through the deportation process to free legal services. Like most of our other clients, Luisa was in need of legal aid, having recently crossed the US-Mexico border from Nicaragua with her newborn daughter. However, she was also in need of social services, having no access to basic necessities like medical care for her or her daughter, or even warm clothes for the winter.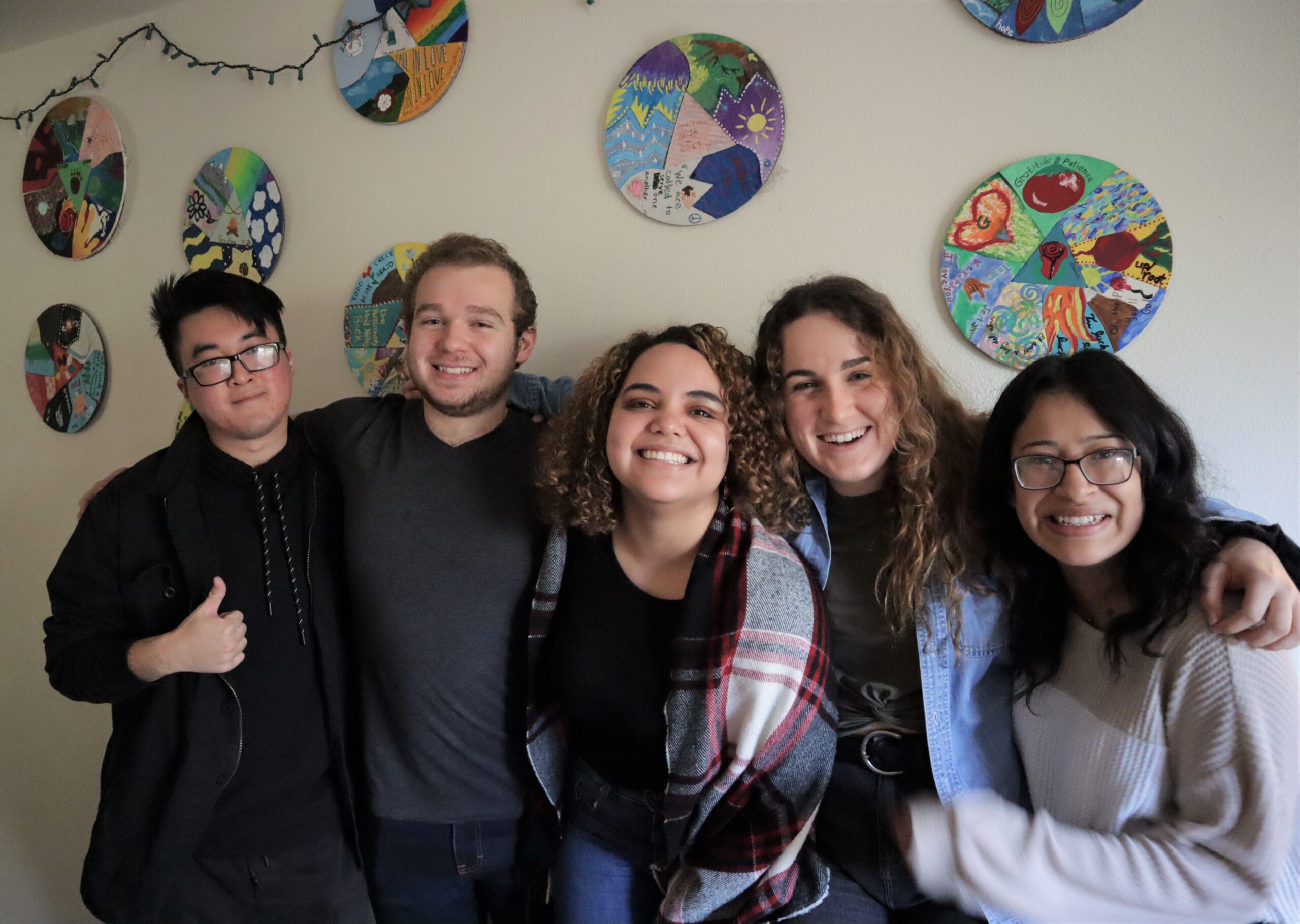 Gladys (middle) with community mates Ben, Andrew, Lexi, and Diana.
Immediately, we connected her to a legal navigator to get access to a pro-bono lawyer. She was also given referrals to other nonprofits that could help her find housing and medical care. At the end of the call, Luisa thanked me and told me that people kept telling her to just take the deportation, yet she refused to. She was determined to make a life for herself and her daughter in this country, and to give her daughter all the opportunities she possibly could.
Two weeks later I received a message from a lawyer—they had agreed to take her case completely free and represent her through the entire process! I called Luisa right away and told her the news, and in return she told me that she was in the process of finding an apartment. It had only been two weeks, but I knew that she was making a place for herself and moving forward with her life. 
About three months later I received another call from her, telling me that her first court appointment had gone well. She had moved into her apartment and found roommates to help her pay rent. Her daughter had started crawling and she had managed to get an appointment with a doctor at a free clinic. I congratulated her and told everybody else at Pueblo Unido, all of whom were very excited as by this point they were familiar with her case. 
It's moments like these that remind me of why I chose to serve in the first place. As someone with personal experience with deportation, I knew what a stressful and heartbreaking process it can be. The immigration system is one that is convoluted, with laws that change rapidly. There can be a feeling of hopelessness when facing it and it is extremely stressful. However, I am thankful that I get to serve the people I do, and while I don't know the ending to Luisa's case, I am hopeful and I know she is too.